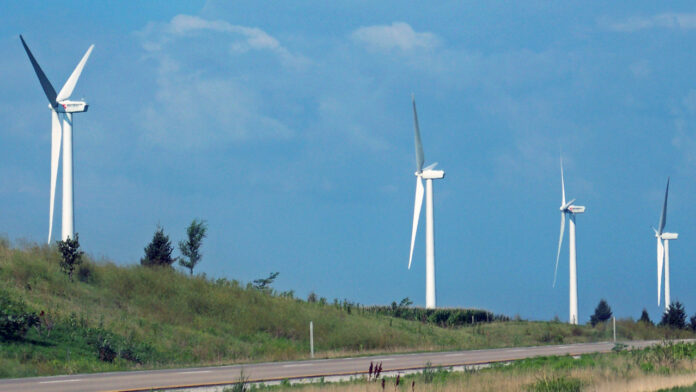 A public hearing has been set for later this month to review MidAmerican Energy's proposed $3.9 billion Wind PRIME wind and solar energy generation project.
The hearing, to be held February 20-24 starting at 9 a.m. at the Iowa Utilities Board's hearing room in Des Moines, will gather evidence and cross-examine witnesses regarding MidAmerican's January 2022 application for approval of advance ratemaking principles for the project.
Requests for advance ratemaking principles enable utilities like MidAmerican to establish regulatory treatment for certain aspects of electric generation facilities in advance of construction, but such cases do not immediately impact electricity customer base rates.
Under Iowa code, Iowa rate-regulated utilities have an opportunity to add electric generation in Iowa and to receive advance ratemaking decisions from the IUB.  As part of the request, the utility is required to show it has an energy efficiency plan in place and it has considered other generation options. An advanced ratemaking principles case is a contested case proceeding before the IUB.
An update filed with the IUB indicates MidAmerican was granted a change in the hearing schedule. Under the change, the hearing scheduled for Feb. 21 will end at noon "to allow for MidAmerican counsel to attend and argue at oral arguments before the Iowa Supreme Court." The hearing will then resume at 9 a.m. Feb. 22.
Tech giants, including Google, Facebook and Microsoft, have already filed objections to the Wind PRIME project in the official IUB docket, questioning whether the project is "a reasonable and prudent choice for MidAmerican's customers and Iowans" or a money grab by the utility company. Environmental groups have also questioned whether the project would lead to MidAmerican decommissioning some or all of its existing coal-fired power plants.
MidAmerican Energy announced plans in January for the Wind PRIME project, including wind and solar generation and the exploration of new technologies to advance the company's transition to net-zero greenhouse gas emissions.
MidAmerican also filed a motion with the IUB in August, seeking to explore the financial impact of the Inflation Reduction Act of 2022 on the project.
As proposed, Wind PRIME would add 2,042 megawatts of wind generation and 50 megawatts of solar generation to MidAmerican's energy generation portfolio.
The company also proposed conducting feasibility studies focused on other clean generation technologies, including carbon capture, energy storage and small modular nuclear reactors.
The IUB filing indicates the project would be installed in Iowa, but does not specify a location.
If approved, MidAmerican said it plans to complete the Wind PRIME project by the end of 2025.