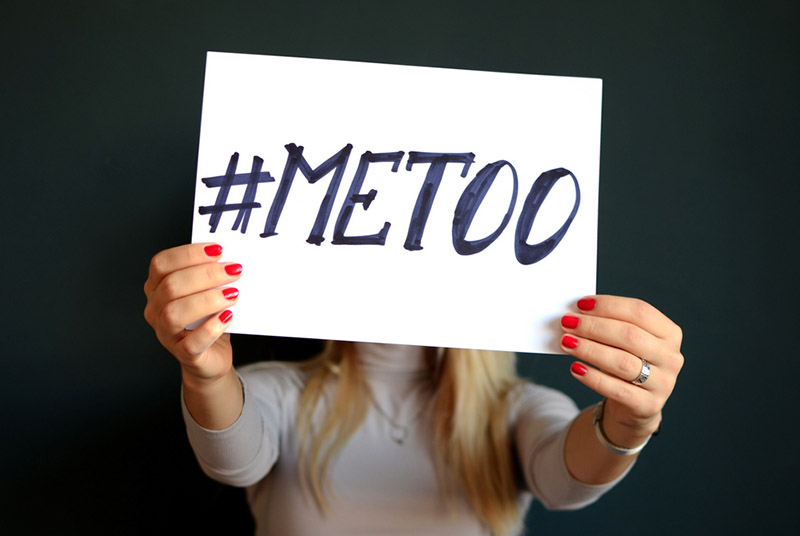 By Katharine Carlon
katharine@corridorbusiness.com
The movement that began last year with a string of allegations against movie mogul Harvey Weinstein is still gathering steam, and Corridor insurance experts say businesses both large and small should prepare themselves accordingly.
#MeToo, which coalesced on social media in late 2017, has burst back onto the scene in a big way in recent days with the controversial nomination of Judge Brett Kavanaugh to the U.S. Supreme Court. But the movement's main claim to fame is dragging the issue of workplace sexual harassment and assault out of the shadows and into the spotlight, toppling once untouchable figures from CBS chief executive Les Moonves to "Today" host Matt Lauer.
Closer to home, Gov. Kim Reynolds in March fired Iowa Finance Authority Director David Jamison for repeated sexual misconduct in the office, while the Univer­sity of Iowa terminated Tippie College of Business lecturer Jeffrey Nock for harassing behavior just last month.
A flood of new claim activity hasn't hit area insurers yet, but some are bracing for the movement to descend from high-pro­file office suites into the hallways of American businesses as cultural winds shift and victims get the message it's safe to speak up – and potentially file suit.
"If companies are not paying attention to employment-related practices, they should, regardless if they have one or 100 employees," said Spencer Stephens, an agent with Sheets Forrest Draper Insurance of Marion. The firm specializes in business insurance, including Employment Practices Liability Insurance (EPLI), which helps protect employers from sexual harassment lawsuits as well as claims of discrimination, wrongful termination, breach of contract and other matters.
"Since coverage typically applies for alleged harassment," Mr. Stephens said, "employers that have an employee handbook, required posters on display and training on harassment could still face thousands of dollars in out-of-pocket expenses to respond to allegations."
EPLI, which can be purchased as part of a business policy or as standalone coverage, generally covers the cost of defending a lawsuit in court, as well as judgments or settlements up to the chosen limit. Most policies will also extend coverage to claims brought by third parties, such as clients or customers. EPLI policies usually do not pay punitive damages or civil or criminal fines, however, and will almost certainly exclude claims involving employees' intentional conduct or bodily injury, including rape or assault.
Matt Evans, a principal and practice leader for TrueNorth in Cedar Rapids, said that he has personally seen little evidence claim activity is picking up in any major way, although many clients are anxiously asking whether they are adequately covered.
"Because of the nature of media coverage and all of the heightened awareness, more clients are coming to us and asking, 'Are we covered adequately?' and 'How can we be more proactive?'" Mr. Evans said. "The majority of businesses are already covered, but it only takes one person to come forward and then you're in a bad spot. … An organization can definitely get into hot water if it doesn't have a mechanism to alert people to destructive behavior or a toxic work environment."
Miles Weis, assistant vice president and executive risk practice leader for Holmes Murphy in Cedar Rapids, said information from its carrier partners shows EPLI activity is up significantly year over year, with one carrier reporting its claims had jumped almost 60 percent over the same period. Insurers aren't necessarily paying out more than in the pre-#MeToo days, he said, although exposure to the issue has spiked the number of such claims
"It's a frequency issue, not a severity issue," Mr. Weis said. "There's a lot of activity in this space with greater awareness and the social media movement … so just because they're seeing a lot more claims doesn't mean they're paying more."
The Equal Employment Opportunity Commission, the federal agency tasked with investigating sexual harassment in the workplace, has reported seeing its web traffic triple since the #MeToo movement began, although the number of com­plaints it's received has remained steady.
That could change, however, as the stigma of victimhood lifts and employees are more willing to speak out. A March Marketplace-Edison poll, for instance, showed more than a quarter of working American women reported experiencing on-the-job harassment, with nearly half of them choosing to leave their jobs or switch careers as a result.
An end to the culture of silence is like­ly to mean many more claimants in the future, Mr. Weis said, adding that a recent survey of carriers found most expected the trend toward higher claim activity to continue. Many are now anticipating underwriting or pricing changes in their EPLI models.
Some industries considered ripe for misconduct – including entertainment, law, medicine and tech, where men are in most supervisory positions – are seeing rate increases, according to AmWINS, a global specialty insurance distributor. The company forecast in January that EPLI premiums would rise as sexual harassment claims increase in severity and frequency, adding it also expected to see more first-time buyers looking for higher limits.
"Increased awareness, new legislation and changing social norms are creating an environment ripe for additional exposure to your business," Mr. Weis said. "That's why it's so important to proactively address these matters and be prepared to deal with the fallout if something does happen within your own walls."
Part of that includes businesses reviewing their current EPLI coverage, understanding what it covers and what it doesn't, and tailoring it to their risk profiles. According to Mr. Stephens, while insurance carriers may provide up to $100,000 in coverage without any underwriting, "higher limits may require more questions such as what the turnover rate has been, any employer-initiated terminations and income levels of employees. Typically, we find an employee handbook is required to outline company procedures, so allegations of sexual harassment can be addressed promptly."
Businesses should also consider exactly how defense costs are handled, he said. In some cases, defense costs are included as part of the policy limit, subject to a deductible, while other policies pay for defense costs outside the limit of insurance.
"Since attorney fees could be significant to defend an employer from an EPL case, it may be beneficial to pay additional premiums, so defense costs are outside the policy limit," Mr. Stephens said.
While it's vital to have a strong policy, Mr. Stephens said EPLI coverage should be considered the absolute "last line of defense" in protecting a company from sexual harassment suits.
"The understanding has got to be that your workplace is an environment where people can speak out," he said. "Employees can't be afraid of retaliation, there can't be any negative impacts to their job. See that the right policies and procedures are in place, that they're updated, so can you build that affirmative defense. Creating an environment that's healthy for employees starts at the top and goes all the way down."