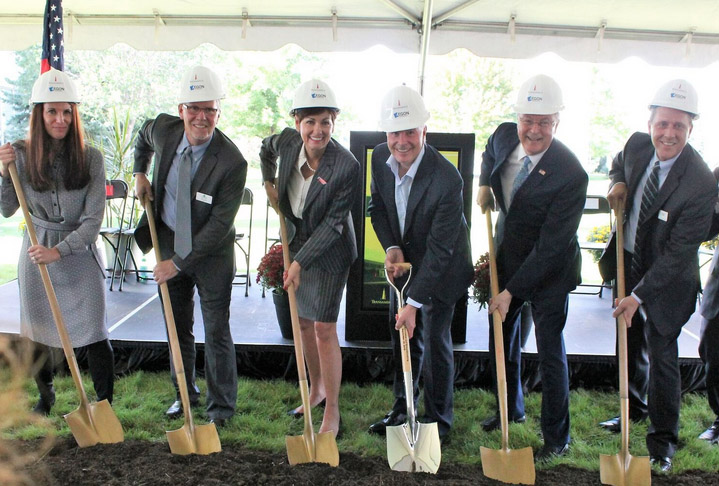 Iowa Gov. Kim Reynolds (center-left) and Transamerica CEO Mark Mullin (center-right)
were among the celebrants at a Sept. 24 groundbreaking for the "Reimagining the Work
Space" project at Transamerica Financial Park. PHOTO DAVE DEWITTE
By Dave DeWitte
dave@corridorbusiness.com
CEDAR RAPIDS—Transamerica's $40 million upgrade to its C Street campus will create a wellness-oriented workplace of the future, company officials said at a Sept. 24 groundbreaking.
With plans to consolidate all of its Cor­ridor operations in the Transamerica Fi­nancial Park, the Baltimore-based insurer will build a 51,000-square-foot two-story addition linking two buildings, and reno­vate about 480,000 square feet in existing Transamerica offices and space formerly occupied by Hibu. The campus will also house Aegon Asset Management and Ae­gon Global Technologies, which are part of Transamerica's Dutch parent, Aegon N.V.
Although the company has been a part of the Cedar Rapids business community for decades, worries about its future here in­tensified after the rollout of its One Trans­america restructuring plan in 2016. As part of the cost-reduction initiative, Aegon an­nounced it would relocate 1,300 employees from its North Campus off Edgewood Road NE to the Transamerica Financial Park and put the North Campus up for sale.
CEO Mark Mullin used the Sept. 24 groundbreaking to set the record straight.
"This is a place and a community that's very special to our company and our ex­perience," Mr. Mullin said. "I was here four years. I was here at the time of the floods in 2008 and I got to experience how people in this part of the country come together to partner and help their neighbors, and that's been our experience in the workplace."
He said Cedar Rapids is an important part of the Aegon group's overall foot­print, and will continue to be the largest piece going forward.
Aegon announced in February that it is launching a new "Wealth + Health" brand identity, emphasizing a holistic message that health and financial well-being are connected.
Mr. Mullin said the company's new "Reimagining the Work Space" project will focus on the well-being of employees in much the same way Aegon's new brand focuses on the wellness of clients. The caf­eteria, for example, will have a "farm-to-fork" menu of fresh, locally sourced foods.
"We want to do right by our employees so they, in turn, can do right by our cus­tomers," Mr. Mullin said.
Transamerica Chief Legal and Admin­istrative Officer Jay Orlandi said Transa­merica has completed its reorganization, adding, "we're ready to grow our business at this point."
He said the company plans to complete­ly restructure the 169-acre C Street campus, and is working to create "an exceptional ex­perience in the workplace" as it strives to attract the brightest talent from around the globe. When complete, the facilities there will house about 2,600 employees.
Transamerica is doing its best to build a sustainable campus, Mr. Orlandi add­ed, with things like LED lighting, a more efficient HVAC system and flooring that doesn't require chemical adhesives.
Earlier this year, Transamerica trans­ferred its customer service functions at the Edgewood Road location to Tata Consul­tancy Services, which reemployed about 882 Transamerica employees and leased buildings A and B on the North Campus.
Transamerica has a 60-plus-year histo­ry in Cedar Rapids, including operations under the predecessor company Life Investors, led for a time by Robert Ray, who before that served five terms as Iowa's governor.
It has been part of Aegon N.V. for about two decades, during which the company has been striving for better collaboration and synergy among its different divisions.
The event was an opportunity for state and local officials to thank Trans­america and expound on Iowa's busi­ness climate.
Iowa Gov. Kim Reynolds praised Transamerica as a "great Iowa story." She said employees donated 14,000 hours of volunteer cleanup time to recovery from the 2008 flood, and that the company contributes more than $2 million annually to 70 dif­ferent organizations.
"I believe you represent what makes Iowa the best place to live, work and raise a family," Ms. Reynolds said.
The city of Cedar Rapids has ap­proved a tax increment financing package to assist with the C Street ex­pansion, and has also approached the Iowa Department of Transportation about interchange improvements at C Street SW and Highway 30 to expe­dite peak-hour traffic in and out of the campus area.