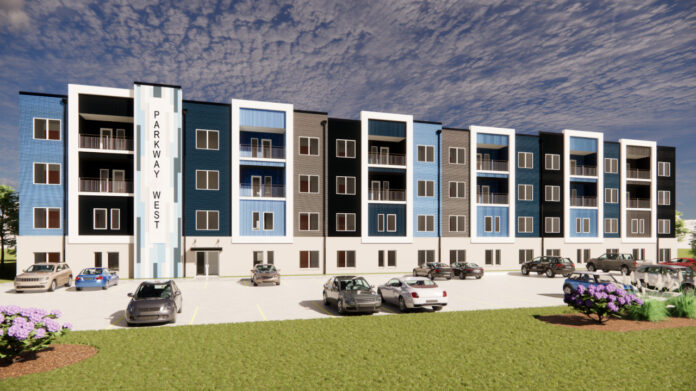 Cedar Rapids officials are supporting a local developer's application for state tax credits for a 200-unit housing development at the former Westdale Mall site in southwest Cedar Rapids.
The resolution of support for the tax credit application was approved Tuesday as part of the council's consent agenda, and was passed unanimously without discussion.
The $34 million Parkway West proposal would add four multi-family buildings at the 71-acre site, formerly known as Westdale Mall and now known as Westdale Town Center.
The project proposes three 52-unit buildings and a 44-unit building on property just west of the former Younkers building that now houses a U-Haul facility and just south of Ross Dress for Less. Of the 200 total units proposed, 104 would be one-bedroom units, with another 80 two-bedroom units and 16 three-bedroom units.
Developer Westdale CR Ventures #14, LLC is seeking Workforce Housing Tax Credit funds from the Iowa Economic Development Authority to help fund the project. The WHTC program provides tax credits up to 10% of the total investment in the housing portion of the project.
Cedar Rapids would have to provide matching funds to receive the WHTC grants, but the city's existing financial participation in the Westdale redevelopment project, approved in 2013, would serve as the local match, according to Tuesday's agenda item.
The Westdale redevelopment plan provides for the inclusion of housing, and the proposed project is consistent with that plan, the agenda item said.
No further details were immediately available on the proposed development.