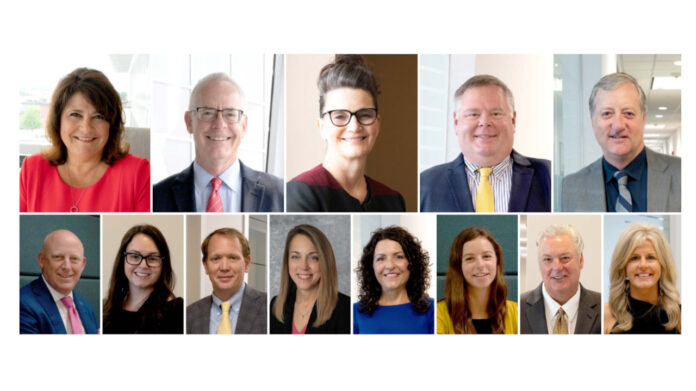 The founders of Private Wealth Asset Management believe that area residents seeking financial guidance have had to choose between two primary options: A single advisor to address every business need, or a private bank, where services are increasingly being consolidated in major metropolitan areas outside Eastern Iowa.
They believe they have a better solution.
Private Wealth, which formally begins operations in Cedar Rapids today, employs a unique business model, using a circle of experts and services to surround its clients with subject matter experts in diverse financial fields to provide comprehensive guidance on topics as diverse as insurance, trust planning, accounting, budgeting and more.
"There really isn't a model out there like ours," said Tim Kneen, chairman of the board and founding partner of Private Wealth. "The closest thing you would see on the street to what we do is in a private bank, but it's still not really what we do. Our whole concept is to bring a collection of experts around a client. We have a simple belief that what's going on in the big banks and the big brokerages is broken. What's going on (with them) is the idea that you can hire one financial consultant that works for a big company, that there's a stockbroker sitting in some corner office in every town that can be an expert in every one of those areas. We simply don't believe that's true. The concept of Private Wealth was to bring these experts together under one roof."
Larger private banks historically offered similar services on a local level, but in recent years those institutions have centralized their services in larger markets such as Chicago or New York, leaving clients to correspond with their advisors remotely.
Jeff Shipley, president and founding partner of Private Wealth, said the company's founders felt it was important to offer comparable services on a local level, with advisors that live and work in the communities they serve.
"Being local is part and parcel of our core belief system," he said. "Providing expertise locally is important, not being so consumed with figuring out how we're going to pay some high-paid stockbroker in Chicago."
The advisors who are comprising the core of Private Equity's services have worked in local markets for many years, Mr. Shipley and Mr. Kneen noted, stressing the 327 combined years of financial management experience accrued by the founding partners of the Cedar Rapids office, including Heather Fortune Vestweber, Dave Arens, Brett Halley, Chris Casey and David Holtorf.
And while they could have established Private Wealth in other parts of the country – and had opportunities to do so – Mr. Kneen said they felt it was important to provide such services in a market like Eastern Iowa.
"We chose here because we had never seen a group of private bankers, all in one area, come together and say the same thing – we need to solve this problem," he said. "When you see everyone come to you with the same goals and the same ideas, we knew there was something special here. The vision was to bring these services back locally and have the experts there to be the financial quarterback, or as Jeff calls it, the outsourced family office for their clients."
Private Wealth has begun operations in Cedar Rapids with offices in the Stamats Communication building, 615 Fifth St. SE, but is working to remodel the third floor of the historic Smulekoff's warehouse building, 411 Sixth Ave. SE, with plans to relocate to that space this fall.
The company is also opening offices in the historic Valley Junction neighborhood in West Des Moines and in Omaha, and will serve ultra-high net work and institutional clients in both Iowa and Nebraska.
For more information on Private Wealth's services, contact them by phone at (319) 308-6600 or visit their website at privatewealth.com.