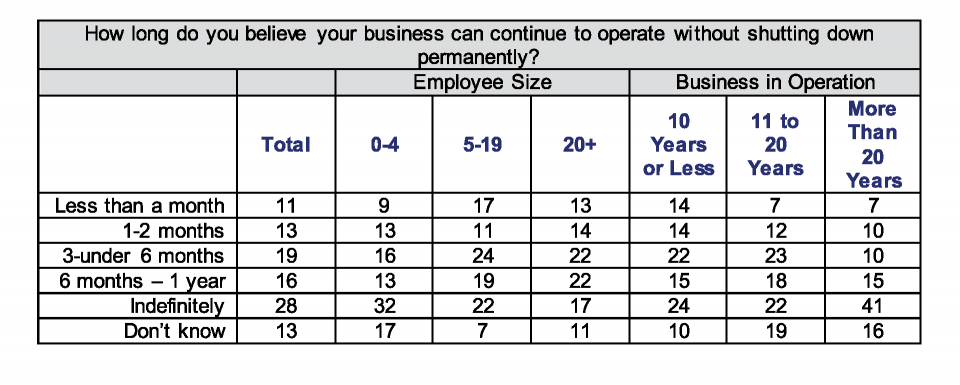 A chart showing the percentage of survey respondents by size category and length of time in business when asked how long they can keep operating before shutting down permanently. CREDIT US CHAMBER/METLIFE
By CBJ News Staff
news@corridorbusiness.com
A new U.S. Chamber of Commerce-MetLife report reveals that one in four small businesses say they are two months or less from closing permanently amid the economic downturn caused by the COVID-19 pandemic, while one in 10 say they are less than a month away from that outcome.
Thirty-five percent of respondents said they expect to be able to keep operating for three months to a year, while 28% said they can continue operating indefinitely. Thirteen percent said they don't know.
The findings, from a poll taken March 25-28, also show that roughly 25% businesses have already shut down temporarily in response to the coronavirus. Among those that have not, 40% say they are likely to close at least temporarily within the next two weeks.
When asked what proposals might offer the most relief, small businesses indicated support for three key provisions included in the recently enacted Coronavirus Aid, Relief, and Economic Security (CARES) Act, including direct cash payments to Americans, loans and financial aid, and suspending payroll taxes.
"As the poll results show, small business owners are looking for loans and financial aid to ensure they do not have to shut their doors or go bankrupt because of the coronavirus," said Neil Bradley, chief policy officer at the U.S Chamber of Commerce, in a release. "American banks are ready to help, but they need clear guidelines from the administration. American banks will be on the front lines to help businesses survive during this pandemic."
Other key findings include:
54% of small business owners now rate the overall health of the U.S. economy as "poor," and 32% feel the same about their local economy.
59% of small business owners feel comfortable with their cash flow, compared to 80% last quarter.
The most common business responses to the COVID-19 disruption are shortening hours of operation (30%), temporarily closing (24%) and adjusting employee salaries or hours (17%).
Looking toward the future, small businesses still see some grounds for optimism, with 23% expecting to hire in the next year.
Read the full report here.