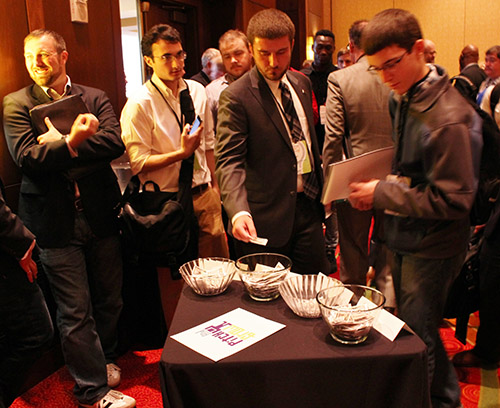 Budding entrepreneurs gain valuable feedback at Innovation EXPO's Pitch & Grow session
By Dave DeWitte
dave@corridorbusiness.com
CORALVILLE—Helen Adeosun had done what it took to develop a compelling pitch for her startup, CareAcademy, including that all-important step of personalizing the need for its products.
Ms. Adeosun, a Harvard-educated former nanny, began her presentation at the Innovation EXPO's Pitch & Grow session by showing a PowerPoint slide of an elderly woman named Sylvia.
The 95-year-old woman lost her independence when an inadequately trained caregiver left her glasses on a table out of reach, Ms. Adeosun explained. Had Sylvia been able to reach the eyeglasses, she wouldn't have fallen and broken her hip trying to walk unassisted to retrieve them.
No instruction manual has been available for caregivers, Ms. Adeosun said, but CareAcademy now offers training that can be viewed on any smartphone or PC.
"This is the manual that every caregiver needs," she added, going on to project $12 million in revenues for CareAcademy over the next five years by selling its 20-plus training apps through licensing partnerships.
It was a good enough pitch to elevate CareAcademy among the 16 other startups participating in the Pitch & Grow competition. But once in the finals, Ms. Adeosun was trumped by the founder of another startup with yet another compelling personal story.
SwineGuard co-founder Matthew Rooda grew up in an Iowa farm family and worked as an assistant manager at Schneider Pork Farms. He learned there about the economic toll of piglet suffocation in farrowing houses, and has since worked with his SwineGuard team to develop a system that has the potential to dramatically reduce the deaths.
"We are on a mission to save lives," Mr. Rooda said in the final pitch-off. "Not just any lives – these little piglet lives."
The system works through an audio monitor that identifies the danger squeals of piglets when they become trapped under their mother. The monitor sets off an electric impulse that gives the sow a mild shock on the flank, causing her to stand, and a warning light so the pork producer can check on the situation. It also monitors temperatures and activates heat lamps that keep the piglets at a safe distance from the sow.
Mr. Rooda recited a string of statistics quantifying the economic toll of piglet suffocation deaths on the pork industry ($689 million per year), to individual pork producers and others. He projected SwineGuard's system may be able to sell for about $1,000, and save a pork producer more than $4,000 per year in piglet losses.
SwineGuard – soon to be renamed Swine Tech, to avoid trademark infringement – took home the winning prize, which included $500 from the Iowa Innovation Corp. and support from the Entrepreneurial Development Center of Iowa.
"I was up at 4 a.m. practicing," a smiling Mr. Rooda said just a few minutes after his SwineGuard team was named the winner.
The competition begs the old cliche, "everyone's a winner." That's because even teams that do not advance to the finals go away with helpful input from the judges, not to mention valuable exposure to potential investors and mentors.
"The feedback is not just in the questions, but in the type of questions," said Ms. Adeosun, whose company, like Mr. Rooda's, is a member of the current Iowa Startup Accelerator cohort. She has practiced her pitch with other accelerator classmates enough to become a connoisseur of good questions.
"The delicate question is always certification," she said, referring to the prospect of certification requirements for personal caregivers that could make training more mandatory.
Mr. Rooda said the question he will most need to address in his next pitch is about his company's team. Judges seemed to want him to "go deeper" on the strengths of his team, and why they are capable of pulling off their business plan.
The Oct. 21 Innovation EXPO event was a kind of market entry for Kazoo, a Cedar Rapids startup that helps companies retain new recruits by getting them connected to the local community and their interests within it.
Marieda Freese, Kazoo's founder and managing director, discussed the high costs of employee turnover and how companies can save big by investing more to keep their employees in the community. She made her passion for connecting individuals and getting them engaged in their community a main point of her presentation.
Ms. Freese didn't advance, but appreciated the tough questions asked by judges. Why couldn't she make her revenue projections more exact? How much sales and service could she actually do herself?
"They are questions I want people to start asking, because everything is connected, truly," she said. They also pointed to a central challenge of her business model: marketing.
Employee retention services are a new offering that will take a good sales strategy, and "it totally depends on my ability to sell something," said Ms. Freese, a mechanical engineer who works for Rockwell Collins.
Patrick Deignan, CEO of Bankers Trust in Cedar Rapids, was one of the four judges who reviewed Ms. Freese's presentation. He said he likes to ask questions that reveal whether entrepreneurs can think on their feet.
"I like to understand how they [the business models] work, how it fits into the economy," Mr. Deignan said. Helping judge the competition also gives him insight into "what smart young entrepreneurs are thinking" – a contrast from the meat-and-potatoes types of business plans he often encounters at the bank.
Citispoon, which provides real-time status updates on restaurant seat availability and wait times, and TaxiTapp, a universal taxi hailing, selection and payment app provider, rounded out the final four in the competition.
The event was sponsored at the Innovation EXPO and at other locations around the state by the Technology Association of Iowa (TAI). The selection of companies for the competition was based partly on their need for practice in pitching their business to investors and how serious they appear to be about actually starting a business.
In the past, many college-age entrants developed business plans for classes in entrepreneurship and other subjects, but weren't necessarily intent on making them into businesses, according to Patrick Quinn, director of membership and development for the TAI. Because of the changing economy, "it's been a bit more serious than it has been at the outset," with more students planning to build a business straight out of college, he said.
Companies that are more investment-ready were spotlighted in another Innovation EXPO event, the Seed & Venture Forum, which followed the Pitch & Grow competition. But with the encouragement and feedback they received from their presentations, many Pitch & Grow contestants hope to reach that level in a year or two.