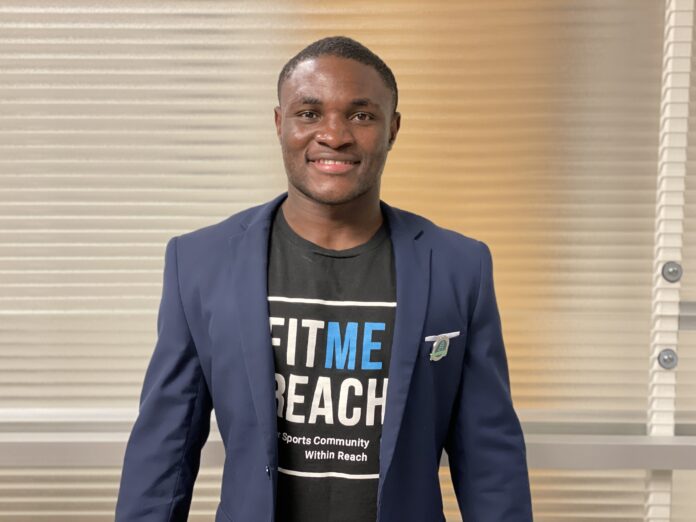 Iowa City entrepreneur Dady Mansaray will receive $25,000 to invest into his startup business, FitMeReach, after winning an online startup competition.
Created by former Los Angeles Laker NBA basketball player Metta Sandiford-Artest, previously known by other names such as known as Metta World Peace and Ron Artest, the competition is meant to find the "next up-and-coming unicorn startup," according to the contest's website.
As the winner, Mr. Mansaray will also get an one-on-one private Zoom meeting with Mr. Sandiford-Artest.
"We are also honored to have shared the virtual stage alongside aspiring entrepreneurs and change-makers all over the world," said FitMeReach in a Linkedin post.
The competition was in development with Orbiit, a software development company based in Vancouver, Canada.
FitMeReach is an app under beta development that helps people make connections and develop relationships while playing sports and other activities. It was developed in the initial Builders + Backers idea accelerator in Iowa City by Mr. Mansaray, a first generation University of Iowa student born in Liberia.
"As a current Iowa State boxing champion and lifelong fitness enthusiast who has spent hundreds of hours trying to build communities through sports, fitness and adventures, I am bringing a personal understanding of the problem I am looking to solve," he said in a description of his project on Orbiit's website. "The best available tools like Facebook, Meetup, and group chats like Discord are not designed specifically to solve this problem.
"These tools have the added algorithm tasked with distracting users with ads as much as possible to prevent you from abandoning the platform," he added. "Little attention is being paid to this niche market."
Additional funding allows Mr. Mansary to accelerate the launch of FitMeReach, hire full-time software developers and conduct statewide market awareness campaigns
He will not lose any equity for winning the competiton.
In addition to winning the Pitch by Metta competition, he won the Immigrant Entrepreneurs Summit's pitch competition in late 2022, giving him more capital.
FitMeReach is now competing against 74 other startups in the Sweater Barnburner Startup Pitch competition, where he could potentially win $500,000 for his business in front of a live panel of venture capitalists. A week ago the company announced it reached round two of three in this contest.