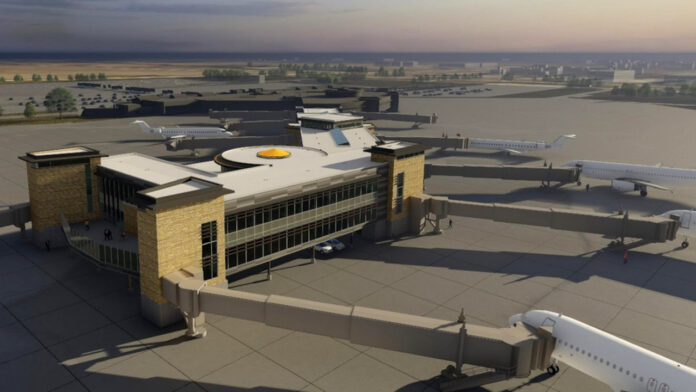 The Eastern Iowa Airport (CID) will hold a groundbreaking ceremony at 1 p.m. Monday, March 6 to mark the beginning of the fourth and final phase of the airport's terminal modernization project.
Work on the fourth phase includes remodeling the rest of the terminal and adding 32,000 square feet, which will include four additional jet bridges, a larger patio, a sensory room and a pet relief area.
Once completed, the terminal will be ready to serve air travelers for the next 30 years, Eastern Iowa Airport director Marty Lenss said in a release.
Construction on the fourth phase will take 18-24 months to complete, at an estimated cost of $68 million.
Funding sources for this project include $28.3 million from the Iowa Commercial Aviation Infrastructure Fund created by Gov. Kim Reynolds, $20.4 million from the Federal Aviation Administration and $19.3 million from Cedar Rapids Airport Commission funds.
The first phase of the modernization program began construction in 2014. When the final phase is complete, the estimated total cost of the entire project will be $120.9 million.
The first three phases of the project, and their cost are as follows:
Phase 1 – Work included exterior transportation, a new façade, new curbside canopy and sidewalks (cost $6.2 million).
Phase 2 – Complete transformation of the public space in the non-secure areas of the terminal, including rental car and airline ticket counters, baggage claim, and additional skylights to harness more natural light (cost $13.3 million).
Phase 3 – Transformation and expansion of the security checkpoint and addition of 54,350 square feet to include additional restrooms, two additional jet bridges, additional hold room space and concessions (cost $33.4 million).
Total funding breakdown for the entire project:
FAA: $39.1 million (32%)
State of Iowa: $30.2 million (25%)
CR Airport Commission: $51.6 million (43%)
Total: $120.9 million