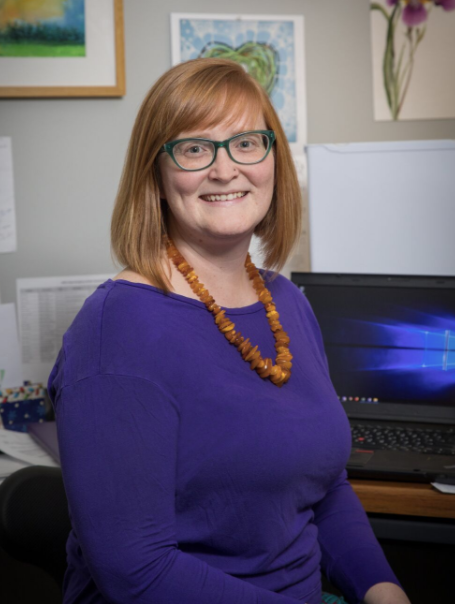 Executive Director
Willis Dady Homeless Services
Phoebe Trepp's bulldog leadership at the Willis Dady Homeless Services can be summarized as "see something, say something, do something."
"If advocating for people who are invisible to most of us feels like shouting under water, Phoebe Trepp must have gills," wrote KCRG anchor and nominator Beth Malicki. "She's doing this for men we avoid eye contact with. She's doing this to ensure those who battle addiction and mental illness don't have to freeze to death."
Ms. Trepp joined Willis Dady in 2015 after serving for five years as program development director at Shelter House in Iowa City. One of her first tasks was shifting a capital campaign to update and expand the 30-year-old shelter from planning into action.
"Willis Dady has a long, rich history as a full-service shelter, but it was obvious that the building was no longer adequate for the job we were trying to do," Ms. Trepp recalled. "We were being held back from helping our clients, especially when we had to consistently turn away people with wheelchairs."
Building on the groundwork her predecessor had established, Ms. Trepp directed the capital campaign's feasibility study, prospect review and fundraising strategy. Because the $3 million benchmark was five times the shelter's annual budget, a new staff position was created to oversee fundraising. Within an 18-month period, the goal was exceeded by $100,000 and included an endowment fund for building maintenance.
"Our donor base had never been super large, with only a handful of individuals who could give more than $500 a year. It was a big risk to figure out how we go from there to $3 million. We had to leverage existing relationships that we had never tapped in this way before," Ms. Trepp said.
She also revamped the shelter's homelessness prevention program after determining it was reaching individuals too late into the eviction process. She forged ties with other agencies that can alert Willis Dady about an individual experiencing financial distress.
"All it takes is one missed paycheck or a sudden illness to cause someone to miss rent and then get evicted," she explained. "If we can intervene and connect individuals with the right resources, they are able to stay where they live. Clients can continue their lives despite a crisis, which means they can hold their job, keep their childcare and have reliable transportation."
The shelter is currently producing a cost-of-homelessness study in order to fully understand the cost of providing one night of shelter services compared to alternatives like jail or ER visits. Ms. Trepp wants people to understand that the real costs of homelessness affect the community beyond the shelter's operating budget.
"Imagine a seven-time felon who just wants a job and a place to live. We ask people what is better: to have him on the streets or get him into a job with a roof over his head? Most people pick the latter," she noted.
Ms. Trepp has also had a hand in strengthening the winter overflow shelter, which protects people from freezing temperatures. She led an effort to consolidate resources across 15 organizations, and continues to work with the Cedar Rapids Police Department and local hospitals.
In the overflow shelter's first year, staff were able to offer emergency shelter on 42 nights, whenever the temperature was below 15 degrees. In its next year, the organization secured support from Linn County to open any time temperatures fell below 32. Last year, a donor came forward with a building that could be used for overflow, allowing Willis Dady to operate continuously from Nov. 15 to March 15.
"Phoebe is an unsung hero within our community. She advocates for those who find themselves in the shadows, existing at the margins and without a voice," wrote Ben Rogers of the Linn County Board of Supervisors. "She will not only move mountains to find the services and supports that a person needs, but she also cares deeply about the human condition. Phoebe's greatest strength is helping people find hope when all seems lost."
Ms. Trepp is pragmatic when it comes to homelessness, recognizing that Willis Dady alone can't solve the issue locally. It is for this reason she is not afraid to be vocal about a cause that is often viewed as unpopular.
"It's important to address people where they're at," Ms. Trepp noted. "The single men in our shelter are fathers and partners in this community. You can't isolate a population and then expect them to do well. We are all in the same community."
– Jennie Morton