A four-story, 52-unit market rate apartment building is coming to North Liberty, Lion Development Group owner Brandon Pratt said at a groundbreaking ceremony Nov. 9.
The development will attempt to "fill the need for higher end apartment style living in the Corridor," he said in a prepared statement.
The building will feature 34 two-bedroom, two-bathroom units. There will also be 18 one-bedroom, one-bathroom units. Each apartment will have solid surface countertops, as well as washers and dryers inside the unit.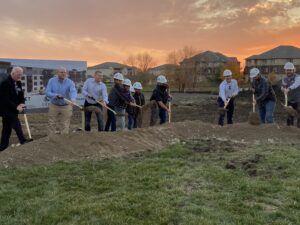 Mr. Pratt, also the co-owner of Tin Roost and a lifelong North Liberty resident, hopes Penn Street Place will capitalize on its location near the Liberty Center lake, walking trails, banks, day cares and retail destinations in the heart of North Liberty to help drive revenue and more people to an already growing city.
The building is expected to be constructed in 12 to 14 months, depending on weather situations this winter.
Shortly after construction, phase two of the project will begin on a standalone, 4,500-square-foot commercial building. They are actively seeking tenants for the space. According to a planning commission document from May, a shared parking lot will connect Penn Street Place, the commercial building, and Tin Roost.
The development group is exploring additional opportunities for 2023.