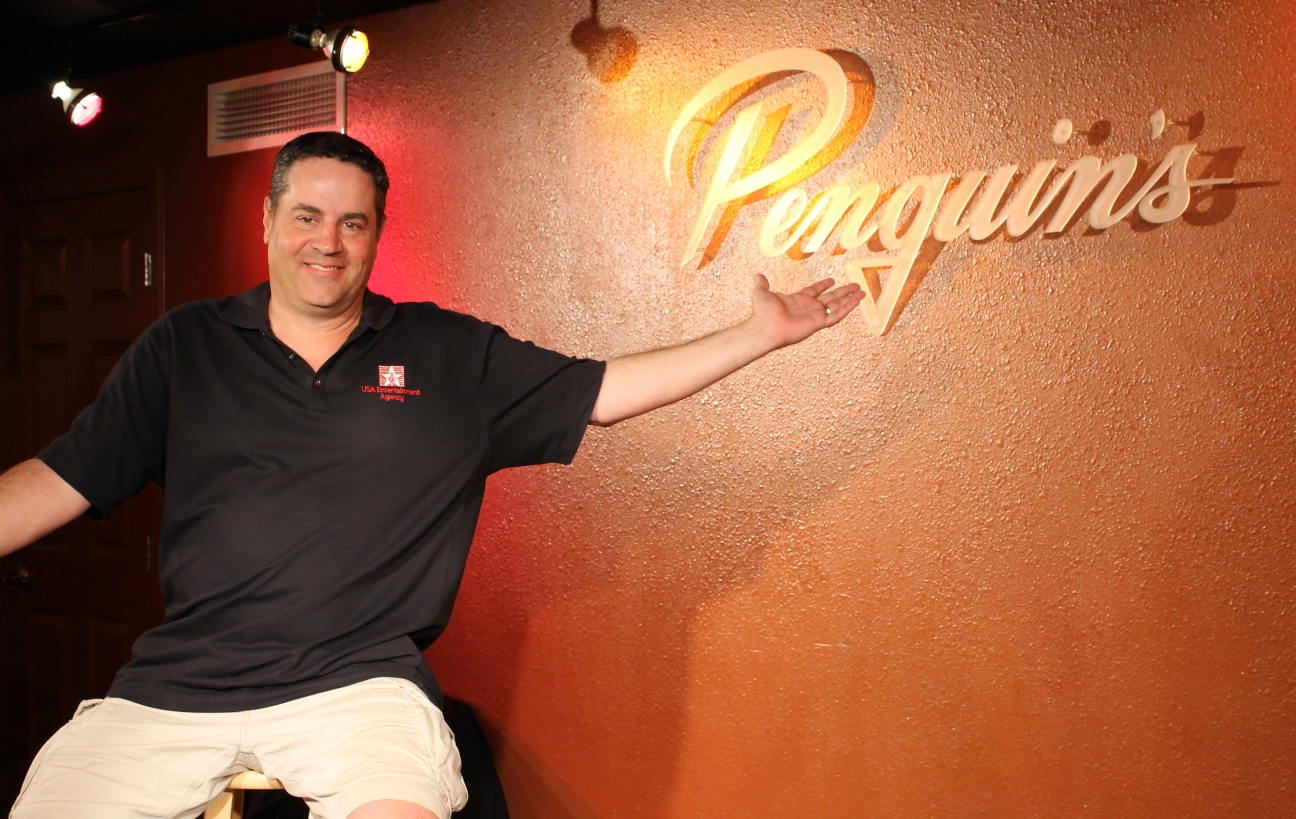 By Adam Moore
CEDAR RAPIDS—Penguin's Comedy Club is celebrating its 25th anniversary this month, and founder Jeff Johnson is determined to keep the laughs going.
The club has instituted $5 "1989" pricing for most of its August shows, and Mr. Johnson has been working hard to secure a solid slate of performers through the fall, including comedians Elliott Threatt, Tom Cotter and Emo Phillips. It's all part of his mission to introduce as many people in the area to live comedy and its unique ability to bring audiences together.
"There's something special about being on stage and seeing things," Mr. Johnson said. "Every show is different, and something new always happens down here. There's still nothing that beats a live comedy performance."
And while 25 years is a well-deserved milestone for a club that general manager Chris Miller calls "a Cedar Rapids landmark," it hasn't necessarily come easy.
Originally located in a basement space just across from the Hotel Roosevelt on First Avenue in downtown Cedar Rapids, Penguin's started as something of a lark for Mr. Johnson, who was a newly-promoted employee of the Norand Corporation (now Intermec) when he bought the business from the owners of Hollywood's Comedy Club in 1989.
"I really liked the idea of comedy, but I had never really done it before – I had never had a bar before," he recalled. "I just wanted a club."
Lacking the inside knowledge of how to book and manage talent, Mr. Johnson initially hired a company to book acts for the club, and by his own account, "just kind of learned as I went." Within three years, he was booking and marketing the club's acts himself, doing his best to emulate the diverse lineups he had witnessed during previous stints in Chicago and Atlanta.
"Booking is a little bit of an art, because you never know what people want," Mr. Johnson said. "I learned not to book just what I like, because a lot of times what I like, other people don't. It took a while to kind of get the flow of what this city likes."
The club hit its stride in the 1990s and early 2000s, developing a reputation in the community for its quality shows and its ability to draw in well-known names like Jay Mohr, Brian Regan and Tommy Chong. But the laughs almost stopped for good when Cedar River floodwaters filled the club in June 2008.
"We sat everything up (before having to evacuate), because we thought if we get three to four feet of water, it would just damage the carpet and we'd have to clean up the wall," Mr. Johnson said. "Of course, it filled the who thing all the way to the top."
Facing a $100,000 renovation bill "just to get it to the point where I could then put new tables and chairs and refrigeration in there," Mr. Johnson made the decision to strike a licensing agreement with the Clarion Hotel and Convention Center in southwest Cedar Rapids, which hosted the club in its lounge for the better part of two years.
While there, Mr. Johnson was approached by Brett Thomas, then-owner of the Cedar Rapids Piano Lounge (now The Vault), with the idea of adding dueling pianos to the entertainment mix. Penguin's moved back downtown in October 2010, and has added music following the main comedic acts every weekend.
The club has continued to go through its share of changes since returning – Mr. Johnson is currently in his third licensing agreement in the space, this time with Mr. Miller and Lee Belfield, the owners and operators of The Vault and Zins – but the space has made it worth the trouble, according to Mr. Johnson.
"It's a great space – the lighting is great, it has low ceilings," he said. "People love doing comedy here because the room is really hot, it's really got people right on the stage."
Mr. Miller hinted that more changes are in store for The Vault, and by extension, Penguin's. He said they are hoping to give the bar a facelift, and perhaps even change the name. They would also like "to bring a little bit of the Zins touch" to table service in the bar, according to Mr. Miller.
Those changes promise to elevate the Penguin's experience even further, but in the meantime, Mr. Johnson, who now runs USA Entertainment Agency and books comedians, dueling pianos and other acts for corporate and private events, is focused putting on fun and affordable shows for his hometown crowd. He said 90 percent of the shows can be seen for $10-$15, and that he strives to book "something for everybody."
"People ask me, 'when are you having somebody funny there?'" Mr. Johnson said. "I say, 'every weekend.'"