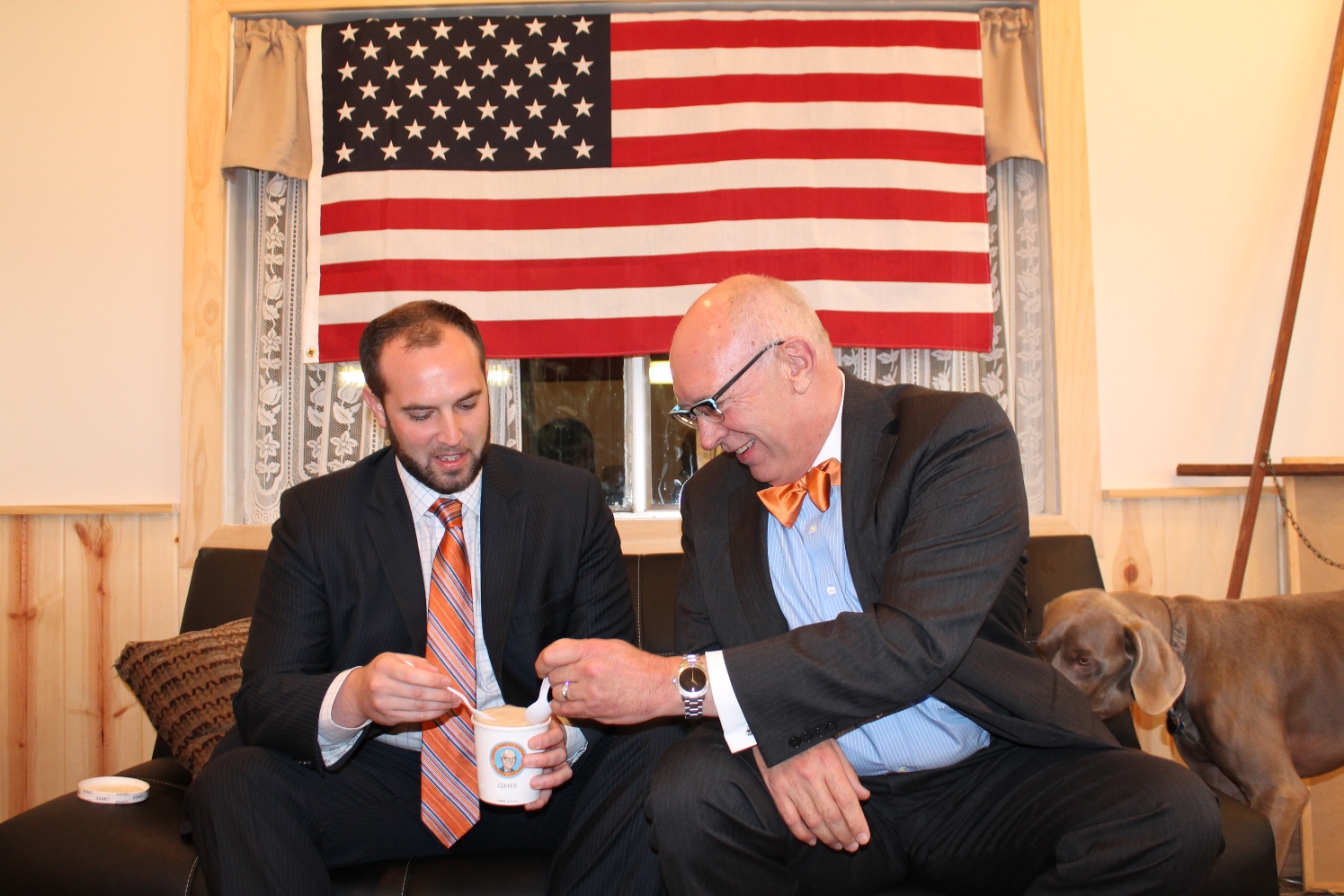 By Dave DeWitte
TIPTON—David's Famous Custard founder David Gott couldn't find a producer capable of making his butterfat-rich new custard confection on contract, so he's building a factory to do it himself.
Mr. Gott, of South Amana, is a career stockbroker who developed the product from a family recipe, found help producing small batches of David's Famous at a University of Minnesota pilot plant and began selling it earlier this year. He is sufficiently proud that each pint carton bears his own likeness.
The rich ingredients and authentic flavorings of David's Famous Custard work together to produce a powerful taste sensation.
"It's almost like a gelato," said Mark Nolte, the president of the Iowa City Area Development (ICAD) Group, which helped get David's Famous established. "It's so rich you don't have to eat a lot. A spoonful or two, and you feel good about the world."
Mr. Gott has personally approached dozens of Hy-Vee store managers to gain placement of the product in more than 27 stores, and often heads out to stores to serve up samples. At an age when many people would be contemplating retirement, Mr. Gott is having a blast.
"The really, really fun part is going to a busy grocery store and giving away samples and coming up with new flavors," he said.
Mr. Gott said the major challenges have been attempting to find a contract producer for his product and dealing with sometimes overlapping federal and state regulatory authorities. Some ice cream producers turned him down flat, saying that they didn't think they could produce ice cream with such high butterfat content.
Aaron Gott, one of Mr. Gott's sons, is an attorney who serves as corporate counsel and handles regulatory issues.
"He (David) has always prided himself on making things that people can enjoy," said Aaron, who has been writing about his experiences on the Ice Cream Lawyer blog, found on the company's website.
Another one of Mr. Gott's sons, Isaac Gott, will play a key role in plant operations when the facility is completed.
David's Famous now offers five gourmet flavors – lemon, Dutch chocolate, coffee, vanilla, and sea salt and caramel. Each sells for about $5 per pint.
ICAD Group helped Famous David's Custard apply successfully for economic development assistance from the Iowa Economic Development Authority totaling more than $125,000, and local matching assistance from the Central Iowa Power Cooperative.
Mr. Gott said ICAD Group also helped the company find the building in Tipton and get set up for electronic data interchange, which was a requirement by many retailers for tracking inventories.
The build-out of the Tipton plant has been delayed by the shipping of the plant's flash-freezing equipment ordered from a firm in Denmark and by a major windstorm, which diverted the project's general contractor to more urgent priorities.
David Gott approaches the challenges with the confidence of someone who believes in his product.
"I'm just a stockbroker who stumbled into something nobody else does and something the guys who do it for a living say you can't do," said Mr. Gott.