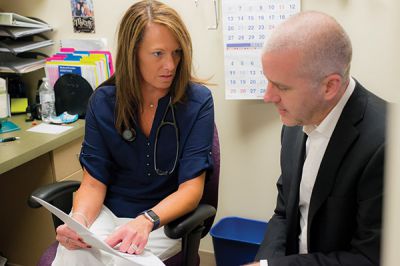 Physicians' Clinic of Iowa Hematology and Oncology is the first in the state of Iowa to deliver Rituxan, a commonly used drug to treat lymphoma, as a subcutaneous injection. One of Dr. William Fusselman's patients was the first to receive the injection on July 28.
"Our patients receiving this treatment now can receive a five-minute injection versus a five-hour infusion," William Fusselman, M.D., oncologist at Physicians' Clinic of Iowa, stated in a press release. "Rituxan has been used in the IV form for several years. FDA approval for injection means people with three of the most common blood cancers now have a new treatment option."
The FDA just approved Rituxan, manufactured by Genentech, for subcutaneous injection on June 23.
"In just a little over four weeks, PCI was able to obtain the medicine and develop protocols for its use. That is an incredibly short amount of time, however, the benefit to patients was too great to not make it happen as quickly as possible. Our team is serious about patient care and were willing to do whatever was needed to bring cutting edge treatments to Cedar Rapids," Dr. Fusselman said.