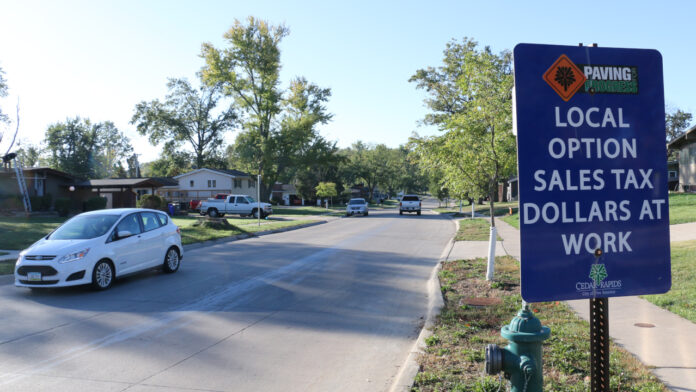 By most metrics, the Paving for Progress local-option sales tax program has produced substantial tangible results since Cedar Rapids voters first approved it in November 2013.
As of July 2021, the one-cent tax had generated an estimated $122 million and funded 200 road improvement projects in the city, encompassing more than 60 linear miles of roadway – 70% of those being residential streets, the other 30% arterial roads.
But for Ralph Russell, former Cedar Rapids City Council member and co-chair of what is now known as the Paving for More Progress committee, the work to improve the city's streets is far from finished – especially considering how much work was needed when the program began.
"Prior to November of 2013, our streets were in a sorry situation," Mr. Russell said. "The amount of money available through current sources was not enough to keep up with the deterioration. Since then, with the one-cent (sales tax), we've been able to do a lot of work, but we still have a lot to do."
Cedar Rapids voters will decide on Nov. 2 whether to renew the local-option tax for another ten years. Without renewal, the current tax will expire in July 2024. Mr. Russell said he sees the local-option tax as the best funding source for street repairs and improvements, especially when compared to the other primary choice – higher property taxes for residents.
"I think one of the biggest advantages of the sales tax, in terms of a source of revenue to fix streets, is that about 40 to 45% of the revenue comes from people who do not live in Cedar Rapids," he said. "It's really the only source of income to fix streets that come from outside of the city of Cedar Rapids. If we didn't have it, we would be raising (property) taxes significantly. We get a little bit of money from the state on gas tax proceeds, but it's far short of what we need to keep the streets in good condition."
The prospects of renewing the tax are promising, Mr. Russell said. A city-funded survey conducted in August by Victory Enterprises, a Davenport-based political consulting and public opinion firm, showed that nearly 67% of the 500 local residents surveyed favored extending the local-option tax, while 29.6% were opposed, and 3.7% were undecided.
"Using a local option sales tax instead of property taxes to fund road and street repairs ensures everyone who uses our roadways, including out-of-town visitors, pays their fair share," said current Cedar Rapids council member and Paving for More Progress co-chair Ann Poe. "In addition, the sales tax allows the city to take a 'pay-as-you-go' approach instead of taking on debt to improve our streets."
In the same survey, 68.5% of respondents said they believed the money spent from the current sales tax had been put to good use by the city, and 82.1% thought the inconvenience of traffic delays during road construction is worth the resultant street improvements.
Mr. Russell said he hadn't seen any organized opposition to renewing the local-option tax. And city officials say eliminating the sales tax runs the risk of allowing local infrastructure to deteriorate once again. The city expects there would be around 58 fewer miles of road in "fair or better" condition in 2030, compared to the program's current completion date, if funding does not progress past 2024. That figure rises to around 96 miles just five years later, in 2035, if the funding vote fails.
The city has become more proactive with street improvements since the local-option tax was approved, said Mr. Russell, who worked as a civil engineer before his retirement. The current 10-year street management plan has been developed using pavement condition data collected on every roadway in Cedar Rapids. The data is collected by a van, rented from the Iowa Department of Transportation, that drives the surface of the roads and collects data on texture, pavement distress and roughness. Fresh data is collected every two years, and the plan is updated accordingly.
"With that information, our engineering department can determine, is there some maintenance that we can do that's going to extend the life of that street and not cost us a lot of money right now," Mr. Russell said. "It's determining what's the best bang for your buck. It's also going to tell us also which streets are beyond repair and need to be replaced."
Will the local-option tax be a long-term solution for streets maintenance? It's a challenging question, Mr. Russell said, but one thing is clear – much work remains to bring the city's streets to an acceptable standard.
"We have a backlog of streets that is as big, if not bigger, than the amount we've done in the first eight and a half years of the program," he said. "I would say another ten years is going to take us a long way down the road to get caught up."
And there's another, less quantifiable aspect to improved streets, Mr. Russell said – the image they project, to residents and visitors alike, as he said he'd experienced infrequent visits to Sioux Falls, South Dakota.
"When you drive through Sioux Falls, the streets aren't broken up, they're in good condition, and you can say, 'wow, this is a progressive entity. This is a place I think I would like to live,'" Mr. Russell said. "If you drive into a community as a visitor or someone looking to relocate and the city right-of-ways and streets are a mess, it's not appealing or inviting. With streets that are cared for and replaced properly, not only does it save the residents money because you're not paying for tires and suspension and problems with your car, but there's that feel-good about your community."