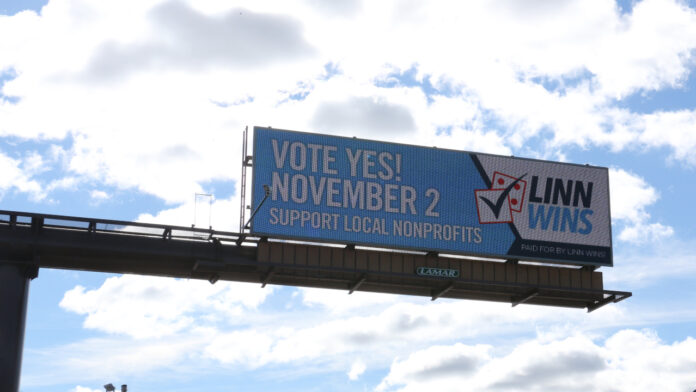 Compared to the costly, and at times contentious, lead-up to the 2013 Linn County gaming referendum, Linn Wins! – the current group promoting approval of the county's Nov. 2 gaming vote – has run a relatively low-key campaign.
There have been a few commercial spots and social media campaigns, some electronic billboards, and a smattering of yard signs, but otherwise, public promotion of the referendum has been largely muted.
But still, backers of the county-wide referendum, which faces voters as the result of a resolution passed by the Linn County Board of Supervisors in July, say they're very optimistic about the odds for voter approval of Measure G in Tuesday's general election.
"We've been in the community now for eight years, attempting to build a facility here, and we've seen so much support over that period of time," said Jonathan Swain, president of Peninsula Pacific Entertainment (P2E), the developer that would work with the Linn County Gaming Association to develop a casino proposal. "I think that support continues. Our polling data shows very strong support for gaming in the community … we see less opposition than we had in 2013. When you're running a campaign with strong opposition, you need to really accelerate your messaging, but we've seen overall positive numbers in the polling data that are improving versus 2013. So we just need to get the message out there about the vote. People don't need to be educated about what this could bring to the community because they understand it and they've supported it in the past."
Unlike the 2013 campaign, there are currently no specific casino development proposals or designs on the table. There's also no organized opposition to the vote.
And a casino location has not yet been officially announced – the location of choice in 2013, along First Street West near the banks of the Cedar River, will now be the site of Kingston Landing, a $71 million development that will include a Big Grove Brewery, recreational facility and other housing and commercial facilities.
Mr. Swain said, however, that "we've always expressed a preference for (downtown) Cedar Rapids. We've evaluated half a dozen sites, and we still are focused on something that can help re-energize downtown Cedar Rapids."
Voters passed the last county-wide gaming referendum by just over 61% of Linn County voters in 2013, a contentious election that cost north of $2.2 million. That eight-year authorization is set to expire this year. If voters pass the Nov. 2 referendum, a simple majority is needed for approval – the measure will permanently authorize gaming in Linn County and pave the way for a Cedar Rapids proposal to be again presented to the state's Racing and Gaming Commission for consideration.
However, the commission had twice rejected casino plans for Linn County, most recently in November 2017, when commissioners voted 3-2 against three separate casino proposals. Commissioners said at the time a new casino would excessively "cannibalize" gambling proceeds from established casino operations at the Isle of Capri in Waterloo, the Riverside Casino in Riverside and other state-licensed casinos in the region.
Supporters acknowledge that a new casino might, indeed, siphon some business from existing casino operations. But they say several factors have changed since the last proposal was rejected, which should improve the chances of receiving a casino license if the county referendum is approved.
The Linn Wins! Campaign focuses on shifts in the gaming market, an uptick in sports betting, and other factors that have altered the landscape for gaming ventures, including new gaming expansion laws passed in two bordering states – Nebraska to the west and Illinois to the east.
Perhaps more significantly, at an August presentation, P2E financial officer Natalie Schramm announced an agreement with the Linn County Gaming Association. This group would hold the license for any gaming venture. Linn County nonprofit agencies would receive 8% of net revenue from a casino's operations – more than double the 3 percent allotment required by state law.
For Anne Parmley, president of the Linn County Gaming Association, that factor alone is crucial to support the referendum.
"Just being an Iowan, I've watched the impact of what's happened in Dubuque, what's happened in Sioux City, what's happened in Des Moines (with casinos), the gains from the gaming revenue for the community itself, as well as the nonprofits," she said. "The counties that have gaming receive an average of $6.3 million (per year) for their communities, and the counties that do not have gaming on average receive $140,000. That's a huge difference in what we could do with the millions of dollars that a casino would generate in Linn County, to help our nonprofits who are struggling to generate revenue to offer the services that they provide to their constituents in Linn County, and also build on our community history to enhance the experience of our citizens. It's really important."
The gaming regulation landscape has changed at the state level since 2017 – the Racing and Gaming Commission has four new members and one open spot – but the commission hadn't authorized a new casino license since 2010 when a license was granted for the Grand Falls Casino Resort in Larchwood. The commission has rejected several other proposals since then. Still, Ms. Parmley said in August, many factors have changed in the Cedar Rapids area of late, including the dual economic challenges of the pandemic and last year's derecho.
"We hope for a fresh look (from the commission), because of those changes and their impact on the revenue of the state," she said. "I can't speak for the new commissioners, but those are things that we think are important to us."