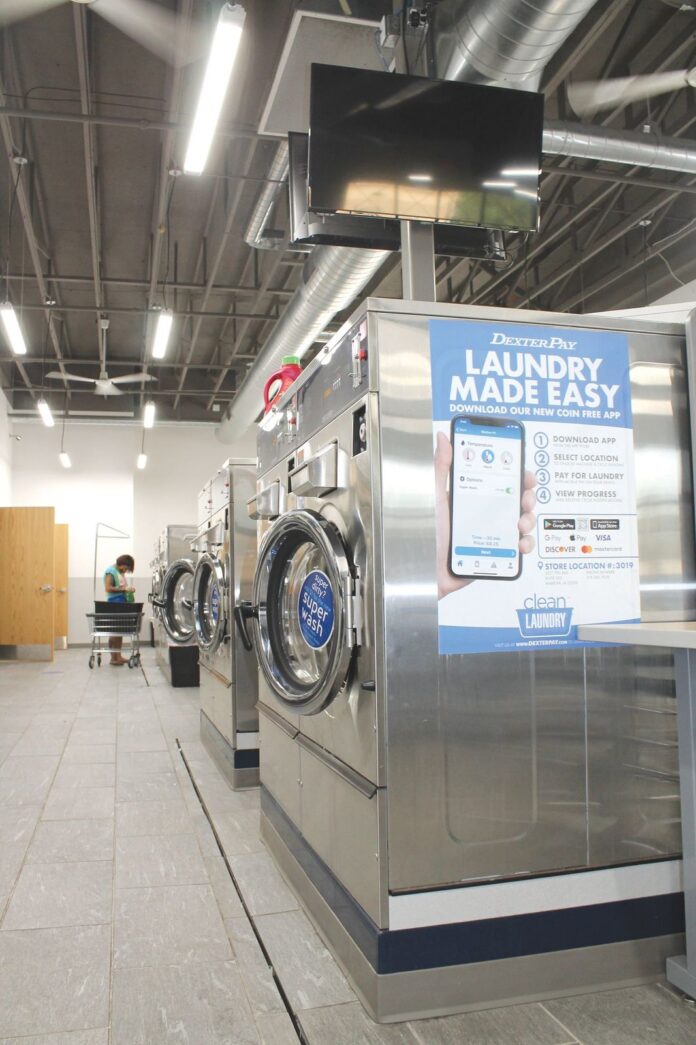 A poster at Clean Laundry in Marion promotes Dexter Pay, a mobile app from Dexter Laundry that enables customers to pay for washer and dryer use and monitor the status of their loads from their smartphones. PHOTO DAVE DEWITTE
By Dave DeWitte
dave@corridorbusiness.com

You wear a mask, use hand sanitizer and try not to touch your face.
Even so, there's an uneasy feeling that many consumers get at the checkout counter, when they enter their PIN (Personal Identification Number) on a keypad that's been touched countless times between cleaning, or take a handful of change that's never been disinfected.
That feeling is at the root of an accelerating trend toward touchless technologies for payment, including in some locations you might never expect.
At the six self-serve Clean Laundry locations in the Corridor, customers are using a phone app to monitor the status of their loads and pay for all the machines used in one payment at the end of their visit. Called DexterPay, it lets customers use their phone to pay for laundry usage by either credit card or mobile payment app.
The app is an all-Iowa product, developed by Genova Technologies of Cedar Rapids for Dexter Laundry of Fairfield, a division of employee-owned Dexter Apache Holdings makes commercial laundry equipment.
Helping laundry customers avoid the need to touch quarters and machine controls wasn't the primary goal when Dexter Pay came out last year. It was more about avoiding the need to bring a sock full of quarters to feed the machines, and letting customers know exactly when their loads of laundry would be done so they could use their time wisely.
Since COVID-19 hit in March, however, it's become one of the many ways that astute customers can reduce the number of surfaces they touch that could transmit the coronavirus.
"Even in a mature industry like ours, the pandemic has acted as a tech accelerator," said Kevin Hietpas, director of sales for Dexter Laundry.
"Since the pandemic, people say, 'I want to handle less if I can.' So we've seen an increase in the adoption of the technology, and now we have a change shortage, with less quarters in circulation, so we have laundry owners and users adopting the technology just because of the lesser availability of quarters."
At Dexter Laundry's test laundry in Fairfield, which is open to the public, 20% of customers now use DexterPay instead of coins or card readers for credit debit or credit cards. While it's a minority of customers, it has already reduced coin collections by 20%, Mr. Hietpas explained.
"If I were ordinarily collecting every five days, maybe I could go to every six or seven days," he said. "I've eliminated 20% of my collections for the year."
Clean Laundry, a business unit of Urbana-based Clickstop, makes a strong customer education push on DexterPay whenever it opens a new location, said co-founder and operations specialist Ethan Akin. Most customers still use cash or cards, but the pandemic is pushing the company to move faster in the coins-free direction. Because quarters are in such short supply at many banks, he said some businesses are using coin machines at its laundries as coin dispensaries, making it harder to stock enough for paying customers.
Since consumers use payment cards and mobile payments for just about everything else these days, Mr. Akin said it's reasonable to believe that coinless laundries are possible. One idea the company has been considering is turning an existing Clean Laundry into a coins-free test site, just to see what it would take to get customers weaned from the use of coins.
In March, the World Health Organization recommended the use of contactless payments whenever possible.
One way consumers have responded is increasing use of mobile payment solutions like Apple Pay and Google Pay, which utilize near-field communications (NFC) to transfer data from a mobile phone to make a transaction.
During the shelter-at-home phase of the pandemic, consumers also made much more use of in-app purchases as they bought more things online. During a two-week period in mid-April, the peak period in which Americans sheltered at home, in-app purchases jumped 22%, according to marketing analytics firm AppsFlyer.
Visa, the largest credit card company, reported in late April that payments using a contactless Visa card or digital wallet had surged by 6 million users, from 25 million in November 2019 to 31 million.
Mobile phone providers like U.S. Cellular, which operates a call center in Marion, promote mobile apps as "a safe, secure and touchless way to make in-store purchases," noting they are more secure than credit cards because they use a digitally encrypted versions of the card number, and avoid the need for carrying different cards that could be lost or stolen.
Dexter Laundry's DexterPay app follows by six years its introduction of DexterLive, a cloud-based system that enables laundry managers to remotely view the amount of usage, revenue and status of their laundry equipment. Also developed by Genova Technologies, it can even be used to remotely shut down machines that need to be taken out of service, and give free washes on laundry equipment.
Although offering the latest tech is integral to its business model, the pandemic has also made Clean Laundry provide more personal staffing and service in its 20 stores. Mr. Akin said more staff are being used to disinfect machine handles, folding counters, doors and other surfaces over the last few months.
"There's just a comfort level to having someone in that store and an employee being there to help them," he said.
After being down quite a bit in the first month of the outbreak, Mr. Akin said traffic has rebounded and is now running ahead of last year amid a higher awareness of the importance of keeping clothes clean.
Touchless lighting tech
At electric supply company Van Meter Inc., the touchless trend has been going on for quite some time, but continues to expand.
Motion sensor lighting technology has been around for 10-15 years, but with prices now only about a third of what sensor-activated lighting cost initially, it's rapidly becoming the standard for new buildings, at least in spaces that aren't always in use.
"Their cost is very inexpensive and they just pay for themselves in very short order, especially in space that is only occupied 50% of the time," said Tim Gebel, product line manager for lighting with Van Meter. The motion sensor lighting also qualifies for energy efficiency rebates from MidAmerican Energy, he added.
Recently, Van Meter has been seeing growth in demand for Internet of Things devices such as security lighting, thermostats and access control systems that can be controlled remotely from a phone app. The primary purpose is convenience, he said, but it also reduces the need for touching shared surfaces.
Paul Brundell of Allen Custom Homes has integrated many such features in a model "smart home," a duplex in Cedar Rapids.
Demand for smart home features is "in its infancy," Mr. Brundell said, because awareness of the technologies and how they can improve convenience, health and comfort while reducing costs is still largely lacking. He remains confident that smart features will catch on, and is building two single-family detached smart homes in Solon.
Although not touchless, one promising area of technology for reducing risk transmission is germicidal lighting. Since the pandemic hit, manufacturers have introduced or reintroduced a variety of ultraviolet lighting systems that can prevent germs from multiplying, Mr. Gebel said.
The germicidal lighting uses short-wave ultraviolet light known as UV-C that acts on the DNA of bacteria, viruses and protozoa to keep them from multiplying.
The germicidal lighting could potentially be used in high-traffic areas with many different users touching surfaces, such as public restrooms or checkout areas. The potentially vast market has spurred the arrival of some fly-by-night manufacturers, Mr. Gebel said, so Van Meter tends to stick with established manufacturers.  He said the germicidal lighting can cause irritation to skin and eyes, and isn't intended to replace regular lighting. At least one manufacturer, Cooper Lighting, has introduced a germicidal lighting system designed to shut off when people are in the space, in order to prevent injury.
The intensity of the lighting and other features vary between products. A lack of industry standards for safety and effectiveness of germicidal lighting is one of the hurdles to widespread adoption, Mr. Gebel said, however the Illuminating Engineering Society is working on standards that should help make decisions easier for consumers.   CBJ