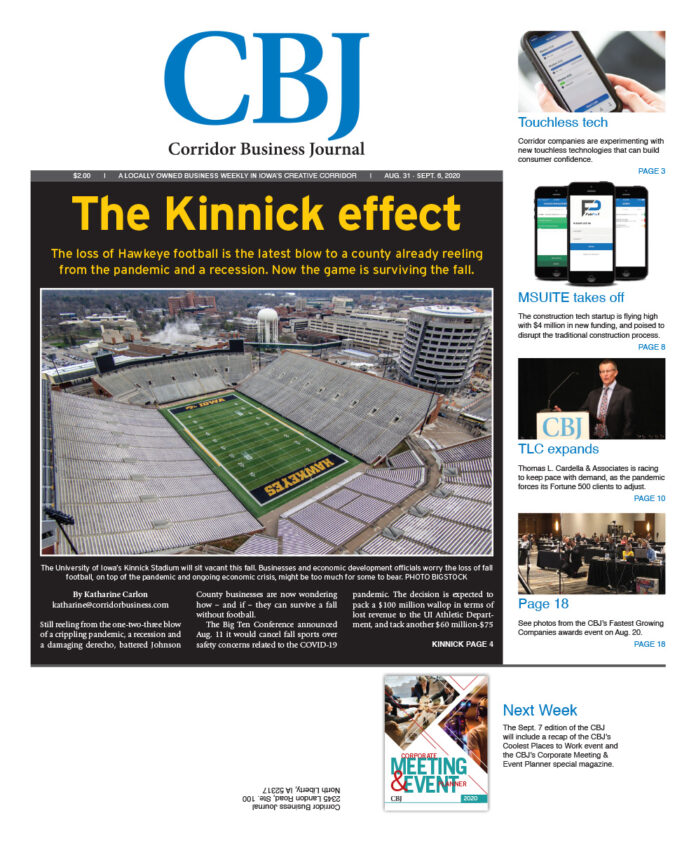 By Katharine Carlon
katharine@corridorbusiness.com

Still reeling from the one-two-three blow of a crippling pandemic, a recession and a damaging derecho, battered Johnson County businesses are now wondering how – and if – they can survive a fall without football.
The Big Ten Conference announced Aug. 11 it would cancel fall sports over safety concerns related to the COVID-19 pandemic. The decision is expected to pack a $100 million wallop in terms of lost revenue to the UI Athletic Department, and tack another $60 million-$75 million onto the UI's budget deficit.
It's a major setback for the university, which has climbed to become the fifth-largest sports revenue generator in the Big Ten and 14th nationwide, according to U.S. Department of Education statistics. But it could also be the last straw for hotels, restaurants, bars and other businesses that had been counting on a football season to help make up for massive pandemic-related losses.
Just as the CBJ went to press, businesses in Linn and Johnson counties were dealt another setback. On Aug. 27, Gov. Kim Reynolds ordered bars and nightclubs in six Iowa counties to close their doors to combat a spike in COVID-19 cases. That order is in effect until Sept. 20.
Think Iowa City President Josh Schamberger pegged the economic impact of the loss of the fall football season at "north of $120 million."
"It's going to be really, really tough," said Doug Alberhasky, manager of John's Grocery, 401 E. Market St., adding businesses like his were already "taking a gut punch everyday" between the pandemic and the Aug. 10 derecho that interrupted supplies from Cedar Rapids and led to out-of-stocks for days on end.
"Football season represented some hope of getting back to normal and now that's taken away," he said. "The financial repercussions of this are going to impact businesses for a long time."
While Mr. Alberhasky has not calculated what his own store's losses could be, home games generated big profits on Friday and Saturday nights, with out-of-town alumni often making a nostalgic trip to John's: "And on a personal level, we want to see those people. Beyond the financial loss, that affects us profoundly."
For two of Iowa City's newest entrants into what's become an increasingly crowded hotel market, the news hit especially hard. The Element, 314 S. Clinton St., and The Highlander, located near the intersection of Interstate 80 and North Dodge Street, had been counting on their first Iowa football season to help make up for five nearly moribund months as travel and tourism ground to a halt.
"When you build a building like this, you go to the bank with a certain anticipation of how much you'll make," said Michael Wilson, general manager of the Element, a Marriott property that opened Feb. 20, just weeks before the pandemic took hold and emptied hotels around the world. "We're falling far short of that, as you can imagine, and not having football will definitely hurt our bottom line quite a bit."
In April, at the height of pandemic-related travel anxiety, average daily occupancy rates at Element fell to 5%. Though they have climbed back up to about 52% last month, it has come at the cost of heavily discounted room rates.
"We're in downtown Iowa City so we get some market share, but our rates are down 30% from where we want to be," Mr. Wilson said. "We're fighting the good fight, but what we really need is a return to normalcy, or whatever normal might look like."
Angela Harrington, the entrepreneur behind the Hotel Grinnell and The Highlander, said the football cancellation "adds insult to injury." The 97-room hotel opened July 4th weekend after a $5 million top-to-bottom renovation, and has endured days when the number of guests could be counted on two hands. The facility's ballroom and other rentable spaces have sat empty with the event business "evaporating overnight." Meanwhile, a staff of 40-50 across both hotels has dropped to about 15 post-pandemic.
"The loss of football is terrible," Ms. Harrington said. "But the 40,000-foot view is that [lost] weekends of home football games pales in comparison to the catastrophic impact of the pandemic for what is now six months."
Million-dollar quarters were not unusual for Hotel Grinnell, but The Highlander and Hotel Grinnell took in a paltry $50,000 combined for the months of April, May and June.
In a stroke of bitter irony, it's been the derecho that has temporarily saved the struggling hotel, providing 15 straight sold-out days as of mid-last week.
"I'm so sorry about the storm, but for a hotel right now, that was a gift," Mr. Harrington said. "Holy cow, thank God for the derecho allowing us to make it a few more months, honestly."
Not all businesses will make it
Mr. Schamberger, of Think Iowa City, said the derecho has given area hotel operators a respite, but one that is likely to be short-lived. The flood of 2008 led to near 100% occupancy rates at Iowa City-area hotels for four to six months, but with the restoration of power and services in Cedar Rapids, occupancy this time around began dropping after 10-12 days.
"And it will in no way make up for the impact of COVID or the loss of football this fall," he said, adding that $120 million in lost revenue to the local business community is a conservative estimate, based on four-year-old numbers from the last economic impact study conducted in conjunction with the UI's School for Urban and Regional Planning.
The study is typically carried out every five years, so "you can guess the economic impact has grown each year."
The impact of a fall without football after six months of a pandemic will be dramatic and potentially fatal for a number of businesses, he predicted, with hoteliers at particular risk. Occupancy rates at local hotels were down 60% as of April. June and July numbers were off 30% year-over-year, with many hoping to begin filling the gap with fall football traffic.
Even in an ordinary year, that might have been a tall order, due to a glut of new hotels, including the Element, The Highlander, the Drury Inn & Suites and the Hotel Chauncey. Before the pandemic arrived, hotel room supply was already expected to significantly outpace demand.
"I fully expect by the end of the year, we'll see several hotels out of business," Mr. Schamberger said, adding the same goes for local restaurants.
He recounted recently speaking with the owner of several local eateries, who warned as many as 40% of area restaurants were poised to close by year's end. "I hope that does not happen, but the impact of COVID, and now football, are very far reaching."
In addition to the millions spent at local bars, restaurants and hotels, economic data shows 13% of those who come to the area are "tag-alongs" – spouses and friends who have no intention of going to the game, but come to the area to shop.
"So this will hit a good chunk of retail, too," Mr. Schamberger said.
In addition to football, the Big Ten's decision to postpone fall sports impacts men's and women's cross country, field hockey, men's and women's soccer, and women's volleyball. Coralville's new Xtream Arena was set to be the home of UI women's volleyball, dealing a setback to the 6,000-seat facility before it even celebrates its grand opening.
The hit to UI athletic revenue also led UI President Bruce Harreld and Athletic Director Gary Barta to announce on Aug. 21 that the Hawkeye men's gymnastics, men's and women's swimming and diving, and men's tennis programs would all be permanently discontinued at the end of the 2020-21 academic year.
Mr. Schamberger said those losses, while smaller, will add up. One hotel operator he has spoken with will lose at least $10,000 on just one swimming event alone.
"It's just been one thing after another," agreed Iowa City Downtown District (ICDD) Executive Director Nancy Bird. "I think every entity in town feels the loss. It makes for a very challenging year."
Ms. Bird said she is especially concerned for the more than 100 food and beverage businesses in the downtown area. With students back on campus, traffic at downtown businesses has picked up and some university conferences and events are back on the table.
"Athletics hit another sector," she said, adding that although only a small handful of restaurants, bars and retailers have closed since the pandemic began, "there are a lot who are pretty soft."
Spring gives some hope
Some business owners are keeping hope alive with the prospect of a possible spring football season. Big Ten leaders left the door open to shifting the season forward six months, with one plan calling for an eight-game regular season starting at the end of February and ending in mid-April.
Aaron Jennings, co-owner of Micky's Irish Pub on Dubuque Street, said the loss of fall football traffic would be significant, punctuating an already "weird" six months that started with transitioning to a delivery- and takeout-only model before a cautious reopening with strict social distancing protocols.
On the other hand, fewer people allowed into the stadium due to COVID-19 precautions would have meant more people flocking to bars, creating an unsafe environment staff would have had a hard time mitigating.
"I'd much rather have football in the fall. It's going to be a big [financial] hit," Mr. Jennings said. "But it would have been dicey. We would have had huge groups waiting to get inside, crowding at the door, probably not wearing masks."
Mr. Jennings is hopeful a spring season can replace some lost revenue and is in discussions with ICDD staff about possibly closing the street and installing large-screen TVs at both ends of the block to facilitate more outdoor seating for sports fans.
Ms. Bird and ICDD staff heard that idea and more the week of Aug. 17 when it held block-by-block Zoom calls to better understand the needs and concerns of downtown businesses as they processed the latest shockwave. ICDD plans to share its findings with the city and build on past successes like the addition of new outdoor seating areas. Challenges include enticing people to come out as the weather turns colder with the approach of fall and winter, and navigating a potential spring football season.
"The local business community has done a good job making the downtown an environment in which people feel safe … but we plan to do more to engage people to come downtown, including when football would have happened," Ms. Bird said. "It's time to say 'yes' to whatever we can do."
Mr. Schamberger said the business community is hopeful, but realistic about the prospects for spring football.
"If it happens, it certainly helps those who are going to have losses this fall," he said. "But if it doesn't, we need to think about what comes next with COVID and now this."
Federal help needed
In the short-term, Mr. Schamberger said he hopes what comes next involves a Paycheck Protection Program-sized aid package for the decimated service sector, currently running on fumes.
In the long-term, he said "what we really need is a vaccine or reliable antiviral treatment. Until that happens, people are not going to travel or gather in big venues and this is what the new normal looks like."
Ms. Harrington called the current uncertain environment "kryptonite" for entrepreneurs like herself. The PPP was of minimal help to the hotel industry with its keen focus on keeping employees on the rolls. Hotels and other large venues have major overhead in terms of utility bills, for example, and little need to retain a large staff to service empty rooms and vast unused spaces.
She backs the RESTART Act, which would create a new loan program to assist businesses that have fallen through the PPP's cracks. RESTART would fund six months of payroll, benefits and fixed operating expenses to entities that have lost substantial revenue due to the pandemic. The proposed legislation is "tailor-made for hotels," according to Ms. Harrington, who is frustrated by both delays in the bill's passage and a lack of media attention to hospitality industry woes.
"Main Street is dying on the vine and everybody's looking at the stock market," she said. "How are small businesses going to survive another six months? Time is our enemy. And now we're going into a fall and winter without football and [students] are going away in November until the end of January?
"We're looking at such a difficult winter," she added. "We see the cliff coming."
Mr. Alberhasky said John's was luckier than many of its Northside and downtown neighbors in that it remained open throughout the pandemic as an essential business and was able to nimbly adjust to post-pandemic reality.
"But it could get really ugly," he added. "There will be a loss of revenue for hotels, for restaurants, for retail, for gas stations … for all of these businesses that play a humongous role in the financial welfare of our community."
Instead of relying on the government to "pick winners and losers" amid the pandemic, Mr. Alberhasky called on the community to step into the void, keeping in mind where they spend their dollars matters.
"People need to support the places that make Iowa City so unique – Pagliai's Pizza, Bluebird Diner, Prairie Lights… the kinds of businesses you can't find in every town across the country," he said. "If we don't do it now, we won't have them in the future. These are all links in the chain and if one fails, we all fail."   CBJ