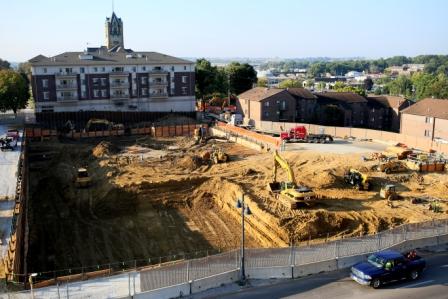 Story by Pat Shaver
Photo by Rachel Jessen
IOWA CITY—As a wrecking ball was tearing through the flood-damaged Hancher Auditorium, about 1,400 yards of concrete was being poured.
Last week, demolition began on the University of Iowa's Hancher Auditorium.
Along with Hancher, the UI's School of Music started construction recently. Both are major flood recovery projects on campus that are expected to be completed in 2016.
"(Hancher) is very sentimental for a lot of people and it means a lot," said Randy Clarahan, Mortenson construction executive in Iowa City. "It's nice being there to turn over projects that the community has been waiting so long for."
Mortenson was selected by the UI to oversee the Hancher project in 2010. For the School of Music, Mortenson was selected in 2011. Both projects began construction this spring and summer.
"What we demonstrated to the university is we have both processes and a track record dealing with large, complex projects and bringing them in on schedule and budget," he said.
For example, he said, Mortenson worked on the $80 million renovation of Kinnick Stadium in 2006.
Mr. Clarahan said the process takes much longer when the Federal Emergency Management Agency is involved.
"Between the two projects, with close to parallel schedules, we're very busy," he said."We're breaking each project into approximately 12-14 bid packages."
That includes excavation, foundation and concrete, mechanical and electrical and audio visual and theatrical bids.
"We have to always be aware with large projects that are funded by FEMA. From the original design that was approved by FEMA we have to keep a watchful eye on every dollar spent," Mr. Clarahan said. "The design is locked down so there are no enhancements or upgrades that can be done. The benefit is it forced everybody to do most of the planning ahead of time."
Though Mortenson doesn't hold any of the contracts, which are held by the university, they are acting as the owner/agent for the projects. At the peak of construction, between the two projects, there will be more than 500 craft workers on site at one time.
"Something that keeps me awake at night is if we're going to have enough craft workers available to do all of the work," he said.
"Within the next couple months, you can stand in one spot in Iowa City and see seven tower cranes. People say you can look at one crane and say there's $100 million," Mr. Clarahan.
The new Hancher building will have 1,800 seats, down from the 2,500 at the old building. There will be two balconies, but only eight rows in each, which will result in a more intimate experience for artists and audiences.
Amenities such as the lobby, café and outdoor terrace are being designed to encourage people to spend more time at the auditorium.   The new building will also include a rehearsal space.
The new School of Music, located on the corner of Clinton and Burlington streets, just a block from the school's current space in University Capitol Centre, will be about 300,000 square feet. The new building will anchor the southern side of downtown Iowa City. The building was being designed by LMN Architects from Seattle, whose work includes award-winning campus planning, convention centers, libraries and performing arts centers. The central building material is glass, chosen in part to make it more open to the public and highlight a feature that will differentiate the new building from the Voxman building: location.
The School of Music will feature a largely glass exterior with a second-floor balcony looking toward downtown. The building will include a 700-seat concert hall, 200-seat recital hall, organ performance hall, opera and chamber music rehearsal spaces, faculty studios, classrooms and individual rehearsal spaces. The architects are LMN Architects from Seattle and Neumann Monson Architects, Iowa City.
Plans for Hancher include: a three-level lobby with views of the Iowa River and campus, a 1,800-seat auditorium with two balconies and separate rehearsal space suitable for programming. The building has been designed in scale with the neighboring Levitt Center.
Pelli Clarke Pelli, based in New Haven, Conn., designed the new building. The firm has designed many of the world's tallest and most recognizable buildings, including the World Financial Center in New York, which surrounds the space where the World Trade Center once stood. The local architect-of-record is OPN architects.
Mr. Clarahan said with large projects it's important that they are strict on safety rules.
"One of the hallmarks at Mortenson is safety. We started the stretch and bend program, where two times a day every craft worker gathers and we do stretching 5-10 minutes," he said.
Mortenson Construction, based in Minneapolis, has had a presence in Iowa for about 35 years. The company opened up an Iowa City office, 111 E. College St., in February that has about 20 employees. The company started in 1954.
"We're here to stay. As we grow we'll be hiring from the local pool of resources here," Mr. Clarahan said.