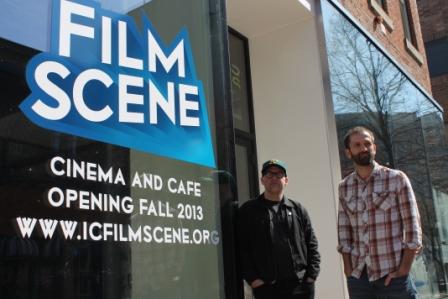 By Pat Shaver
IOWA CITY—An entertainment option that has been missing in downtown Iowa City returns this week.
FilmScene Scene 1, located 118 E. College St., will host its first film screening Oct. 3. The nonprofit theater is located in the former Vito's bar building, which has undergone a major renovation by owner Moen Group.
"That's been one of the most rewarding projects," said Marc Moen, owner of Moen Group in Iowa City. "We do twice as much restoration as we do new construction, that's extremely important to downtown."
To celebrate the grand opening, FilmScene will welcome Alloy Orchestra on Oct. 3 for an intimate performance. The evening will start with a reception from 6:30-7:30 p.m., followed by one of Alloy's first public performances of their new score for "He Who Gets Slapped," a 1924 silent film drama that was the first official production from studio Metro-Goldwyn-Mayer.
Based on a play by Russian writer Leonid Andreyev, "He Who Gets Slapped" is the story of a scientist whose happiness is destroyed by a friend, who steals both his wife and his life's research. Left bitter and desperate, the scientist joins a circus as a clown whose popular act is based on being repeatedly slapped. The clown, known only as "He," is slapped whenever he attempts to speak, reliving personal and professional humiliation with each blow. Eventually, the clown finds redemption when he falls in love with another circus performer, a pretty young bareback rider named Consuelo.
"He Who Gets Slapped" is known as one of the best films of the silent era. Tickets are $30 and can be purchased through the Englert Theatre. Seventy-five seats are available for the show.
FilmScene successfully raised $91,000 in September through a crowdfunding campaign. The money paid for final projects and equipment needed to get the doors open.
Scene 1 includes an 85-seat theater with full surround sound and high-end digital cinema projection. The venue will be a dedicated year-round cinema showing American independent films, documentaries and foreign films, many of which will be first-run movies that are not regularly offered at commercial multiplex theaters.
At the theater, visitors will enter a lounge that will offer catered food and desserts, traditional movie fare, as well as wine, beer and coffee. Café seating for about 50 people will provide an area for discussion before and after the film, as well as a casual meeting place. FilmScene is in the process of selecting an operator for the café.
Scene 1 marks the return of full-time cinema to downtown, which hasn't had a dedicated movie theater since the sale and closure of the Campus 3 in 2007. In a city-sponsored market survey in 2011, respondents cited "movie theater" as the most-wanted entertainment addition for downtown.
In about four years, FilmScene will open a space at the corner of College and Gilbert streets in a high-rise, mixed-use building in downtown Iowa City. The Scene 1 theater would likely continue operating in some capacity, but the ultimate vision is to open a two-theater facility.
At the College/Gilbert street development, the two theaters are expected to span two stories of the building. Along with showing films, FilmScene plans to offer programming such as filmmaking seminars and other community events. They also plan to partner with the University of Iowa to offer theater space for classes.
This summer, FilmScene announced a partnership with the University of Iowa's Bijou Cinema. This fall, the Bijou Film Board and its student members are working with FilmScene's professional staff and board of directors on the operation of Scene 1. This past summer marked the Bijou's last season of programming at the Iowa Memorial Union, although the group hosted movies there in September.
A non-profit arts organization, FilmScene was founded by Andy Brodie and Andrew Sherburne in the fall of 2011. For more information, visit www.icfilmscene.org.