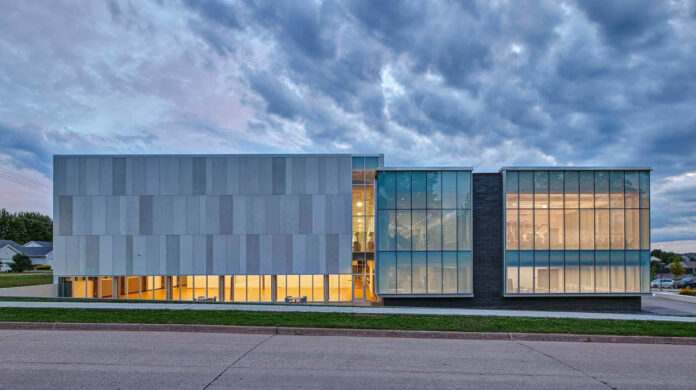 OPN Architects has won a Central States Honor Award from the American Institute of Architects in recognition of the firm's design of the Lester Buresh Family Community Wellness Center in Mount Vernon, which was completed in January 2020.
This is OPN Architects' first Honor Award from the AIA Central States Region in the firm's 42-year history. The center was previously honored with an AIA Iowa Honor Award in 2020  and is a 2021 Athletic Business Facility of Merit.
Jurors for the AIA's Central State Region 2021 design awards were compelled by the wellness center design's innovative and simple use of materials and form.
"(A) Well-proportioned crafted and articulated building that maps itself beautifully into its site," one juror wrote. "Clear (partitions) with the majority of spaces flush with warm light and an open plan that allows continuous visual flow."
This year's AIA Central States Honor Award jury awarded 20 projects of the 211 submitted. Winning projects were selected for:
Innovation: Going beyond convention and making the work extraordinary.
A high level of resolution of craft, and precision, and detailing.
Being resourceful; doing more with less, an economy of means.
Community impact, making the community it serves better.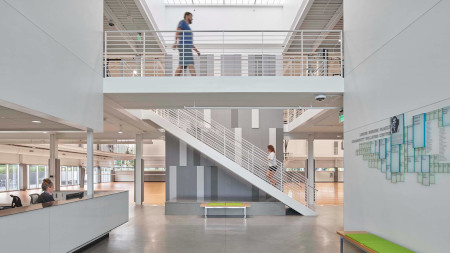 The community wellness center serves both as a formal and informal gathering space for community groups and residents as well as a multi-purpose wellness facility.
As one awards juror wrote, it is "a simple yet elegant community wellness center that will be a public asset for many years to come."
The center includes two courts and a multipurpose space that can be used for practices concurrently or combined into one space for tournaments, a track, fitness and weight areas, a group fitness room, and a community room.
Designed for future flexibility, the building takes advantage of the site's topography to create an entry plaza and sunken courtyard on the east, with space for a pool expansion on the west.
The center's form is created by two solid bars – one clad in precast concrete and the other brick – slightly offset from each other. Located at a busy intersection and adjacent to the local high school, glass is used at strategic locations in the solid form to allow views out, reveal activity within, and create a welcoming presence.
"I … love the composition, in particular how the site was cleverly manipulated to create an apron that surrounds the project and it acts to really extend the interior spaces outside," said jury chair Brandon Pace, FAIA, founder of Sanders Pace Architecture. "This move really helped it feel like a civic community building and I love the simplicity and durability of the interior finishes as well which felt appropriate for the use."