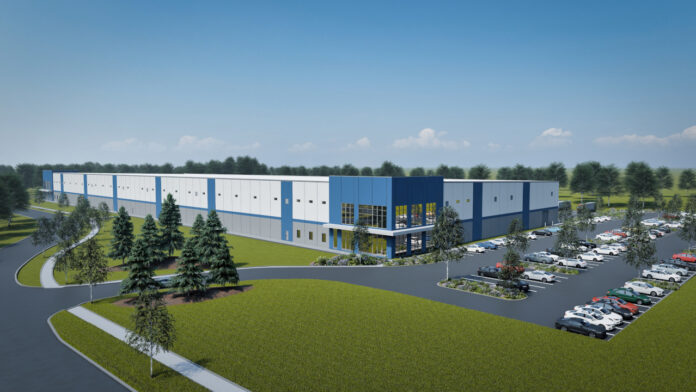 Developers of the Edgewood Logistics Park have announced an update to the construction of a 204,000-square-foot speculative industrial building – the first building being constructed at the site.
"We are on track to open the first of four planned buildings in spring 2022," project leasing agent Dave Drown of GLD Commercial said in a news release. "Footings, foundation and site work is complete, and the steel package is onsite."
Mr. Drown, who also serves as a principal in the project, said staying on track hasn't been easy with continued construction material and labor shortages.
"We've been fortunate to have favorable weather conditions, as well as a great team of contractors and suppliers, working toward a timely completion of this building," Mr. Drown said.
Throughout the COVID-19 pandemic, demand for industrial real estate locally, regionally and nationally has remained unparalleled, GLD Commercial said in the release. The current supply of logistics and warehouse space hasn't met demand and with the more recent lack of container storage, third party logistics companies searching for warehouse space to house materials, has skyrocketed.
The ownership group of Edgewood Logistics Park is looking to fulfill some of this need. Situated on 21 acres, the first building in the 145-acre logistics park is 204,000 SF and features a 36-foot clear height, concrete panel construction with 48 docks and an early suppression fast response (ESFR)  fire sprinkler system. This parcel includes over 200 vehicle parking stalls and 130 semi-trailer parking spaces.
The Edgewood Logistics Park is located near Interstate 380 and Highway 30, and within a five-hour or less drive of most major Midwest cities. With an additional 130 acres available for development and close to 1 million square feet of logistics space planned, the park will meet much of the upcoming demand, GLD Commercial developers said.