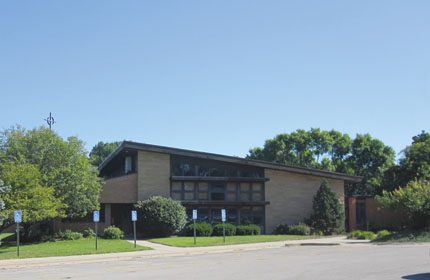 By Gigi Wood
A new TIF proposal will likely be in the hands of University Heights city councilors by the end of the week.
For a few years now, the University Heights city council has gone round-robin on the One University Place proposed development near Kinnick Stadium. The plan, a 93-unit condominium mixed-use development with first-floor commercial, is planned for the northwest corner of Melrose Avenue and Sunset Street, where St. Andrew's Presbyterian Church is located now. The church has purchased land on Camp Cardinal Boulevard for a larger building.
At its Aug. 9 meeting, the council expected to hear more about a tax increment financing proposal for the property from the developer, Jeff Maxwell of Maxwell Construction. He has repeatedly told the council that his project can only proceed with a TIF agreement to help defray the costs. Because the small town only has the ability to offer a TIF up to $5 million, the council asked the Johnson County Supervisors to use their bonding capacity to offer the developer a total of $8 million for the TIF. Two weeks ago, the supervisors voted against such a plan.
Councilors decided to delay any further talks about the project until a funding solution is presented by Mr. Maxwell. Kevin Monson of Neumann Monson Architects, the architect for the project, spoke for Mr. Maxwell at the meeting and asked for a special meeting to discuss a new plan.
The council agreed to a work session in a week, contingent on Mr. Maxwell providing documentation of a new plan by Aug. 19. The work session will take place at 7 p.m. Aug. 23 at St. Andrew's church.
The development has been a highly contentious subject in University Heights since Mr. Maxwell's first proposal was presented a few years ago. Some residents of the 1,000-person University Heights say a high-use project will destroy the charm and safety of their community. Others say the town needs the tax revenue generated by the project.
Allan Mebus, a session member and spokesman for St. Andrew's, said last week no decisions have been made regarding the church property. The church bought a 40-acre site on Camp Cardinal Road with intentions to build a new church to accommodate a growing congregation.
Since the church's plans were announced, some in the congregation have opposed the move and those plans are now being debated. The church's plan to move will need to be approved by its governing body, the Presbytery of East Iowa.
"This (buying the Camp Cardinal land) was an opportunity that presented itself, it was a good business decision," Mr. Mebus has said. "The congregation decided, 'let's purchase the land, we've talked about this.' If we go that direction, we have the land; if we don't go that direction then we've got a valuable piece of property."  CBJ