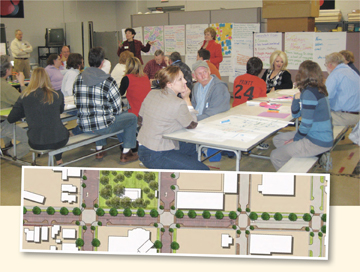 By Pat Shaver
MARION – In seven to 10 years, a busy one-mile, 24-block stretch through Marion's Uptown will look like a brand new place.
After several years of discussions, public meetings and big ideas, officials in Marion hope to begin the first phase in a seven-phase development project to redesign Seventh and Sixth Avenues.
Marion is in the process of conducting a major restructuring of the central business corridor, which includes the development of a new Sixth Avenue along the abandoned railroad right-of-way and constructing a round-about in the heart of Marion's uptown. The work will result in the reworking of Marion's downtown district.
The $19 million project has moved from concept planning to construction design, said Marion City Engineer Dan Whitlow. The city mailed residents letters last week notifying them that a land survey for the project will begin soon. At a city council meeting last month, officials voted to hire Anderson-Bogert, a Marion design and engineering company, to assist with laying out the actual plans for the project.
The Marion Central Corridor project includes a redeveloped downtown area to make it more pedestrian friendly, with room for new businesses and housing, Mr. Whitlow said.
"We wanted to create something more business friendly, more pedestrian friendly and more activity friendly," Mr. Whitlow said. "By relocating Sixth Avenue it allows us to do more access control, reduce accident rates that are high on Seventh Avenue. We can control redevelopment of that area, get newer facades and a newer type of development that will benefit that whole corridor."
The project will provide existing businesses the opportunity to expand and renew their buildings, Mr. Whitlow added.
"Nothing has changed or improved up there for a long time," he said. "It's a real quality of life issue, that's what people want these days, more social areas."
Officials in Marion started discussing and planning the project in 2009. Since then, several public meetings and planning sessions have taken place. A traffic study of Seventh Avenue was also conducted. Mr. Whitlow said the Seventh Avenue stretch needs to be repaved and the community and city leaders decided they wanted to give the area an atmosphere update as well.
Updates will include new signage, landscaping and walking trails. According to the project master plan, development will likely include 400,000 square feet of commercial, retail and office space, 10,000 square feet for a corporate campus, 30,000 square feet of new restaurants and entertainment venues, about 125 new hotel rooms and more than 200 new urban residential units.
The project includes Marion's Central Corridor from Seventh to 31st streets. Anderson-Bogert will develop and recommended first segment of improvements. Construction of the first phase is expected to begin in the spring of 2012. Mr. Whitlow said after the land survey, plans will be outlined and then recommended to the city council later this year.
Once the topography survey is done, the design firm will put together a of the terrain and property boundaries throughout the corridor. Over the next two weeks, some property owners in the area will receive a letter from Anderson-Bogert requesting authorization to survey their properties. This will allow engineers to best determine the layout of the road and associated infrastructure in relation to property boundaries and elevation.
About $4 million of initial funding from the project came from local option sales tax dollars from the last 5 years.
"We're hoping if and when the new local option sales tax is passed, that will be the main funding," Mr. Whitlow said. "If that does not happen we'll end up doing some bonding and things like that."
In May, voters decided against extending a one-cent sales tax through 2034 to fund flood control and several other projects in Cedar Rapids, Marion, Hiawatha, Robins and Fairfax. Officials hoped the vote would pass and a large portion of the funds would go toward flood protection. The money generated from the tax would have also gone toward street repair and property tax relief in Cedar Rapids, and various projects in the surrounding communities.
Last month, a group of about 15 people started a petition for another vote on the tax.
They are proposing a 10 year tax extension, with 100 percent of the revenue going toward flood protection on both sides of the river.
For more information about the project, go to www.marioncentralcorridor.com.
This story originally appeared in the Aug. 15-21 Corridor Business Journal.