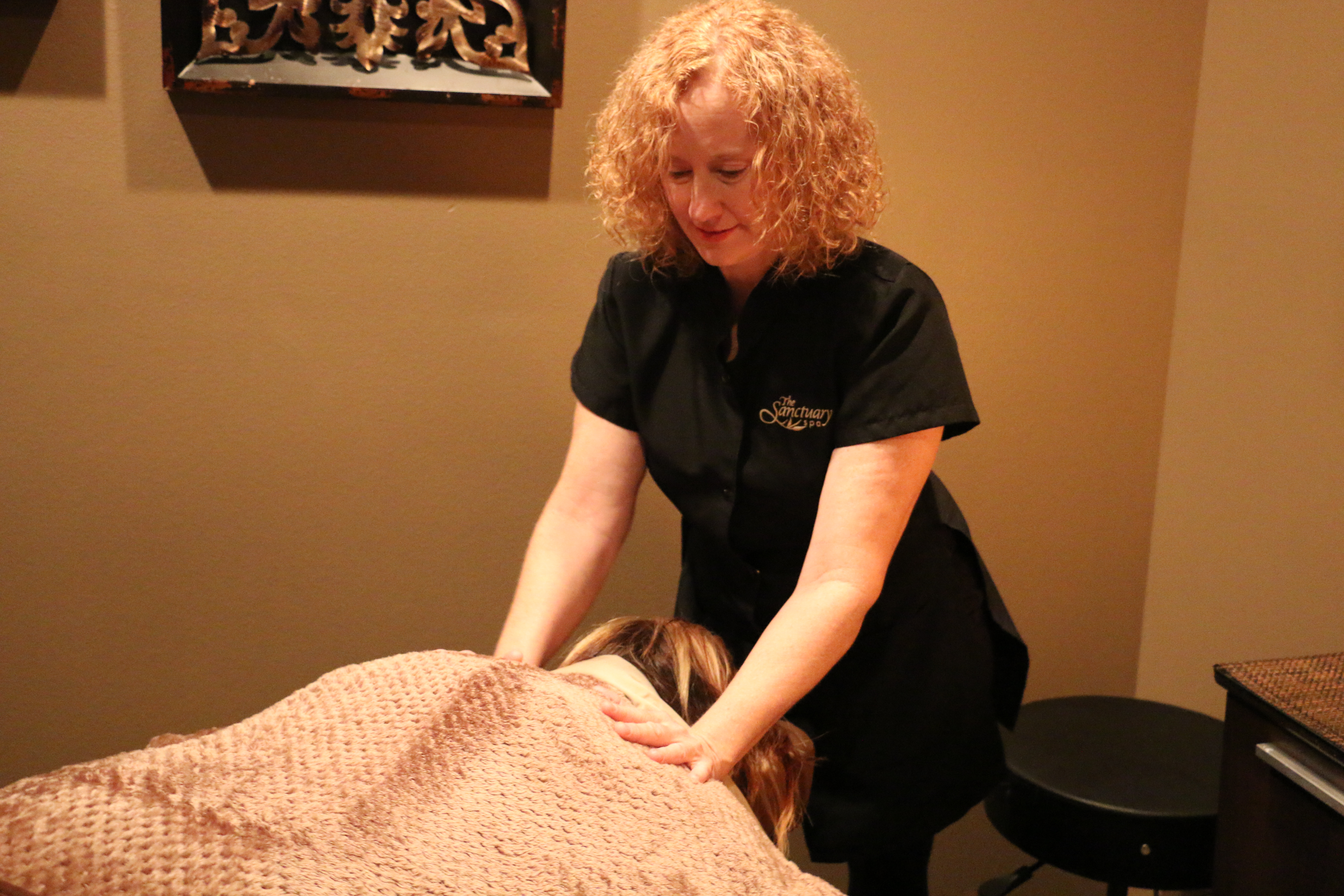 Employeers are providing alternative ways to provide stress relief to their staff, such as on-site massages. Here, licensed massage therapist Tracy Thoreson gives a massage at The Sanctuary Spa in northeast Cedar Rapids. PHOTO/ANGELA HOLMES
By Angela Holmes
angela@corridorbusiness.com
As the effects of stress continue to take their toll on workers, employers are looking for alternative ways to keep their staff alert and engaged.
Fifty-nine percent of working adults say their current job has an impact on their stress, according to a recent poll conducted by National Public Radio, the Robert Wood Johnson Foundation and the Harvard School of Public Health. The study, "The Workplace and Health," found 43 percent of respondents believe their job is bad for their stress level.
Employers are taking note of the snowball effects of stress, including decreased productivity and increased absenteeism, and are forming wellness programs that address everything from financial security to eating habits.
More than half of the employees surveyed said their workplace has a formal wellness or health improvement program. However, less than a third (31 percent) say they actually participate in the program.
Many Corridor employers offer wellness programs, especially since the Blue Zones Project began in Iowa City, Cedar Rapids and Marion several years ago.
And those companies commonly provide perks like fruit and water, some are taking wellness to another level by offering alternative therapies such as on-site massages.
Millhiser Smith, an insurance agency in northeast Cedar Rapids, offers quarterly massages as a benefit of the company's wellness program.
With River Valley Chiropractic conveniently located across the parking lot from Millhiser Smith, therapist Shelley Miskimen of River Valley provides massages either on-site or at her office.
For employees who sit at their desk all day, massages helps relieve stress and tension, said Jessica Bronson, an administrative assistant and the agency's wellness coordinator. Other activities include lunch-and-learn programs and walking around the trail outside the office throughout the workday.
"We want to make sure employees are healthy and happy," she said.
Millhiser Smith's program is voluntary and point-based, with different tiers. Of the company's 40 employees, about 25 percent participate in the wellness program, Ms. Bronson said.
At Stamats, a marketing and communications company in downtown Cedar Rapids, employees are often faced with stress from the deadline-driven nature of their jobs.
Sara Henton, manager of client development, is one of three employees who started the wellness program at Stamats in 2010.
"The largest, most overarching reason was to reflect a culture of wellness at the workplace and expose employees to healthy choices," she said of the decision to start the program. "The underlying reasons included increased productivity and decreased absenteeism. It's hard to track and measure productivity levels, but feedback has been positive."
In 2012, the wellness committee decided to implement alternative ways to control stress and anxiety, and put a call out to several chiropractors and massage therapists. Rachael Hruseborne, of Therapeutic Massage by Rachael, answered the call and has been providing on-site massages at Stamats for four years.
Ms. Hruseborne provides 15- or 30-minute sessions on a mini-table in the building's library on the first and third Thursdays of the month.
Employees pay for their own massage at $1 per minute. Sign-up sheets fill up quickly on the weeks she is scheduled to visit, Ms. Henton said, adding that several employees also go to Ms. Hruseborne's practice at 463 Northland Ave. NE on a regular basis.
"There are a lot of physical and mental benefits," Ms. Henton said. "The majority of employees sit for long periods of time. It [massage] increases circulation and is a stress relief."
Hands in Harmony Massage Specialists & Spa, which has locations in Cedar Rapids and Mount Vernon, also provides several off-site services for corporate clients, including chair messages and group exercise sessions.
Employees who sit for long periods of time or use a computer for hours on end tend to have pain in their lower back and forearms, said Angela Nissen, spa director at Hands in Harmony.
"Some people don't even realize what muscles are causing them pain," she said, adding that a massage releases endorphins – or what she called "the happy cells."