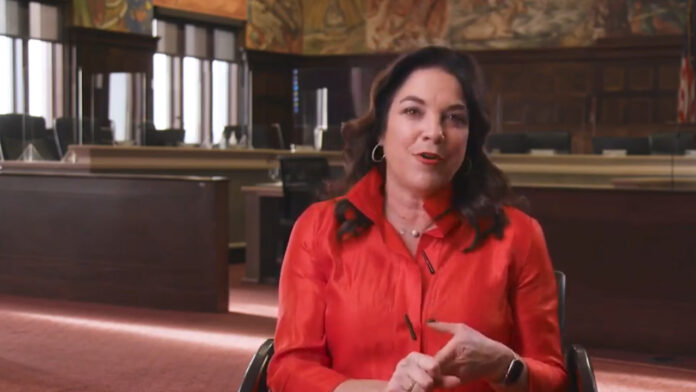 The pace of economic development projects in Cedar Rapids over the past year is encouraging, but work remains on a number of fronts to ensure continued growth, Cedar Rapids mayor Tiffany O'Donnell said in her first State of the City address Wednesday.
A combination of existing business expansions and newly-recruited companies have fueled the city's economy over the past year, Ms. O'Donnell said. She noted the expansions of Collins Aerospace, International Flavors and Fragrance (formerly Dupont) and Sadler Power Train in 2021 "highlight how many sectors continue to thrive even during these challenging times."
"I will continue to focus on how the city can support the companies that make Cedar Rapids the force that it is," she said. "Our existing companies are our best resource for growth. For me, job one as mayor is ensuring that Cedar Rapids companies keep their current address."
Ms. O'Donnell also pointed to FedEx's new $108.6 million warehouse and distribution center and the announcement of Alro Steel's planned $20 million office, warehouse and distribution facility as "big wins" and leading examples of new growth in Cedar Rapids over the past year.
Ms. O'Donnell noted that a total of 16 projects received city council approval in 2021, amounting to more than $354 million in capital investment, created 517 new jobs and retaining 329 jobs.
A total of $663 million in building permits were issued in 2021, the highest total in the city's history, she said. She acknowledged that derecho repair and recovery projects comprised a portion of that total, but noted that the top 25 building projects, representing about 43% of the total reported valuation of the permits, were for public and private project investments in the community.
Those investments, including residential, educational, industrial, retail and commercial developments, "have positioned Cedar Rapids as one of Iowa's top tier cities for construction growth," she said.
Other significant projects lie on the horizon, Ms. O'Donnell said. Among the most visible is the development at First Avenue and First Street West. The proposed $71 million entertainment and mixed-use project, now known as Kingston Landing, is slated be developed in three phases.
Construction of the first phase, slated to begin in June, would include an 8,000-square-foot Big Grove Brewery location; a 43,530-square-foot "Pickle Palace" facility featuring pickleball courts, a bar and grill, event space, rooftop courts and games, a roof deck and a third-floor bar; and two four-story mixed-use buildings, with commercial entities on the main floor and residential units above.
The second phase would include a four-story residential building, a mixed-use building, a city-owned parking ramp fronted by eight owner-occupied town homes, and a proposed upscale or extended-stay "boutique hotel" with approximately 100 rooms. And the final phase would be highlighted by a proposed family entertainment center of up to 30,000 square feet, with three additional mixed-use buildings.
The project, "has been a long time coming and is a cornerstone in reimagining and re-energizing our downtown core," she said. "It's unique for a city to have such a large high profile location available for development at this point, and it was important that the city attract just the right anchor for the area."
She referred to the project as "a showcase entertainment and mixed use destination for residents and visitors to enjoy all year round that will spur additional growth around it as well."
"Work continues behind the scenes to bring more projects like this to our incredible community," she added. "These are the types of developments that our residents have wanted, and that we need to attract the workforce of tomorrow to Cedar Rapids and keep the people we have here for us to achieve the growth that we envision."
To achieve those goals, Ms. O'Donnell said the city must continue to support development of both affordable and market rate housing. She said the city added 639 new residential units last year, including 90 affordable units, and highlighted infill projects such as the redevelopment of the "Banjo block" near the Cedar Rapids Public Library, the Watts Group's Douglas on First condominium development adjacent to the Brucemore mansion, and the redevelopment of the former Terex site, which will "yield major improvements to key districts and add a diversity of options for residents."
Ms. O'Donnell touched on a number of other topics in her address, including:
The need for ongoing support of neighborhoods and neighborhood associations;
Ongoing improvements in public safety, including the establishment of a citizen's police review board;
The continued expansion of recreational developments such as the Alliant Energy Lightline pedestrian bridge connecting the Czech Village and New Bohemia neighborhoods, and the ConnectCR project, a public-private venture which includes plans for revitalizing Cedar Lake with accessible canoe and kayak launches, fishing piers and amenities, a pedestrian boardwalk over the lake, an obstacle course and improved trail surfaces;
Ongoing implementation of flood control measures on both sides of the Cedar River;
Continued pursuit of a Cedar Rapids casino proposal for consideration by state regulators; and
A focus on derecho recovery and support of the city's "ReLeaf" tree planting efforts that will include more than 42,000 new trees along Cedar Rapids streets and in city parks.
"I'm so excited to work together over the next four years to really step on the gas and accelerate our progress," Ms. O'Donnell added. "Together we can create a city beyond what any one of us could imagine alone. We all must have a sense of urgency to work together to go where we want and need to be as a city. What we do today will shape tomorrow. We have a very real opportunity to build a better, brighter future for all of us and for generations to come. Our time is now, and I challenge you to be unabashedly enthusiastic about our city."
The 39th annual address, sponsored by the League of Women Voters, was delivered virtually for the second consecutive year due to restrictions from the COVID-19 pandemic. It's available for replay at cedar-rapids.org/sotc