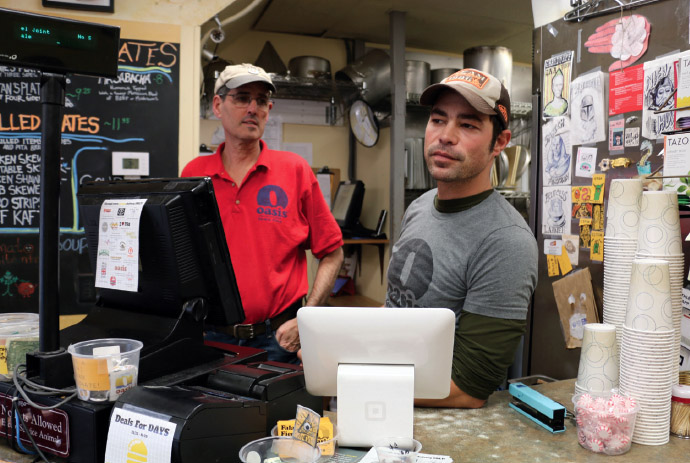 When they opened Oasis Falafel nearly 14 years ago, Naftaly Stramer and Ofer Sivan hoped to successfully blend their home and adopted countries together. This month, the pair was honored with the 2017 Outstanding Immigrant Business Award. PHOTO KATHARINE CARLON
By Katharine Carlon
katharine@corridorbusiness.com
Naftaly Stramer, who came to the U.S. from Israel at the age of 34, has never forgotten the advice of the judge at his citizenship ceremony: "Give the pledge of allegiance to the U.S., but don't forget where you came from."
Those were the words ringing in his ears 14 years ago when he walked away from a lucrative career in the tech industry to try his hand at the restaurant business with fellow Israeli-born partner, Ofer Sivan. And they took on even more resonance this month when their Iowa City-based restaurant and food brand, Oasis Falafel, was honored with the statewide Outstanding Immigrant Business Award at the 2017 Immigrant Entrepreneurs Summit in Ankeny.
"The reason we wanted to open a small falafel place is in the Middle East, on every street corner, there's maybe three or four of them," Mr. Stramer said, explaining the marriage of cultures that has made Oasis into a regional household name. "That was our idea, mix this culture with local culture. Sometimes it doesn't work, sometimes it will, but the fact that Iowa City is so diversified persuaded me that this idea would work."
Work is an understatement. Though Oasis' co-owners play down the significance of the award – "We're just doing our thing," Mr. Sivan said – they also admit they now sell more food in an hour than they did in a full day when the restaurant opened its doors at 206 N. Linn St. in 2004. The business has grown from one and a half to 26 full-time employees. What's more, Oasis now sells hundreds of pounds of hummus, baba ganoush and other products daily at about 50 grocery stores from the Quad Cities to Des Moines as well as at 15 University of Iowa campus locations.
"These men were both engineers who wanted to make a switch and they took a very systematic approach to starting this business," said San Wong, director of the Iowa Department of Human Resources, who also served on the planning team for the 10th-annual entrepreneurs summit. "There's a synergy to it and a real emphasis on balance."
Through 14 years in the same location and a successful expansion into wholesale, Ms. Wong said, "their mission has always been sincere, honest, quality food and they've never compromised on that. People want them to go bigger, but they want to go at their own pace and keep the attention on quality."
That dedication to simple, wholesome Mediterranean cuisine was born out of a casual lunchtime conversation between Mr. Stramer, Mr. Sivan and Mr. Sivan's brother on Iowa City's Pedestrian Mall. At the time, Mr. Stramer was still working in tech and Mr. Sivan, who came to the U.S. as a three-year-old, was a recent engineering graduate with few job prospects.
"[Mr. Sivan's brother] said, 'Why don't we open a falafel place? This town is really missing one,'" Mr. Stramer recalled. "I was laughing at this point and saying, 'What do I know about the restaurant business?' I took another job, but this thing that they said played in my mind. So in 2004, we decided, OK, let's do it."
After testing the concept at a pair of Iowa City festivals and promptly selling out of food, it was clear they were onto something. With the help of fellow restaurateurs who served as mentors, the Small Business Administration and SCORE, the men quickly learned the ropes of the business – a debt they are eager to pay back today by helping other small businesses and by serving the community both through food donations and volunteer service. Mr. Sivan, for example, serves on the board of local nonprofit Field to Family while Mr. Stramer is the current president of the Iowa City Downtown District board.
Ms. Wong said Oasis was an stirring example of an immigrant-owned business that is not just turning a profit, but giving back to the community.
"We want to highlight people's journeys in a way that inspires other people," she said. "That includes tips and advice useful to any entrepreneur, but it's not always about the bottom line."
"It's a whole circle," Mr. Stramer agreed.
Ms. Wong said stories like Oasis' are important to the immigrant community, which has flocked in increasing numbers to the annual summit – a full day of workshops, pitch opportunities and networking aimed at matching up-and-coming entrepreneurs with the resources they need to start and grow their businesses. Just 300 people attended the first summit; more than 1,000 signed up to attend this year.
The effort is paying off. Ms. Wong said IES, through the Iowa Secretary of State, tracks attendees each year "and every year we see about 100 new businesses start." Over nine years, she said, 1,206 new businesses were started by summit attendees – some 190 of them last year alone. Those businesses have created about 6,200 jobs and contributed $33.6 million to the Iowa economy, she noted.
"The path to success might not be the same as for others," she said. "They might have to depend on their family for financing. They might not have the same access to capital."
Oasis' founders say that unlike some of their peers, they faced few barriers to opening their business other than incredulity from bankers that two engineers with no real food service experience wanted to open a restaurant. But they are pleased to serve as an inspiration and model to other immigrant entrepreneurs looking to get ahead.
"Outwardly, we don't look like immigrants, so that may have protected us," Mr. Sivan said. "But I think the business community in Iowa, like Hy-Vee and the University of Iowa, gives everyone a chance. If you're local and you want to try to sell something, they will let you try. They don't get hung up on cultural issues. Some people see big business as a greedy, evil force, but on the other side, it's a really powerful engine of increasing tolerance and diversity."
Mr. Sivan said immigrants have some advantages over other entrepreneurs in that they go in knowing they will have to work harder, operate frugally and be more nimble.
"What strikes me is this feeling immigrants are coming here and they're using up America … like there's a pile of stuff and they're taking it," Mr. Sivan said, adding that investing in immigrants now through public assistance, job training and programs like the IES pays rewards later. "If you give them some food and some shelter and a leg up, they'll become productive and start putting back in. These are people who will pay their taxes and bring new products and new ideas."
Mr. Stramer noted that the tech world is full of such examples. The current CEOs of Microsoft, Google and Oracle were all born overseas, as were such luminaries as Pierre Omidyar, founder of eBay, Jerry Yang, co-founder of Yahoo, and Elon Musk, co-founder of Tesla.
"And really, there are no Americans who weren't immigrants," Mr. Sivan said. "You can forget that – but you shouldn't."