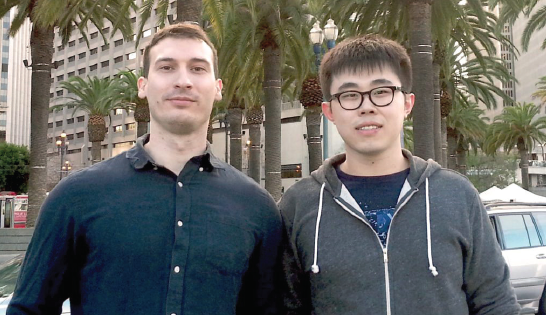 Nick Kljaic (left) and Junjie Shi created the leading real estate chatbot business now known as Apartment Ocean while living in Cedar Rapids and participating in the Iowa Startup Accelerator. PHOTO APARTMENT OCEAN
By Katharine Carlon
katharine@corridorbusiness.com
Forbes Magazine called them the top cus­tomer service trend of 2017. Gartner, a business research and advisory firm, pre­dicts they'll handle more than 85 percent of customer interactions by 2020.
The chatbot has arrived and is taking the customer service scene by storm, using artificially intelligent virtual assistants to help customers book travel, pay bills, pur­chase insurance and order food delivery. Although it hasn't yet caught on with many local businesses, a pair of New York chat­bot entrepreneurs who got their start in the Corridor say that's just a matter of time.
"It's a new technology, but it's becoming mainstream very quickly," said Nick Kljaic, co-founder and CEO of Apartment Ocean, which moved its headquarters from Cedar Rapids to Wall Street last year after partici­pating in the inaugural cohort of the Iowa Startup Accelerator in 2014. "We're seeing a lot of interest here and around the world as this technology becomes more efficient and more sophisticated."
Apartment Ocean – an AI-powered, ful­ly customizable, interactive assistant de­signed to answer customer questions and gather information to create sales leads – was the first entrant in the rapidly growing world of real estate chatbots and is now the market leader, Mr. Kljaic said. With cli­ents from coast to coast and as far away as Australia, the company has been featured in publications from Realtor magazine and Business Insider to the Times of Lon­don in recent months.
Three years ago, though, it was just Mr. Kljaic, then 27, his partner Junjie Shi, 26, and their shared dream of launching Clik­Home, an early prototype for Apartment Ocean. The pair, who met while working as Wall Street analysts and bonded over the difficulty of finding housing in one of the world's most expensive cities, came to the Iowa Startup Accelerator (ISA) in­trigued by its promise to pair new ventures with mentors, funding and development expertise. Eventually, the men quit their jobs and relocated to Cedar Rapids to work full-time on the business.
"We still have an office in Cedar Rapids and we like Iowa, the mentality, which is why we stayed here," Mr. Kljaic said, add­ing that the guidance, connections and input they received from business experts and local property managers in develop­ing their business model was "how we evolved to the place we are now."
ClikHome, developed in Cedar Rapids, was a machine learning-based matching engine that paired renters with suitable apartments based on 10 questions about lifestyle and personal interests. It was a fitting precursor to Apartment Ocean, Mr. Kljaic said, "similar to what the chatbot experience is – a conversational experience. So once chatbots began to appear, we immediately jumped on it and it morphed into [Apartment Ocean]."
Chatbots are now used by many large corporations to provide automated, human- like communication with customers. Capital One's Eno, for instance, uses AI to exchange text messages with customers on recent transactions, due dates, credit limits and other matters. Marriott's chatbot, available through Facebook Messenger, Slack, WeChat and Google Assistant, lets rewards members research and book travel at more than 4,700 hotels, link their rewards points and get suggestions on upcoming stays. And services like Chatobook allow restaurants to take reservations, give menu suggestions and offer specials.
David Marcus, vice president of Facebook's Messenger, said in April that developers had created 100,000 bots over one year on that platform alone. But Mr. Kljaic said the real estate world has been slow in adopting the technology – until recently.
"Real estate has always been a very traditional industry," he said. "But then again, if they see they can save money and make more money with better quality leads, they're receptive. They need to test it, see how it works and understand that if the chatbot doesn't know the answer to a question, it can connect a customer with a human agent."
Mr. Kljaic said younger renters and buyers expect immediate service and instant answers in an era when most do the bulk of their home browsing online without the help of a traditional agent or broker.
Recognizing that reality, Corridor realtors like Skogman and Coldwell Banker Hedges have added chat functions to their websites in recent years, although both use Toronto-based ReadyChat, which connects customers to live customer service reps.
"These aren't bots, these are actual live people," said Molly Iversen, IT director for Coldwell Banker Hedges, adding that her agency was the first in the area to offer chat capability. "This is something our agents asked for and we found a way to do it through our website developer."
Ms. Iversen said offering a live chat service had helped the company capture high-quality leads and answer basic questions instantly at a fraction of the cost of hiring a full-time person "who might be waiting hours at a time for a chat to start." Even so, she doubts her agency would be interested in automating the function anytime soon.
"Here in our market, we're not big enough. In L.A., Chicago or New York, it might make sense," she said. "I also think you can kind of tell when you're getting a bot response. I assume it sounds kind of canned like an Alexa or Google thing, whereas our agents sound great."
Mr. Kljaic said he understands that sentiment, which is why Apartment Ocean is targeting larger, heavily trafficked marketplaces where human support is both expensive and inefficient.
"When you have consistency changes, when you're slow to reply, the entire customer service experience drops," he said. "What we offer is very scalable and it's a fraction of the cost. Where there's no traffic, live chat is enough. But for a large scale, [chatbots are] the only way to have an immediate reply."
As for the issue of "canned" answers, Mr. Kljaic said 80 percent of customers ask the same questions. The responses can be customized according to each client's wishes and a live agent can hop into the chat to deal with any curveballs. And those capabilities will only increase as chatbots become more powerful and capable of handling more complex tasks.
That sophistication will extend to all industries and sectors, he said, with chatbots increasingly taking on the more tedious aspects of customer management while offering consistent, reliable service that never sleeps.
But no matter how "smart" the bots become, Mr. Kljaic said they will never replace humans.
"I see AI as an assistance to humans so they can work on more complex tasks that require more thinking. Why does a human have to take information or do menial tasks? They should be focused on more important things."