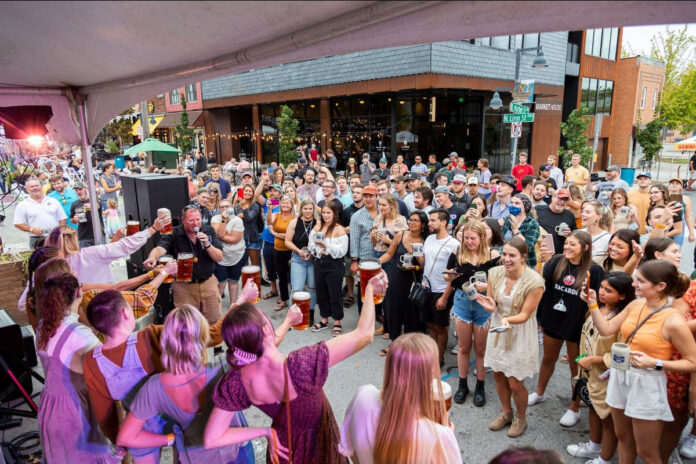 The Northside Oktoberfest festival returns Oct. 8 to the Northside neighborhood in Iowa City, celebrating 26 years. Featuring Iowa City BrewFest, an outdoor Bier Hall, and Iowa Children's Museum SodaFest the annual neighborhood event is set to feature a full stage lineup of entertainment, contests and local eats. 
The event will kick off at 11 a.m. Saturday for the Iowa City Brewfest limited and ticketed sampling event, while the outdoor Bier Hall will open to the general public on North Linn Street at noon for the day. 
"As we head into our 26th year of BrewFest, the landscape for bier lovers in Iowa City has changed dramatically. The 134 Iowa breweries and the national awards that they are earning are indicative of this, but it is a testament to the impact that our little festival has had on the business of bier in Iowa," Doug Alberhasky, festival coordinator and owner of John's Grocery, stated in a press release. "By getting our Brewers and their Bier Lovers together to discover the newest brews, our Iowa City BrewFest has been instrumental in educating our state in all things sudsy and has helped propel our breweries into the national spotlight for making some of the best beers in the country."
Iowa City BrewFest, sponsored by Fly CID, is Northside Oktoberfest's traditional sampling event. While the festival is open for anyone to walk through, only those with an Iowa City BrewFest ticket will be allowed to sample from the 40 breweries and vendors lining the street. Tickets are $94 and include unlimited samples from 11 a.m.-3 p.m., a brand new BrewFest hat, and a $15 gift card to use at Northside businesses for food. Attendees will be able to enjoy the live music, entertainment, and Oktoberfest games happening in the area.
In addition, the outdoor Bier hall returns for a second year on North Linn Street as a more general admission to the event. The Bier Hall will be open from noon-8 p.m., where attendees can purchase a ceramic Oktoberfest stein for $10 and get their beer or wine at neighborhood establishments.
Northside Oktoberfest will have a fully programmed stage on Market Street near Goosetown booked with live music and Oktoberfest contests. Performers include Barefoot Becky, The Tanya English Band, and the Czech Plus Band.