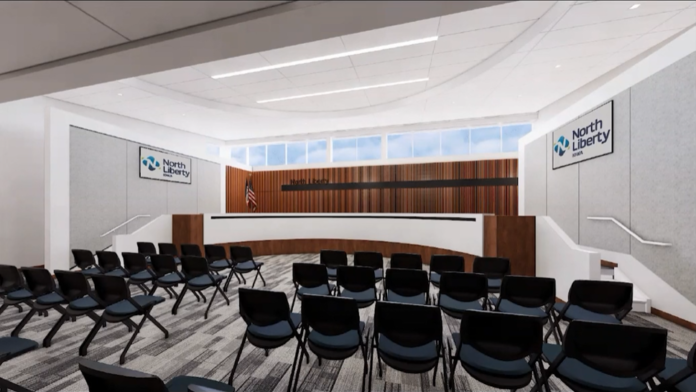 The city of North Liberty will receive bids for the construction of a two-story, 10,700-square-feet city hall building on Aug. 30.
Comprised of administration offices, office space, city council chambers, a community room and ancillary support spaces, the project was quoted at an estimated price of $9.9 million in March.
Bids will be publicly opened and read at the end of the month and then considered by North Liberty City Council on Sept. 13. A non-mandatory pre-bid meeting will take place on Aug. 16, according to a press release.
Construction is expected to begin Oct. 17 with final completion by April 2024, a month sooner than originally anticipated.
The project includes three bid alternates as indicated below:
No. 1 – Landscape Plaza
No. 2 – Landscape Plaza
No. 3A – HVAC Controls, Woodman Controls
No. 3B – HVAC Controls, Johnson Controls
No. 3C – HVAC Controls, Control Installations (CI3)
No. 3D – HVAC Controls, Baker Group
According to the release, the construction cost opinion for the project's RFP is $8.6 million.
The city hall is being designed Shive-Hattery, who recently acquired St. Louis-based firm KDG Architects. The space will feature open space, as well as a 76-space parking lot with an electric vehicle charging space, while the existing asphalt lot with 52 spaces will be eliminated.
City council meetings will be held in the new city hall. The room, inspired by similar city council chambers in Iowa, should have an open feel with plenty of natural light, said Natalie Oppedal, a Shive-Hattery architect, during a virtual open house in March.