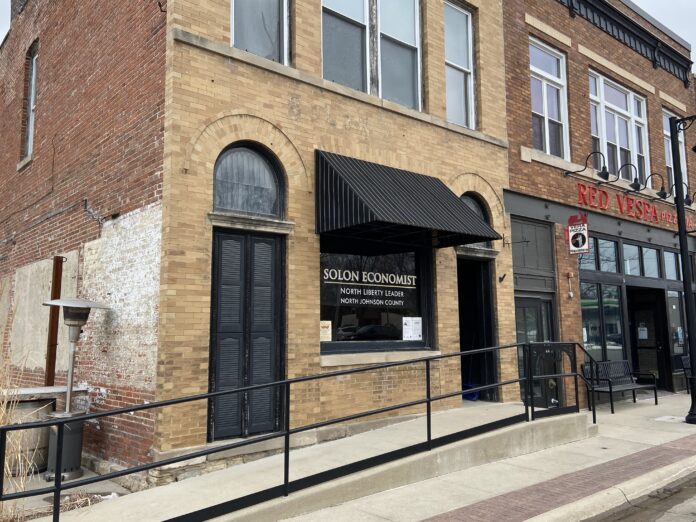 The North Liberty Leader, a weekly newspaper running since 1976, is discontinuing publication as of Thursday morning.
Despite significant investment, the newspaper is simply not financially feasible and did not have adequate support from the local community, said Bob Woodward, vice president of community media for Woodward Communications.
"The challenge we had is, for a town of 20,000 people, we only have 300 subscribers, which is an extremely small number," Mr. Woodward told the CBJ. "We hadn't been able to increase the number of subscribers, even though we had a lot of local, North Liberty content. At the end of the day, it would appear that people have voted with their wallets, or their clicks, and decided that they don't need or want to support a North-Liberty-specific newspaper."
Their advertising and subscription woes, he said, predate the pandemic and have not been alleviated even though the company has invested in new websites, new e-newsletters and other digital capabilities.
"It was a hard decision from the standpoint that we don't like discontinuing a local news organization with local journalism, but it was an easy one from a financial standpoint," he said.
A letter to its readers also stated rising costs of printing, distribution and staffing as making the situation impossible for the business to survive.
"It's been very difficult to find folks on both the editorial and sales side for those publications," said Mr. Woodward, referring to the North Liberty Leader and Solon Economist. "We'll go weeks or months with no applicants. It just goes to show that there's just not a level of interest in either those types of positions. I don't know if people were making assumptions about pay rate, because we didn't have pay rate in the ads, but it's just a super, super competitive job market. You can't run a newspaper without people."
Chris Umscheid will now transition from his role at the North Liberty Leader to become an editor for the Solon Economist.
In addition to the North Liberty Leader, Woodward Communications owns the Solon Economist, Anamosa Journal-Eureka, Mount Vernon-Lisbon Sun, as well as newspapers in Dubuque, Dyersville, Manchester, Cascade and Central City, among others.
While the issues facing the North Liberty Leader are specific to that market, Mr. Woodward explained, he has concerns surrounding the financial viability of the Solon Economist as well. The Solon and North Liberty papers have lost more than $150,000 combined over the last three years.
A full-page ad personally appealing to Solon-area stakeholders asked for reader's opinions on the best way to move forward. Right now, according to the ad, The Economist is deciding whether to keep the Solon print and digital product separate, convert to a digital-only publication, combine the Solon and Mount Vernon papers and websites, or discontinue the Solon Economist altogether.
"Over the past few weeks, we have been in conversation with a number of major Solon area stakeholders as we've explained the situation we are considering," said Mr. Woodward in the ad. "While a few recognized the importance of a local news publisher and pledged their (most non-monetary) support, others were more ambivalent and responded with indifference. And some others offered their advice on how to run a news publishing organization. When we broached each of the options above, none were considered palatable to them."
To remain in business, the ad says they need:
About 14 eighth-page ads in the publication each week.
More contributed content from education, business, service clubs, etc.
An increase in subscriptions by about 100 (from 775 to 875).
Community members interested in helping the Solon Economist decide a new direction are encouraged to subscribe and fill out a survey.