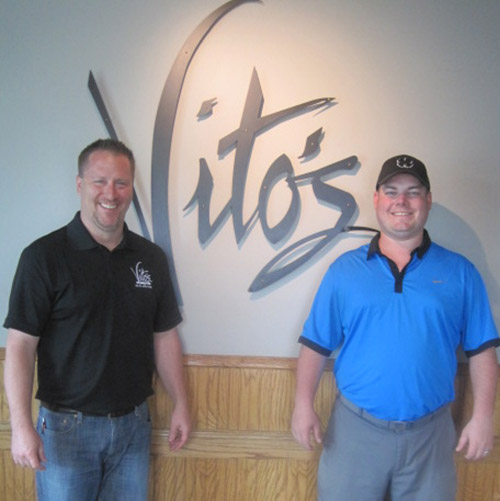 Co-owners Brian Winders and Jordan Caviness stand near the entrance sign at Vito's on 42nd in Cedar Rapids on a recent afternoon.
By Dave DeWitte
dave@corridorbusiness.com
Vito's on 42nd, the popular Italian-American cafe located in northeast Cedar Rapids for more than 25 years, will be coming to North Liberty this summer with Vito's on 965.
A renovation project for the restaurant will begin soon at 1295 Jordan St., the former location of Bobby's Live on 965. Business partners Brian Winders, Jordan Caviness and Doug Banowetz recently acquired the property for the first of what they hope to make a chain of Vito's cafes across Eastern Iowa.
"We hope to bring a quality option to an area of North Liberty that doesn't have a lot of dining options," Mr. Winders said.
The flagship Vito's at 4100 River Ridge Drive NE is known for having dishes in just about every category. The menu covers nearly 60 Italian and American items, including sandwiches, salads, pastas, burgers, pizzas, steaks, seafood, calzones and appetizers.
Amy Schloss, a Vito's server for the last 25 years, says the signature items that seem to bring customers back are the spinach-artichoke dip, the Pita Club and the Sand Trap sandwich. The Pita Club features three layers of bacon, lettuce, tomato and grilled chicken on a grilled pita with mayonnaise and Swiss cheese. The Sand Trap is assembled on light rye with avocado, bacon, baby Swiss, tomatoes, cucumbers, red onions and sprouts.
Seating options include two patios, two private rooms, a large open dining area, balcony dining area and a secluded booth area. A two-for-one happy hour promotion from 3-6 p.m. brings in a lot of regulars, Ms. Schloss said.
"It's that 'Cheers' thing," she added. "Everybody knows everybody's name."
The Vito's atmosphere more closely resembles a casual country club restaurant than a sports bar. It's right across 42nd Street from Twin Pines, one of Cedar Rapids' busiest municipal golf courses, and was originally named The Sand Trap to identify with the golfing set. All its televisions are mounted high so as not to pose a distraction, and unless a big game is on, they are usually muted in favor of light background music.
Vito's on 965 in North Liberty is also likely to become a popular after-golf option, being a short distance from Quail Creek Golf Course. It will have a somewhat darker and more intimate feel than Vito's on 42nd, Mr. Winders said, with charcoal-colored walls, wood flooring, and brick and stone accents.
"It was okay as it was, but we wanted to rebrand it and make it our own," Mr. Caviness added.
The partners acquired Vito's about two and a half years ago from longtime owners Aziz Longon and Fatah Teghanent. They updated the menu earlier this year, removing some of the less popular items and adding new ones like the Santa Fe wrap, build-your-own calzones, and a smokehouse burger.
Messrs. Banowetz, Caviness and Winders have ownership stakes between them in at least five other restaurants, including the Westside Lounge, Mulligan's and Stadium Bar & Grill, all in Cedar Rapids, and Shuey's in Shueyville.
"This concept's proven, and we just feel we can build off it," Mr. Caviness said. "There's definitely potential to keep adding Vito's throughout Eastern Iowa as long as we stick with our original concept and deliver on it."
Mr. Winders believes that the biggest challenges ahead will be finding the right people to execute the concept, and keeping the menu and atmosphere of the cafes fresh in a rapidly changing restaurant field. He said there's no substitute for having an experienced staff that cares about customer service.
"The number one thing I worry about is staffing – just having a great quality staff," Mr. Winders said.
Between 40-50 people will be hired for the Vito's on 965, which could open as early as June.