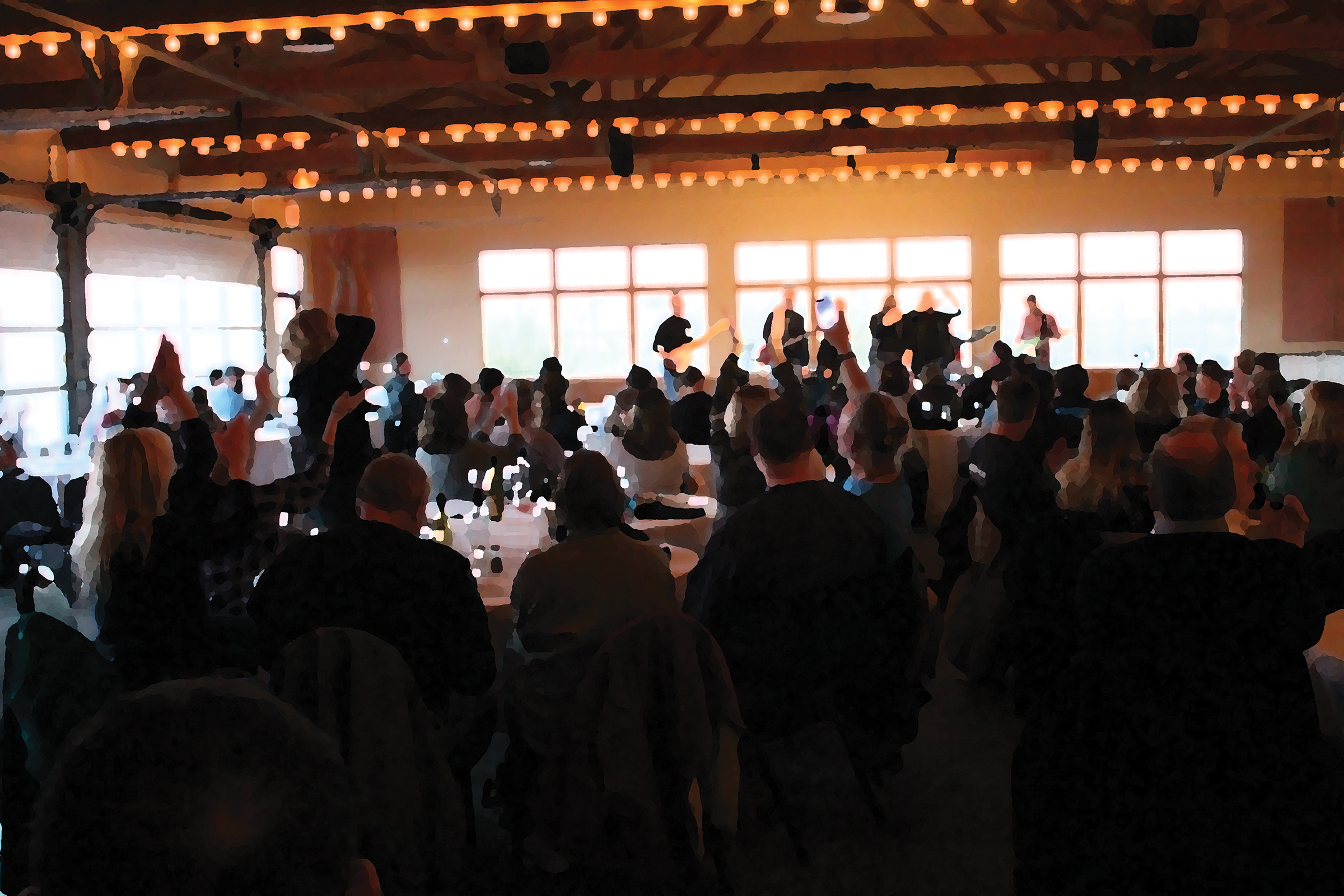 Six bands vie for title at inaugural Corporate Battle of the Bands
By Angela Holmes
angela@corridorbusiness.com
Is your office mate really a rock star in disguise? You might be surprised. A new CBJ event, Corporate Battle of the Bands, will showcase the musical talents of employees throughout the Corridor.
Six bands will vie for the championship at a live competition from 6-9 p.m. April 28 at Cedar Ridge Winery & Distillery near Swisher. The bands offer something for most musical tastes, ranging from country and pop to reggae and alternative rock.
The CBJ based the model from the Houston Business Journal's successful Battle of the Business Bands event, said CBJ Event Manager Ashley Levitt.
Aeroroot, the company band from Frontier Natural Products Co-op in Norway, was also an inspiration for the competition. Now on hiatus, Aeroroot made it to the finals in 2009 of the Rock & Roll Hall of Fame's Battle of the Corporate Bands in Cleveland, Ohio. The band's success was a source of pride for the whole company.
"It's really a morale booster," Ms. Levitt said. "Employees rally around the band."
The CBJ's competition only had a few requirements: at least half of the band's members must work at the company the band represents, and the lead singer must work at the company.
All six bands hit the stage for a practice round April 8 at Cedar Ridge. Similar to American Idol, the bands performed and then received feedback from judges Alex Beamer of West Music, Rob Cline of Hancher and Tim Hankewich of Orchestra Iowa.
Feedback ranged from making cover songs more original to bringing out the sound of the vocals and individual instruments.
During the competition, bands will be eligible for 60 points based on: music (1-20), stage presence (1-15), appearance and personality (1-10), crowd applause (1-10) and originality (1-5).
The winning band will receive $1000 to give to their favorite charity, a $1,000 credit at West Music, a traveling trophy and a gig at the CBJ's Coolest Places to Work event June 16.
Tickets for the April 28 event are sold out, but more space will be available if the weather is nice, Ms. Levitt said.
Meet the bands:
Clickstop Inc – 5 Second Rule
This mashup of Clickstop employees and several employees' spouses first hit the stage together in February. CEO Tim Guenther uses his high school chorus experience to belt out rockin' tunes like BTO's "Takin' Care of Business" and "Black" by Pearl Jam. With band members living everywhere from Cedar Falls to Vinton, it was a challenge to get together to practice. But the group has jelled and Mr. Guenther hopes to open for Hairball in the near – or distant – future.
Tim Guenther, lead vocals
Kraig Kirchhoff, lead guitar
Matt Hummel, rhythm guitar
Nate Merrifield, bass
Scott Keeling, drums
Nelson Electric – The Hubcaps
While several of The Hubcaps' members play music together at the Community Bible Church in Mount Vernon, this group of guys just formed recently for the Battle of the Bands. They play a variety of music, including country and '50s tunes, giving a nod to legends like Merle Haggard and Johnny Cash. Lead singer and guitarist Jim Jones (who also happens to be vice president at Nelson Electric) says they like to play songs that makes people happy and dance. "Whatever gets people up and excited," he says.
Jim Jones, lead singer, guitar
Steve Murray, guitar, banjo, vocals
Grady Zangerie, lead guitar
Steve Yound, lead guitar, vocals
Darryl Studt, vocals
Steve Exley Schuman, bass, vocals
Eco Lips – NewBo Jacksons
When not making lip balm, these musicians at Eco Lips make funky music together, ranging from reggae and funk to bluegrass and alternative rock. Eco Lips CEO Steve Shriver says when the band practices during work hours, it's "official business." While several of the band's members play in Dr. Z's Experiment, the NewBo Jacksons was created for the Battle of the Bands. The audience will be treated from everything to Hall and Oates to Alice and Chains.
Rob Shriver, lead vocals
Ryan Phelan, lead guitar
Jeremiah Murphy, bass guitar
Billy Valencia, keyboard, percussion
Brian Carillo, back-up vocals
Steve Shriver, harmonica, back-up vocals
Matthew Bernamann, drummer
CBS 2/FOX 28 & CBJ – Newsflash
When CBS 2 news anchor Scott Sanborn sent out an email to fellow staffers about getting a band together, morning anchor Kelly D'Ambrosio was "all over it." She shares the singing duties with Wendy Fowler and CBJ Editor Adam Moore, belting out songs like "Love Shack" and "I Will Survive." Several of Newsflash's members play in other bands in the Cedar Rapids area, and it has yet to be determined if the band of newsies will stick together.
Kelly D'Ambrosio, vocals
Wendy Fowler, vocals
Adam Moore, guitar, vocals
Russell Moore, keyboards
Tommy Bruner, guitar
Scott Sanborn, drums
Troy Harper, bass
hibu – Daylight Savings Account
Adam Hartig, associate sales manager at hibu, and his childhood buddy David Pauly have been playing a band together since 2007 when they started to jam in their hometown of Dubuque. They write their own songs and also love to perform the classics like Jimi Hendrix and the Beatles. Although performing as a duo for Battle of the Bands, Daylight Savings Account also includes a bassist and drummer. The group released an EP in 2008, titled "EP Phone Home" and has recorded a follow-up LP called "Safely Something," which remains unreleased to date. Their set includes some of the songs on the new LP.
Adam Hartig, vocals, guitar, keyboards
David Pauly, lead guitar
UFG – Catastrophy
Playing in a band has been a great way for these United Fire Group (UFG) Insurance employees to get to know each other. The band, all UFG employees, formed last November for their spot on the Battle of the Bands roster. It can be difficult to get everybody together to practice, says singer/guitarist Justin Krogmann, who admits this is his first experience on stage. The band, which shares vocal duties among several members, loves to play rock-n-roll. Their favorite song is Pat Benatar's "Hit Me With Your Best Shot."
Phil Gervais, bass guitar
Kathie Green, vocals
Justin Krogmann, vocals, guitar
Cameron Michels, lead guitar
Ash Stiles, drums
Ashleigh Belin, tambourine
Katie Jensen, cowbell