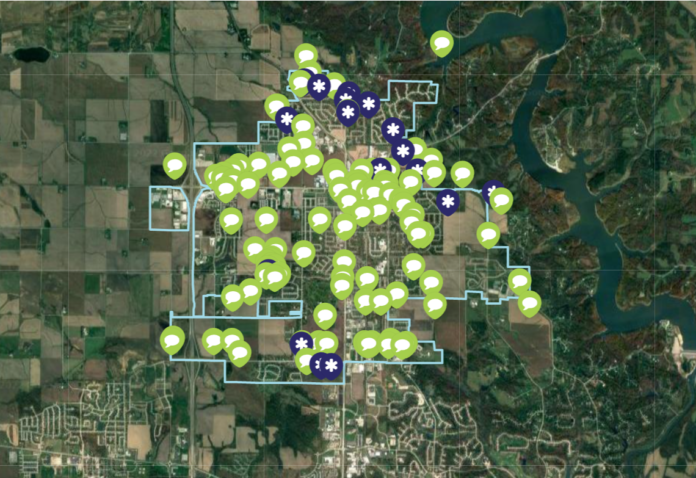 North Liberty hosted a virtual roundtable Wednesday night with members of the public to assist the city in creating a forward-looking comprehensive plan.
Led by North Liberty Planning Director Ryan Rusnak and urban planners from RDG Planning & Design, the night marked an opportunity for residents to put an initial stamp on the future of the city. Topics to be considered in the plan will include land use, transportation, housing, parks, economic development and climate considerations.
"This whole comprehensive plan is really your community plan," said Charlie Cowell, one of the RDG's urban planners, at the meeting. "We have no idea what it's going to look like. We form this plan with you based on what we hear and what we analyze on the ground, so it is really critical what you tell us and what you're saying really does help shape the plan as we move forward."
After an opening presentation, the Zoom split into breakout rooms where more discussions  took place.
RDG Planning & Design will meet with a local advisory committee monthly. In a couple months, plans will start being drawn on paper, and the public will be invited to help give their input. They hope to finish the plan by late September and put the proposal in front of the North Liberty Planning and Zoning Commission by the end of the year.
This comprehensive plan will look at the city's future as far as 20 years out. Earlier this year, the city launched the Connected to Tomorrow initiative that takes a long-term vision to city building.
"RDG has written tons of these comprehensive plans, and obviously that's why we wanted them as part of this effort, but really why we selected them is they're going to write something unique to North Liberty," said Mr. Rusnak.
An interactive mapping tool on the North Liberty website lets interested residents zoom in on certain areas and leave comments for suggestions.
Under Iowa Code, a comprehensive plan is a document that informs high-level decision-making. Zoning ordinances and capital improvement projects generally must align with the comprehensive plan, according to the North Liberty website.
The City of North Liberty is underway with many new developments.
A $395 million hospital is being built by UI Health Care after a certificate of need was approved by the State Health Facilities Council last August. It will sit on a 60-acre site at the corner of Forevergreen Road and Highway 965.
Speedy Mike's Car Wash opened last year, joining a crowded car wash scene in the city.
The city will also be considering a new 17,000-square-foot micro-brewery and various affordable housing developments later this year. The Penn Street Place apartments will be completed by spring 2023 at the latest.