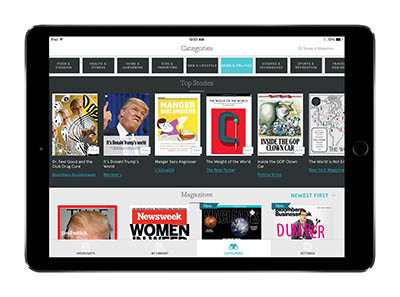 By Chase Castle
chase@corridorbusiness.com
A digital magazine company will open its doors this week at a new office in Coralville, marking the latest addition to its workforce supporting the company's marquee app.
The conglomerate Next Issue Media formed in 2009, backed by some of the country's largest magazine publishers, including Condé Nast, Hearst Magazines, News Corp, Rogers Media and Time Inc., as well as private equity firm KKR, which announced a $50 million investment in December.
The company's revamped app, Texture, launched Oct. 1 and has been dubbed as the "Hulu for magazines," allowing readers to view digital versions of more than 500,000 articles from about 160 different mainstream magazines. Subscriptions cost $10 a month to access all participating monthlies, or $15 to include weekly publications.
Locally, the company's Coralville office will focus on quality assurance and app testing, and joins existing operations in Menlo Park, California and New York City. The company recently hired its first 10 employees for the Coralville office, and has plans to expand sometime next year.
"The strong consumer demand for subscription-based media experiences, such as Netflix, Hulu Plus and Spotify Premium, speaks to the opportunity awaiting Texture," David Carey, president of Hearst Magazines, said in a news release. "The new Texture service is a marvelous way to grow both audience as well as deep engagement given its 'premium content first' focus."
A previous version of the app under the name Next Issue had been available since 2010, but was replaced by Texture this month and given a new interface and customization features. The redesigned app, for example, allows readers to bookmark favorite articles, and lets users search across a sizely archive, which for some publications dates back as far as 2011.
The smartphone and tablet app's most heavily emphasized features, however, strive for a more customized and timely magazine experience. The "Collections" and "New & Noteworthy" features, for example, present individually curated articles related to current events or historic anniversaries, while the "Top Stories" feature highlights the stories being read by other users.
Pamela Aratani is the director of digital publishing for Next Issue Media. She said the Coralville office, located at 2411 Coral Court just west of the University of Iowa Research Park, was a natural extension of the company's pre-existing workforce in Iowa. She said one of Next Issue's vice presidents previously worked with an outsourcing company in Iowa City that handled customer service; Ms. Aratani declined to identify the company, but said they still work with Next Issue.
"It turned out our ideals were in sync with the people who were there at the time," she said.
As Nest Issue Media sought added support in areas such as product testing and content curation, however, the connection eventually led to establishing the Coralville office.
Iowa connections also exist through another Next Issue Media co-owner, the Meredith Corporation. According to an announcement last month by Media General, the Des Moines-based company will be acquired and rebranded as Meredith Media General as part of a $2.4 billion merger to be completed next summer.
The Alliance for Audited Media (AAM), an independent nonprofit that tracks media groups' revenue and audience data, reported as of last summer that 15 of the top 25 most widely circulated consumer magazines were published by Next Issue Media owners. In the first half of 2014, circulation for those magazines, which include Better Homes & Gardens, National Geographic, Time and Sports Illustrated, decreased an average of 1.04 percent compared to the first half of 2013.
Doug Hebbard, publisher of the digital publishing commentary site Talking New Media, said Next Issue's new app is a positive step forward as the company competes with similar apps such as Apple's Newsstand, Google Play Newsstand, Magzter and others.
He said the improvements are due in part to Texture's publishers further investing in digital native content. Whereas about half of modern, app-based magazine content is merely a high-resolution replica of printed pages, more publishers are now creating content designed to be consumed on a tablet or phone. Texture represents a mix of both forms, Mr. Hebbard said.
"What magazine publishers are trying to do is deliver the content the way readers want it, and they're going to have to evolve over time."