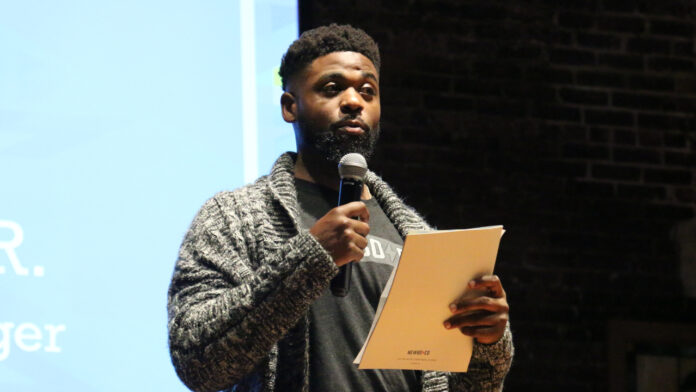 As one of the featured speakers at the New Bohemian Innovation Collaborative (NewBoCo) annual meeting, Coe College president David Hayes summarized the entrepreneurial spirit that drives NewBoCo's mission.
"Rarely do we reflect on an individual's great success and suggest 'well, there's another shining example of somebody who was happy with the status quo,'" Mr. Hayes told attendees of the Nov. 15 NewBoCo event at The Olympic South Side Theater. "It's pretty rare that we look at someone and compliment them for a job well done because they simply took a look at the world, shrugged their shoulders and said 'good enough.' In fact, what we're here to celebrate tonight is the opposite. People who look for opportunities, never stop exploring the chance to come up with a solution and always edge towards something better than what they inherited."
Another featured speaker, Iowa Economic Development Authority and Iowa Finance Authority executive director Debi Durham, highlighted NewBoCo's role in building what she termed a statewide "innovation ecosystem."
By focusing development efforts on several key economic sectors, including advanced manufacturing and biosciences, finance and insurance, and edtech, Iowa is expanding its reputation as a home for innovation and entrepreneurship – and the word is getting around, Ms. Durham noted.
"Whether you use our programs or not," Ms. Durham said, "you're hearing stories and stories of entrepreneurs that (are) not doing it on the coastline, but doing it right here."
Ms. Durham also highlighted the recent announcement that the Iowa Economic Development Authority will be receiving a $96 million grant from the U.S. Department of the Treasury's State Small Business Credit Initiative (SSBCI) to support small businesses, including startups, manufacturers and businesses owned by veterans and individuals from diverse backgrounds.
Applications for the funds will be opening soon, Ms. Durham said.
"This is going to be able to spark all kinds of new opportunities for Iowa," Ms. Durham said. "And of course, I am proud of the partnership that we have with (NewBoCo), because honestly, they give us a great return on our investment. When I invest in NewBoCo, I know things are going to happen, and it's going to create a ripple effect … regardless of what's happening in the world around us, I have to say Iowa is in an enviable position. And it's because of all of you here, and it's because we work together collaboratively."
NewBoCo executive director Aaron Horn and chief operating officer Jill Wilkins co-hosted the annual event, interspersed with video presentations highlighting NewBoCo programs. Other speakers included Lynn Allendorf, director of the John Pappajohn Entrepreneurial Center at the University of Iowa; Rochelle Claude Kotar, senior IT manager at UFG Insurance; Kaitlyn Byers, capital access manager for Kiva Iowa, NewBoCo's global microlending program for nonprofits; Samantha Dahlby, director of K-12 education for NewBoCo; Anthony Betters Jr., NewBoCo's community engagement manager; and Cedar Rapids mayor Tiffany O'Donnell.