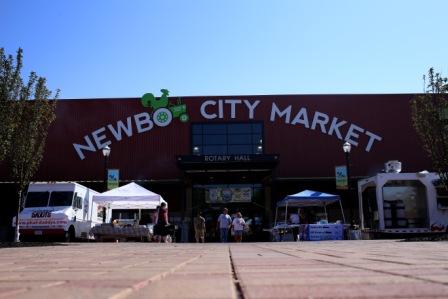 NewBo City Market will celebrate its 10th year in Cedar Rapids' New Bohemia District during its annual fundraiser, 2022 NewBo Bash – Celebrating Ten Years of NewBo City Market, to held 8-10 p.m. Oct. 15 with an extra hour beginning at 7 p.m. for early access ticket holders. 
When the market opened its doors in 2012, it served as a community anchor with access to healthy food to help revitalize the neighborhood which was devastated by the flood of 2008. 
Over the years the market has created a thriving business incubator program serving dozens of start-up entrepreneurs in the Corridor. Today, at 100% capacity, it is home to 25 individually owned businesses ranging from prepared food to retail to service-based companies. NewBo Bash is a celebration of each of the unique pieces that comprise the essence of NewBo City Market. 
The entrepreneurs at the market are representative of a wide and diverse cross-section of the community's residents. Additionally, nearly 300 events are hosted each year on the market's yard or inside Rotary Hall making it a natural gathering space where all are welcome. Those events and programs are executed by the Market's new Director of Events Naomi Winder.
With a decade of experience in nonprofits and events management, Ms. Winder brings new life and vision to NewBo City Market programs. She has spent considerable time and effort on reimagining NewBo Bash which this year will feature an open beer and wine bar for the first time with free samplings provided by seven local breweries and wineries. 
Ms. Winder, with a previous background in museum events, has crafted a menu of samplings from market entrepreneurs to pair with these selections for a full night of locally crafted food and drinks. This year's signature cocktail for Bash will be crafted by guest mixologist Caleb Scales, bar manager of the Hip-Stir. The cocktail, Rooster on a Hot Tin Roof, will be a nod to the 100-year-old metal warehouse housing NewBo City Market and the significance of tin as a symbolic gift for a 10-year anniversary. 
Along with her culinary plans for the event, at the 10th anniversary Bash, Ms. Winder's event vision includes debuting the first "Rooted in Resilience" award which will honor an individual who has helped foster the market's impact in the community.   
"As someone who moved to the Corridor from out-of-state, NewBo City Market was the first place my husband brought me to show me what Cedar Rapids has to offer", Ms.Winder stated in a release.  "Now I can happily say I work at NewBo City Market.  In working here for a short time, I have already seen the ways it has helped shape the community over the past 10 years.  I know the next 10 years have immense growth potential with many more exciting events to come."