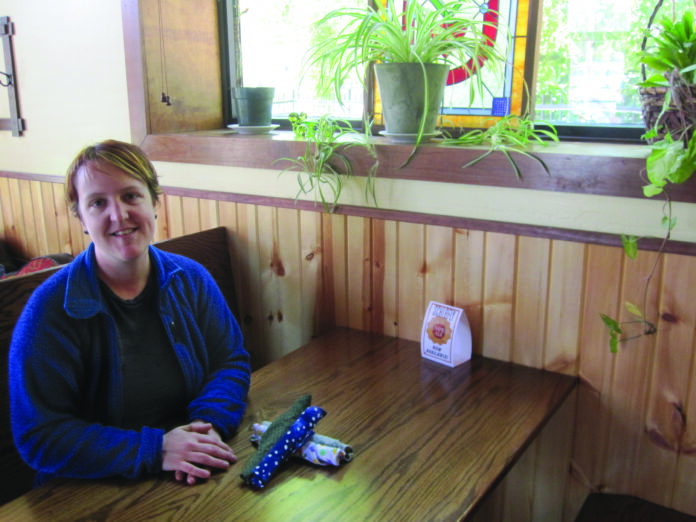 Trumpet Blossom opened by former Red Avocado owner
By Pat Shaver
IOWA CITY–Katy Meyer grew up with both of her grandfathers working as cattle farmers.
Now, she owns an Iowa City vegan restaurant.
Ms. Meyer, a former partner of the Red Avocado, opened the Trumpet Blossom Café in April. It's located at the former Hideaway restaurant and bar, 310 E. Prentiss St., behind the Iowa City Vine Tavern. The Hideaway closed in February.
In 2001, Ms. Meyer became a vegetarian. She said she changed her diet for a few reasons, including the sustainability and environmental benefits of not eating meat.
"There was a job I had before where I worked with meat, to be totally honest it kind of grossed me out," she said.
The Red Avocado, a popular vegetarian eatery in Iowa City, closed in January before the building at 321 E. Washington St. was demolished on Jan. 29. Despite a community petition against the demolition, developers were allowed to bulldoze the building for a new development. The developers' plan for the new structure at 321 E. Washington St., and surrounding properties, did not require a change in zoning, so the project did not go before the city council.
That left Red Avocado without a home and the owners, among other reasons, felt it was too expensive to restart the restaurant in a new location. Ms. Meyer decided to open her own restaurant, Trumpet Blossom Café and received a $35,000 Community Development Block Grant from the city of Iowa City to help launch her new business. The grant is a seven-year loan at zero percent interest.
Starting over
Ms. Meyer started working at the Red Avocado washing dishes and prepping food while she was getting an English degree at the University of Iowa.
"I really enjoyed the environment and learning about all of these different foods and cooking techniques," Ms. Meyer said.
In 2005, the former owners of the Red Avocado were ready to pass on the ownership. Ms. Meyer, along with two others, became equal partners in the business.
Though she isn't a formally-trained chef, Ms. Meyer spent most of her time at the Red Avocado, and now at the Trumpet Blossom, in the kitchen.
All of the food products are vegan, Ms. Meyer noted. Aside from a few wines, all of the drinks offered are vegan. The building took about two months of renovation work, though much the furniture was repurposed from the Hideaway. The Trumpet Blossom features an antique bar and a stage for live music and events.
"When we parted ways we each took our recipes with us. A few items on the menu are similar, but really I just tried to start over," Ms. Meyer said. "But the philosophy is similar."
The Trumpet Blossom focuses on comfort food. Ms. Meyer said she hopes that will draw in more non-vegan customers. The approach is providing organic, local and seasonal foods.
"What goes together is what's growing together right now," she said.
Menu items include: pizza with house-made tofu cheese and veggies; a veggie burger, chipotle quesadillas; pasta with seasonal vegetables; buckwheat corncakes with tomato relish; and hand-battered onion rings with spicy beer mustard dip. Brunch is available Saturday and Sunday from 11 a.m.-2 p.m. A complete menu is available at www.trumpetblossom.com.
The restaurant can seat 80 people inside and another 35 on the outdoor patio. There are 16 employees, a few which she took with her from the Red Avocado.
She signed a five-year lease for the location.
"We've had a good response; a lot of regulars from the Red Avocado come here. A lot of people that came to the Hideaway have given us a shot," Ms. Meyer said.
"We feel we have something unique to offer and we want people to know about it," she said.
She's done some advertising on radio stations and in local print publications, but said it's been a challenge getting the word out.
"I'm never going to rule out the idea of opening another place. But for now, this is enough," she said. "We want to keep being able to do what we do—serve people good food and creative food. Food is such a personal thing."
Washington Street
Tenants in the Washington Street building, as well as two other nearby properties, were given a 30-day notice that the structures would be demolished to make room for a new mixed-use development.
"It was really sad, of course, it was just very sudden," she said, adding that they knew the building was for sale, but a warning of only 30 days was a surprise. "It was more a shock with how quickly it was all going to happen."
After finding out the restaurant would close, Ms. Meyer began planning her next venture. She first secured the Hideaway space.
"I love the space and I love the location. It's close to downtown but not in the middle of downtown," she said. "It's nice just to be tucked away."
Tom Kaut, a realtor with Lepic-Kroeger Realtors and one of the developers of the Washington Street project, said it is on schedule and they expect to occupy the
building early next year.
The building has about 4,265 square feet of commercial space on the first floor, room for one or two businesses. The top floors will have about 33 apartments.
Mr. Kaut said they are currently in lease negotiations with possible tenants for the commercial space. Mr. Kaut said he couldn't reveal the types of businesses that will locate there until leases are signed.
"We feel like we will revitalize that area. It's such a vibrant area because of the foot traffic up and down Washington Street," he said.
The apartments will draw in both students and residents, he noted.
"It's going to be nice. The way it's playing out the views are going to be fantastic where I think it's going to attract a wide variety of tenants," Mr. Kaut said.
"I think people are going to like the way the building looks once it's done. We're getting good feedback from our immediate neighbors," he said.
Trumpet Blossom Café
310 E. Prentiss St. Iowa City, IA 55240
(319) 248-0077
Hours: Tuesday-Sunday,
11 a.m.-10 p.m.
www.trumpetblossom.com