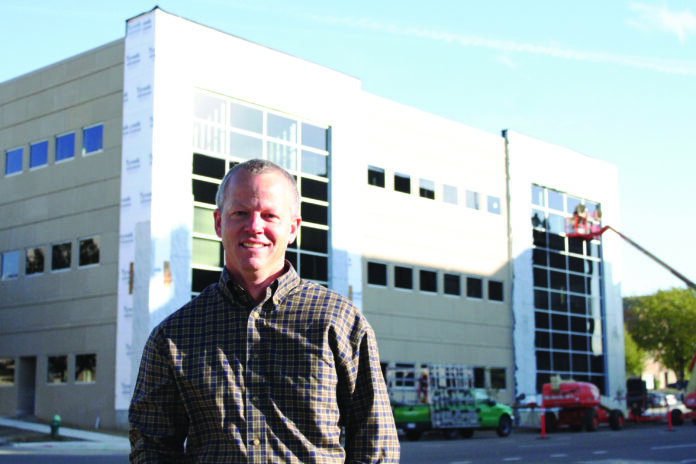 With high occupancy rates in existing buildings, Emerson begins building new
By Sarah Binder
CEDAR RAPIDS–
When Steve Emerson, owner of Aspect architecture:design, walks through downtown Cedar Rapids, he sees it for what it could be.
"I spend a lot of my time thinking and working about a year and a half, two years out," he said.
Mr. Emerson is one of the largest property owners downtown. The Marion native graduated with a degree in architecture from Iowa State University and an MBA from the University of Iowa.
It all started with one building, at 800 First Ave. NE, in 1999. He was able to turn that project around, and translate it into money to buy his next building.
His plan was to buy one a year for 10 years to build up equity for his eventual retirement.
But, within a few years, he had purchased five buildings.
"It just kind of snowballed," he said.
At the time, he said it was just a hobby. Mr. Emerson said he was able to negotiate hard and  walk away from a project if it didn't feel right.
"I didn't ever buy anything I didn't feel really, really good about," he said.
As his properties increased, he became more invested in the downtown area, and finding ways to make empty spaces profitable again.
"I realized the more I can do for downtown, the more it will help all of my properties," he said.
Today, Aspect architecture:design has more than 20 people on staff with architecture,
property management services and construction all in-house.
"It allows us to control our workload pretty extensively," he said.
The architecture team will take on work from other clients when they're not working on Mr. Emerson's projects. Having his own property management team helps to build the relationship with his tenants.
Mr. Emerson said it takes a combination of forces, including tenant interest, for a project to come together.
"We explore everything we can," he said. "I don't expect even half of the stuff I'm working on to get developed."
Sometimes, it starts with the idea. The architecture team is currently working on plans for a new apartment complex, but the future location has not been determined. Once they find a spot, they'll adjust the plans accordingly.
At times, it's a mad dash when a building or lot suddenly becomes available.
"I put an offer on a lot of things, and once it gets accepted I have to scramble and figure out what I'm going to do with it," Mr. Emerson said.
He said in the past, he's converted churches to daycare centers, and a future project will
turn the former Cedar Rapids Public Schools administrative building into housing.
"You have to look at a building fresh," he said.
While the flood was a major setback for downtown, Mr. Emerson said occupancy rates are better than they were pre-flood. He said this has meant a change from looking at ways to reuse an empty building to looking for sites to build new.
His first new building, at 600 Third Ave. SE, is nearing completion. The three-story office space will be home to Wellmark, on the second floor, then CliftonLarsonAllen on the top and a ground-floor tenant to be named later.
The cost of building new is much more daunting up front.
"I had to negotiate on every level of it to make it an affordable project," he said.
Mr. Emerson is also working on other office and retail spaces, all with the goal of bringing something new downtown.
"It kind of defines the city, and whether the city is going to do well," he said.