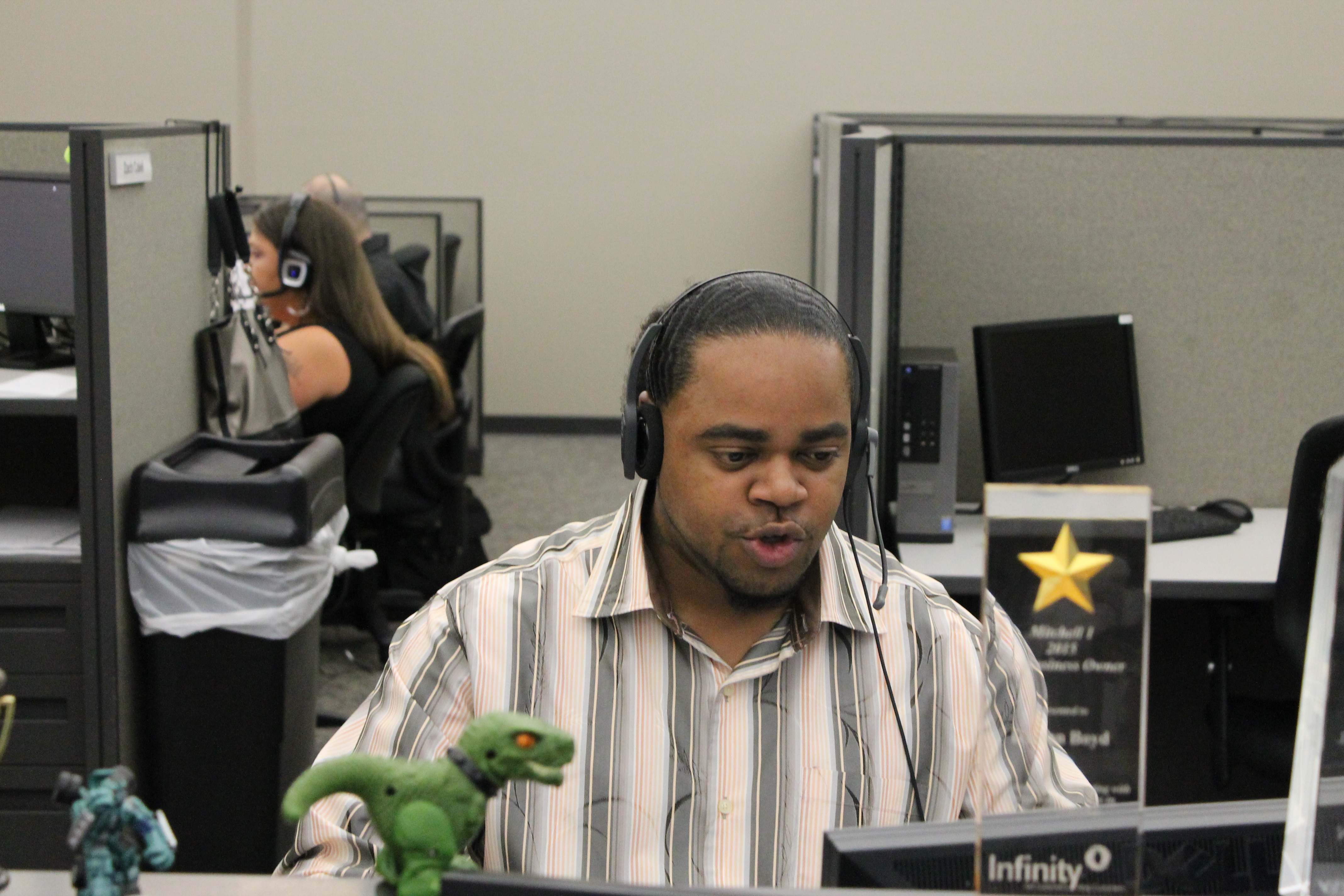 Account Executive Darian Boyd, who recently claimed the "Biggest Check" honor for sales commissions, says Infinity Delivers' new sales agency model has made him more effective. PHOTO/DAVE DEWITTE
By Dave Dewitte
dave@corridorbusiness.com
CEDAR RAPIDS—As the former Infinity Contact begins its 20th year, it's declared war on the status quo.
Once a contact center, the company earlier this year reorganized as a business-to-business sales agency compensated on a revenue-share model, and rebranded as Infinity Delivers.
The change has included a shift to consultative selling to the small- to -medium-sized business (SMB) market, leaving behind the company's remaining direct-to-consumer sales accounts and their telemarketing-style scripts.
"Our goal is to become the number one sales agency in the country within the industries we serve," CEO and Founder Tom Leidigh said.
The move comes in response to changes in market opportunities, and the limitations of the company's former business model. The implementation of the National Do Not Call Registry in 2003 disrupted the telemarketing industry by limiting outbound calling opportunities. Many companies responded by shifting to focus on inbound calling.
Infinity Delivers was one of a small number of companies that shifted its emphasis to business-to-business sales, which are largely unaffected by restrictions on calling consumers.
"Over the next 10 years, we began to focus on a higher value business-to-business sales model – Buyerlytics," Mr. Leidigh said. The company's trademarked sales model integrates talent, technology, sales science and processes to achieve optimal results for clients.
But after nine years, the company had stalled in its execution of Buyerlytics and the status quo had sunk in. In response, Infinity Delivers launched a 10X initiative in July 2015 to identify better growth strategies and build the organizational infrastructure needed to deliver on those opportunities.
Much of the latter half of last year was spent on planning and strategizing, and the first half of 2016 on implementation. The new strategy incorporated existing strengths in sales and new trends in the industry, from workplace design to the use of data analytics to shape marketing strategies.
"We can't just be an order-taker for our clients," Mr. Leidigh said. "We have to be consultative and provide them with facts we can act on."
Infinity previously billed customers primarily on a per-hour basis for sales, but now relies exclusively on a revenue-share model that ensures clients only pay for results. Commissions have become a much bigger part of employees' total compensation.
"When we went to revenue sharing, we had people who quadrupled their commission," Mr. Leidigh said. He expects many account representatives to earn $50,000-$60,000 per year, and some outstanding performers to earn $80,000.
Account executive Darian Boyd in April received the company's monthly "Biggest Check" honor for sales, after achieving 240 percent of his sales goal. It was his biggest paycheck in his five years at the company, and he followed that with another strong performance in May. Mr. Boyd said his personal success involved building on an already strong pipeline of clients at Infinity Contact, and applying the concepts he learned during the company's 10X transformation.
"I bought into it," Mr. Boyd said. "It's such a great feeling to see the mindset change and see it finally coming to fruition. It's been motivating, and hopefully my sales will keep improving."
The new approach includes more interaction on sales teams to keep employees energized and focused on executing the sales strategy. Mr. Leidigh said it also involves the close tracking of activity at every step of the sales process.
"We focus on leading indicators in the pipeline before you close the deal," he said. Tracking metrics such as the number of appointments per account executive, the length of sales and the stage of each sale in progress enables managers to see where an account executive is performing well, and where they need to focus on improvement. It can also help Infinity refine its sales strategies.
Mr. Leidigh said Infinity has added three data analysts and two new marketing positions to accommodate growth and new business initiatives. It also added management staff in both its Cedar Rapids and Farmington Hills, Michigan, offices to improve execution under the 10X initiative.
Data for each account executive's sales performance is shared. The sales team gathers for morning meetings to listen to sales tips, recorded sales calls and a "live daily newsletter" from Sales Agency Manager Ryan McDonald.
"Part of it is helping us feel comfortable and confident in what we're selling, because selling isn't easy," Mr. Boyd said.
The other side of keeping employees executing well is to help them decompress when they're off the phones. The employees' lounge area was re-equipped with a pool table, a ping pong table and a new debit-based vending system with dozens of food options. Soft drinks in the lounge are free.
Switching to the sales agency model hasn't been without complications. The company decided to give up some of its business-to-consumer accounts and reduced its workforce. Some employees who weren't comfortable with the new revenue-sharing business model left, while the sales agency model requires a more advanced skillset that's more difficult to hire, according to Jason Glass, vice president of human talent.
Infinity has 300 employees split between its two locations. Employment is expected to rise by 50 people in the months ahead, and by 100 this year, as the company ramps up its new business model and gains clients.
In an ever-changing industry, "Our enemy is the status quo," Mr. Leidigh said, and the company's challenge is to focus on executing the many positive changes it made earlier this year, with a mission of revolutionizing the art and science of engaging customers.
The business has grown dramatically from its roots in 1996 as a provider of direct mail services to automobile dealers. In 2013, Infinity ranked No. 17 on the Corridor Business Journal's list of fastest-growing companies, with 81 percent growth over a two-year period.