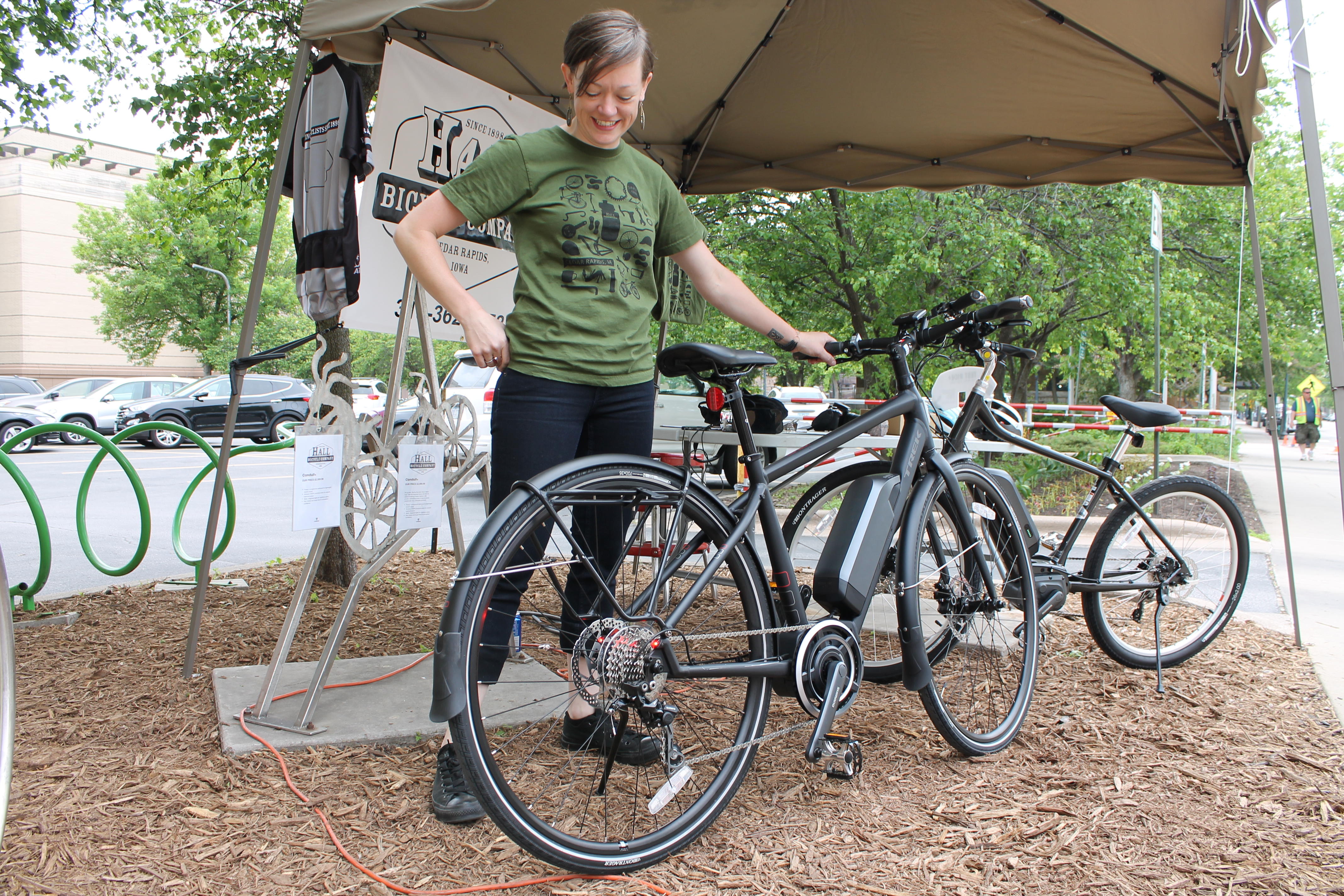 Demand for 'the future of cycling' remains mixed as consumers mull price, tradition
By Dave DeWitte
dave@corridorbusiness.com
In Iowa, where many consider crossing the state by pedal power a badge of honor, the idea of adding an electric motor to a bike has been slow to catch on.
"It's the whole stigma of saying, 'It's cheating,'" said Derek Stepanek, a Cedar Rapids bike shop owner who's been riding an 'e-bike' for several years. "We say, 'It's not cheating – it's more fun.'"
Mr. Stepanek, of Northtowne Cycling and Fitness, says the e-bike can expand a person's enjoyment of the sport.
"In a lot of cases, e-bike clients are trying to address a challenge they face," he said. "Maybe it's keeping up with advanced riders, or getting to work without being all sweaty, or commuting further than they'd normally like to commute."
Steve Grismore of Iowa City left Northtowne on June 25 with a new fat-tired electric bike that cost close to $3,000, even after it had been discounted as a 2015 model.
"I haven't ridden a bike in 20 years, but I wanted something to ride to work on," said Mr. Grismore, a jazz guitarist and professor of music at the University of Iowa. The commute is less than three miles, he said, but has some hilly sections that make electric assist a worthwhile investment.
Mr. Grismore liked the bike's technology, which can get him 25-40 miles between charges. He chose a fat-tired model because it offers a more comfortable ride and better traction on snowy or unpaved surfaces.
E-bikes designed for pedal-assisted motion can legally travel at speeds of 28 miles per hour, while bikes with electric motors that operate without pedaling are limited to 20 mph. The distance they can travel between charging varies with the type of bike, the way it is ridden, the conditions and the weight of the rider. The very best bikes can go 120 miles, Mr. Stepanek said, but most go a fraction of that.
Northtowne began carrying e-bikes a few years ago, and now carries eight different brands.
"Three years ago, we finally realized the product was at a level of quality and reliability we felt comfortable offering," Mr. Stepanek said. "We also feel this is a major part of the future of cycling."
One reason it's the future is the baby boomer generation. Boomers are now the second-largest demographic age group in America, just behind millennials, and retiring at an estimated rate of 10,000 people a day. Many of them are expected to embrace e-bikes as a way to stay active.
For now, however, the price of an e-bike – typically between $1,000 and $5,900 – is slowing adoption among Corridor cyclists.
Nick Sobocinski is manager of Geoff's Bike and Ski in Iowa City, which has been offering e-bikes for more than two years.
"The prices are kind of a hang-up for people initially, and the cheap cost of gas hasn't helped," he said.
A short distance away is World of Bikes, which doesn't carry e-bikes.
"There's not really enough demand, and they're a little expensive for us to stock – so few people are willing to spend that kind of money on a city bike," explained Aaron Weiner of World of Bikes.
Still, Mr. Sobocinski is upbeat on e-bikes. He's sold to a woman who likes to accompany her triathlete husband on training rides, and to urban business owners who like to avoid parking hassles by using it to shuttle between business locations.
"We're definitely seeing more and more riders interested," he said.
Hall Bicycle Co. in Cedar Rapids started carrying e-bikes this year, and held a demonstration day this spring to showcase models from Trek, one of its biggest bicycle lines. Husband-and-wife cyclists Jan and Dean Barnum of Cedar Rapids checked out e-bikes, even though they'd never considered buying one.
The couple examined a $2,800 Trek model called the Lift, and a $3,000 model called the Conduit, both of which have electric motor assist that works only when the rider is pedaling.  Both models have lithium ion batteries that take three and a half or four hours to charge, and can be recharged about 1,000 times without losing much of their stored power. The Conduit includes LED lights built into the frame, powered by the same battery as the electric motor.
Mr. Barnum walked away impressed with the technology, but said he wasn't sure yet of the need.
Mr. Stepanek specializes in helping cyclists find the e-bike they need. He developed a custom solution for a lifelong cyclist who now has difficulty riding because of a stroke. That cyclist improved so much using the e-bike that he can now travel moderate distances without electric assistance.
Northtowne has also sold e-bikes to young cyclists who wanted a car-free lifestyle, and to a bird watcher who wanted to be able to cover more trail with a full-suspension mountain e-bike.
Reliable statistics on the number of e-bikes sold in the United States are not available, according to the website Electric Bike Report. In a blog post, Light Electric Vehicle Association President Edward Benjamin estimated that 193,000 bikes and e-bike conversion kits were imported in 2014, most of them from China.
About 200 million Chinese people use e-bikes, roughly 1,000 times as many as 15 years ago, according to the consulting firm Navigant Research, which estimates 249 million more e-bikes will be sold there by 2020.
Mr. Benjamin says the big difference between the United States and China is that bicycles are an accepted form of transportation in China, whereas car-loving Americans generally don't view bicycles that same way.
In Iowa, cyclists needn't worry that e-bikes will steal the mystique of RAGBRAI.
"You couldn't go a day of RAGBRAI on a charge," Mr. Sobocinski said.