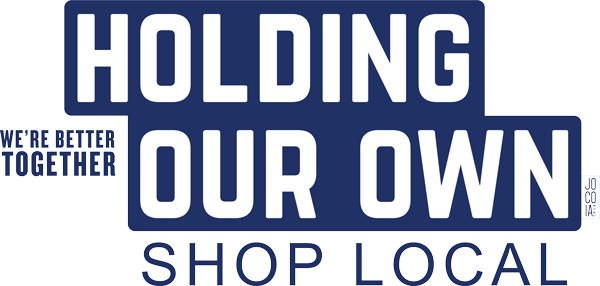 By CBJ News Staff
news@corridorbusiness.com
As businesses reopen, the Project Better Together team has created a new campaign to encourage and motivate local spending at Johnson County businesses.
The Iowa City Downtown District, Think Iowa City, the Iowa City Area Development Group and the Iowa City Area Business Partnership announce the Holding Our Own Shop Local campaign which includes a gift card program that intends to incentivize more than $1,000,000 in local spending throughout Johnson County communities.
Starting this week, shoppers who support locally owned businesses and spend $150 can submit their receipts to receive $20 in thank-you gift card(s) from a large inventory of gift cards to local businesses. In addition to receiving a $20 in cards for every $150 spent, $5 for every $150 will be automatically donated to a Black, Indigenous, and People of Color (BIPOC), and Immigrant Business Grant Fund.
Participating businesses in the Holding Our Own Shop Local Program must meet certain criteria, such as be a nonessential, locally-owned brick-and-mortar business that has been negatively affected by COVID-19 restrictions.
Area partners in the program include: MidWestOne Bank, West Bank, GreenState Credit Union, Great Western Bank, Hills Bank, Two Rivers Bank, U.S. Bank and CBI Bank & Trust.
Program details, participation requirements and options can be found here. CBJ