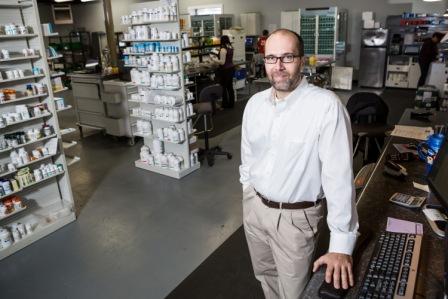 Story by Gigi Wood
Photo by Bill Adams
WASHINGTON – Cousins and lifelong friends from Muscatine, Jon Thompson and Todd Thompson ended up attending pharmacy school at the University of Iowa together.
"Jon is my cousin but he's more like my little brother. Our dads farmed together," Todd Thompson said. "Once I went to college, I went back to school and I looked across the room in chemistry class and saw Jon there and I said, 'go to pharmacy school with me.' I talked him into it, so we went to pharmacy school together."
When they graduated, they each worked at pharmacies at Hy-Vee and Walmart to pay the bills for their young families, but eventually opened their own retail pharmacies. Jon Thompson operated Beans Pharmacy in Washington, while Todd Thompson had Remedy Drug in Montezuma.
"Six or seven years ago, there was a pharmacy that was doing what we do and they had sold out to a corporate group," he said. "So we had a few nursing groups approach us, who knew how we did retail and ask if we would be interested in taking care of them, because they didn't want to work with the corporate group, so Jon and I thought we'd give it a shot."
They began providing medications to those nursing homes that are then distributed to the patients living in those centers. When they started, they were distributing medications for 100-150 patients; now they serve 1,500-1,800 nursing home patients. The Thompsons started their company, Reliant Long Term Care, in November 2007.
"This has become our primary focus, this is what we do, more than retail now," Mr. Thompson said. "It's been a fun business. Jon and I like this more; it's more appealing to us because we can make changes that we can't make in the retail world. In retail, we're just basically spitting out an order. Here, we can review patients' charts, we can make therapeutic changes that help patients as far as quality of life, but cost as well. We found that to be rewarding."
As patient orders increased, the Thompsons began looking for technological solutions to help them fill the large orders.
"We started off doing it the manual way, that a lot of farmer, small community pharmacies used to do it, doing everything by hand with cassettes and blister cards and popping pills into little cassettes with lids, one by one," Mr. Thompson said. "We slowly began adding some technology and as we did that it's kind of driving our growth."
Traditionally, pharmacists organize a patient's medication using opus cassettes or blister cards.
"The technician touches it, the pharmacist has to review every one," he said. "In the past, every medication would have its own cassette or its own card and then it would also have a separate time. So if somebody had six medications and four different times, we would have 24 cards for that person."
Reliant uses a strip system that organizes medications by time.
"You'll have 8 a.m., noon, 4 p.m., 8 p.m. and 8 a.m. the next day (medication times). So nurses just have these strips and go in order of time. It's almost impossible for them to make an error," Mr. Thompson said. "They don't have to pull out four different cards in the morning for something. They just pull out one pouch, tear the pouch, dump it in the cup and they're done. It's real straightforward."
The switch to the pouch system makes medication delivery more accurate and faster, Mr. Thompson said.
"For accuracy, we're able to maintain a 99.75 percent or a little bit better accuracy rate, which tends to be almost 2 percent better than the national average on the old systems," he said. "And the speed with which we can produce it is almost one-tenth of what we could do in the old systems. At nursing homes, when they pass medicines to residents, they're able to cut that time almost in half. So it saves nursing homes on payroll and nurses can spend time with residents instead of popping pills out of packs. So they've been real receptive to that."
Reliant works with about 35 nursing homes now. The company works with each center to train nurses and medical staff on the system and pharmaceutical issues. Reliant is also required to review every patient's medication at every nursing home it serves on a monthly basis. The company works with a consultant pharmacist from Iowa City to perform the reviews and the company uses a new software program to standardize the reviews, instead of relying on handwritten notes from doctors and medical staff.
Recently, the company added a machine that visually checks each strip produced. Mr. Thompson said there are fewer than 20 of the machines in use in the United States.
"We had seen it (the company's first pharmaceutical robot) at a tradeshow," he said. "It was cutting-edge thing that was a new deal, so we thought we'd give it a shot and we implemented it slowly. It took us from the time we purchased the first machine, probably three or four years ago, it took us a solid six months to get the machine programmed and up and running. It's a huge commitment to make that transition. So we gave ourselves a lot of time to work out the bugs and kinks to get to that position."
The technology Reliant uses would not necessarily appeal to other pharmacy companies. The investment is significant and the time required to learn the system, train employees and set up the hardware and software is lengthy. The company now has five robots in operation.
"Then there are a lot of headaches that go along with that," Mr. Thompson said. "Being the guys who are cutting new ground on that we ran into things, there were times Jon and I thought it would be nice if there was someone out there ahead of us out there doing that so we weren't running into little glitches and problems. So it's like you're plowing new ground, which isn't always easy."
The Thompsons continue to maintain their retail pharmacy locations. The Reliant Long Term Care division moved in July from space it was sharing with Beans Pharmacy to its own location, an 8,000-square-foot former hardware store building on Highway 92, at 1010 W. Madison St., Washington. There, they employ 25 people, a mix of pharmacy technicians and delivery drivers, who take the medication orders to nursing homes across Eastern and Central Iowa six days a week. The company owns four or five Dodge Prius vehicles to save on gas. Two years ago, Reliant employed nine people, Mr. Thompson said. This year, the company has had 45 percent growth.
"We're working 365 days a year; you never get a day off in this business," Mr. Thompson said.
The Thompsons also started the first three telepharmacies in the state, in Brooklyn, Victor and West Liberty. Todd Thompson is the father of Roby Miller, CEO of Telepharm, which produces software that allows a pharmacy to operate without having a pharmacist on site. A pharmacist can operate out of several small pharmacies through TelePharm's program.