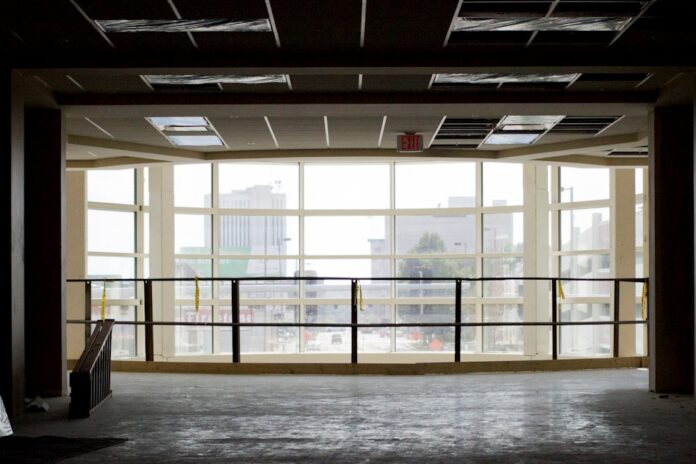 By Sarah Binder
CEDAR RAPIDS–Anyone whose life has been touched by cancer knows the routine.
The patient has to visit the oncologist. And the lab. And imaging. And surgery. And that's just one cycle of appointments.
Angie Kuhn, senior director of group operations with Physicians' Clinic of Iowa, said that process can take weeks. She hopes with the opening of PCI's new medical pavilion, patients can receive all those treatments in a day or two.
"We need to make sure when they come, we're using their time efficiently," she said, noting that PCI serves patients in 21 Iowa counties. Currently, the group's 75-80 providers are split between five buildings.
The pavilion is about 75 percent complete, with elements such as lighting and carpeting being installed and signage being added to the exterior. Ms. Kuhn said they are on track to finish the building in February and start serving patients in March.
Located between St. Luke's Hospital and Mercy Medical Center and connecting to Surgery Center Cedar Rapids by skywalk, the pavilion is at the heart of the emerging MedQuarter Regional Medical District.
Designed for patient care
With the new building, PCI was able to place services in the way that would be most convenient for patients. The "medical mall" layout is open and easy to navigate, with each clinic and tenant having their own "storefront."
About 150,000 square feet of the 220,000-square-foot building is dedicated to PCI services. The additional 60,000 to 70,000 square feet is leased in 10-year increments to tenants providing complimentary services. These were arranged for efficiency. For example, Clark & Associates, the tenant providing prosthetics and orthotics, was placed next to the PCI clinic for orthopedics.
Other tenants include Cardiologists, LC; St. Luke's Hospital—Breast & Bone; Hellen G. Nassif Community Cancer Center of Iowa; CarePro Health Services pharmacy, and a café with Hy-Vee and Caribou Coffee
PCI's specialties include: ear, nose and throat, head and neck surgery, neurology, surgical specialists, urology, diagnostic imaging, orthopedics, hematology and oncology, rheumatology, and physical and occupational therapy.
Each of these areas has room to continue to grow in the new building, and an additional 12,000 square feet have been reserved to add more services in the future.
A community room with A/V equipment will offer meeting spaces to local nonprofits like the American Cancer Society and American Heart Society. In a reflection room for private contemplation, they hope to incorporate some of the stained glass from First Christian Church, which was demolished to make way for the pavilion.
The building is not LEED (Leadership in Energy and Environmental Design) certified, but Ms. Kuhn said it does have many energy-saving features, such as large skylights and windows to let in natural light and automatic light switches. The building's exterior is made of brick, glass and Iowa limestone.
Beyond a new building
"As excited as we are about the new facility – which we are, because it's awesome – it's all about the patient," Ms. Kuhn said.
In addition to being more convenient for patients, PCI hopes the new building will help the doctors to collaborate more to improve patient care.
When PCI was formed in 1997, the many physicians "came together in name only," Ms. Kuhn said.
"More than anything, in the past our physicians didn't have a place where they could just gather in one spot." That will be remedied with a room, complete with a patio, for the physicians to gather for relaxation, networking and meetings.
The staff also hopes that the location within the centralized medical district will attract more talented physicians to the area.
Along with preparing for the move, the PCI staff has undergone training during the past two years to work toward their vision of becoming "the best medical group in America, period." Ms. Kuhn said, "everything from how to answer the phone to how to give a shot" was up for reconsideration.
Michelle Luty, marketing and outreach coordinator for PCI, said they created "innovation teams" to evaluate what was working and what wasn't. For example, one result of those meetings was to phase out the automated phone system.
Ms. Luty described the whole setting as "high-tech, high-touch, high-service."
"I think at every turn, we're looking to go beyond what you'd expect," she said.
A prescription for downtown
After considering more than 25 locations within Linn County, PCI was prepared to relocate to Hiawatha—before both local hospitals and the City of Cedar Rapids asked them to stay downtown.
The decision didn't come without its challenges – including rerouting Second Avenue traffic and some demolition work, but both representatives said it was worth it.
"We felt like it was a good move, not just for us, but for the downtown area," Ms. Luty said.
Ms. Kuhn said, anecdotally, some of the restaurants and businesses near the building site have already seen a significant increase in revenue just from the constant presence of construction workers.
The pavilion is expected to bring around 2,000 patients and visitors to downtown Cedar Rapids per day. A 2010 study by Iowa State University estimated the total economic output from PCI to be nearly $100 million.
"We feel like we're a service to the community and the area around us," Ms. Kuhn said.