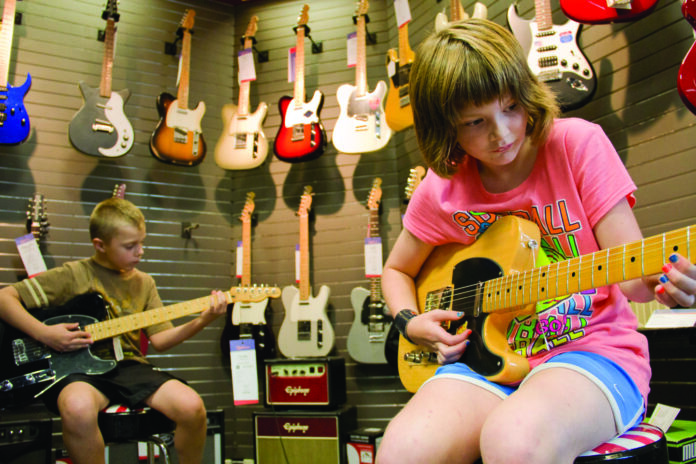 By Griffen Harris
CORALVILLE–The industry has taken note of its success.
The National Association of Music Merchants (NAMM) recently named West Music to the list of the Top 3 music dealers in the nation.
Officials at NAMM, a major music industry trade group, award the designation based on five categories: customer satisfaction, effective use of social media, marketing and training initiatives and providing customers with a retail experience worth returning for, said Lora Bodmer, a NAMM spokeswoman.
"The dealer of the year exemplifies the very best practices in our industry and a dealer that knows that having a successful shop is more than just selling products. It's about a being able to enhance musical involvement throughout their respective communities," she said.
Although not the largest dealer in the nation, West Music caters to the needs of a much larger and more diverse customer base from its six Midwest retail stores. Headquartered at 1212 Fifth St., Coralville, and with a 40,000-square-foot distribution center at 401 Westcor Drive, the company is able to ship instruments and gear across the globe.
"The Top 100 isn't about size. It's about customers' needs and satisfying those needs," said Robin Walenta, West Music's president and CEO, on receiving the award.
West Music isn't the typical family-owned music store. For example, the company recently hired a national mariachi consultant. Orlando Marquez, the first mariachi consultant for the company, travels to schools and events across the nation to perform, teach and discuss mariachi music with students and educators.  The program has already resulted in many school districts creating mariachi ensembles in their music programs, Ms. Walenta said.
West Music also distributes handmade Japanese Miyazawa flutes to North and South America, provides K-8 general music education instruments to schools across the state, and serve as a percussion source for percussionists across the globe.
For the past 35 years, educational consultants from West Music have taken instruments into schools, set them up and helped educators get the product into the right hands.
"Our strength is being located in the Midwest," she said. "From a human resource perspective, the quality of people in Iowa, their work ethic and commitment, is moving. Iowa has a strong tradition with their school music programs."
Back-to-school season has consultants in schools across the state nearly every night of the week, Ms. Walenta added.
"All of us that work here go out to each school and take instruments with us to test the students for which instruments they can play and get them started in the programs," she said. "We have eight educational consultants that get in the vans and drive around to repair, sell accessories, and bring in clinicians to help."
During September, the consultants will visit hundreds of schools and work with educators and students to provide the instruments and services needed to create the best learning environment possible. Ms. Walenta attributes much of business's success to the level of commitment and passion that her employees deliver.
And the company continues to grow. In the August issue of The Music Trades, West Music was ranked No. 15 among the top 200 music dealers from a financial standpoint with $32 million in projected sales for 2012, Ms. Walenta said.
September is also National Piano Month and West Music will be hosting several events that are open to the public. Some events will focus on pianos' construction while others are designed to engage those who don't normally play an instrument. One of these is the "Way Cool Keyboarding" event, which is an instructional class for adults who want to learn how to play piano.
Another service offered by West Music is its music therapy program.
"We have 12 full-time music therapists on our staff who integrate music into people's lives to enrich their lives through participation in music," said Ms. Walenta.
West Music partners with the University of Iowa's music therapy programs with internships and with hospice programs for end-of-life transitions.
Constantly expanding into other areas of music, West Music plans to reinvent its website in the future and place more emphasis on its online presence.
"We have a very specific strategic plan [for the future]," said Ms. Walenta, "and we're going to continue to work towards it."
Despite its recent national recognition, Ms. Walenta says the company does not aspire to receive awards like the one from NAMM.
"It's not something on our radar; it's a result of our hard work and the enthusiasm of our employees. It's well-deserved," she said. "Everyone is truly passionate here and music does make a difference in people's lives."
For more information about West Music, visit www.westmusic.com. For more on upcoming events, visit the company's Facebook page at www.facebook.com/westmusic.