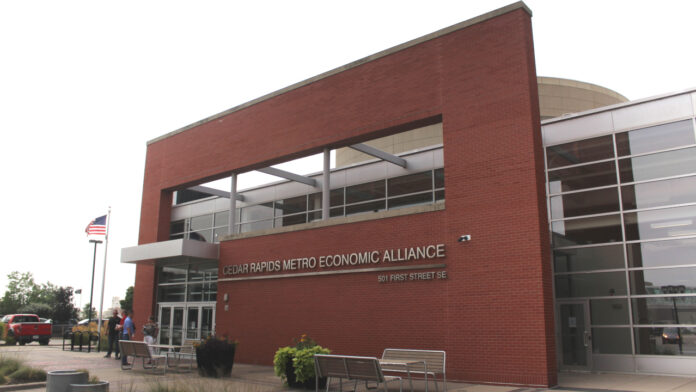 The Cedar Rapids Metro Economic Alliance has added new members to its innovation councils and policy board for 2022.
New members of the Business Support Innovation Council include Cherie Edilson of Shop Where I Live, Kay Fisk of Horizons, Cassie Hammarmeister of Newport Flowers, Ed Leighton-Dick of Kingfisher Technologies, Sammy Petersen of Bloomsbury Farm, Alex Seay of Dunn Brothers Coffee, Tasha Stone of Stepping Stones, Sue Tyrrell of Hands Up Communications and Kyle Zimmerman of Securian Financial. This council focuses on the core function of business support, which is dedicated to creating a strong business environment that supports all employers through networking, business development programs and connections to resources to help them grow.
New members of the Community Development Innovation Council include Ryan Bosch of Bosch Financial, Eric Hanson of KZIA, Brandi Sawyer of The Olympic, Monica Vernon of The District and Amanda Zhorne of Craft'd. This council focuses on the core function of community development, which grows core central districts in Cedar Rapids and supports surrounding communities. The council works to implement strategic plans for core districts, and also to inform and educate businesses.
New members of the Economic Development Innovation Council include Dennis Jordan of Alliant Energy, Tim Kintner of Ohnward Bank, Tyler McCarville of Kirkwood Community College, Gavin McGrath of the McGrath Family of Dealerships, Christina Millikan of Junior Achievement of Eastern Iowa and Dave Parmley of Great Western Bank. This council focuses on the core function of economic development, which attracts, grows and retains interstate commerce businesses and grows the region's workforce.
And James Klein of Cedar Rapids Bank & Trust has joined the Policy Board, which serves as the Economic Alliance's board of directors, setting policy and overseeing the budget.
The new appointments were announced by the CRMEA Jan. 28.