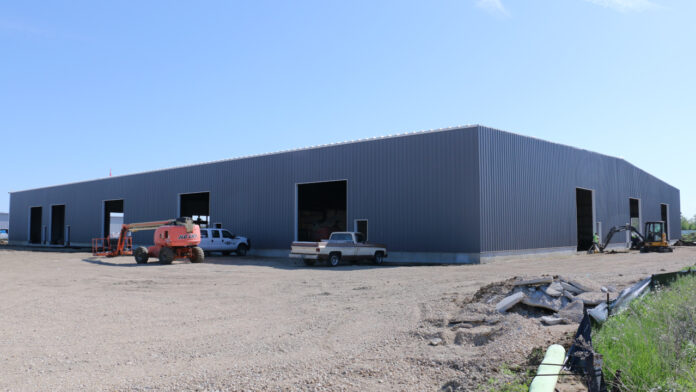 A new flex warehouse building under construction along Interstate 380 on the south side of Cedar Rapids should be ready for occupancy this fall.
Wendy Smalley, a Realtor with Coldwell Banker Hedges Realty, said the shell of the new 50,000-square-foot building, at 5515 Fourth St. Ct. SW, should be completed by July, and the first tenants could be moving in by September or October.
Ms. Smalley said the building is being developed by her husband's firm, Greg Smalley Properties LLC, with Garling Construction serving as the general contractor. Coldwell Banker, via SoldByJZ, is serving as the facility's leasing agent.
Ms. Smalley said interest in the new space has been substantial, and leases are already being negotiated with various tenants for an estimated 20,000 square feet of the building.
"There's quite a lot of interest out there in getting something that's flexible for the smaller clients," Ms. Smalley said. "You see a lot of warehouses out there being built for the really large tenants, 100,000 or 200,000 (square feet), but you don't see much for the smaller ones, between 5,000 and 15,000 square feet."
The building is designed to meet modern warehousing standards, Ms. Smalley said, with high-bay doors and wide-set interior pillars for ease of mobility and customization.
As a build-to-suit facility, the space can be divided and customized to meet individual tenants' needs, she noted.
Greg Smalley said the building's roof is nearing completion, and work will begin soon on interior fitments and pouring of the concrete floor and outdoor parking lot.
The building's location also allows for easy access to Interstate 380 and Highway 30, Ms. Smalley said.
"Nothing against those folks building out on the edge of town," she added, "but sometimes you just need something a little closer in, with good access."
New warehouse location map: