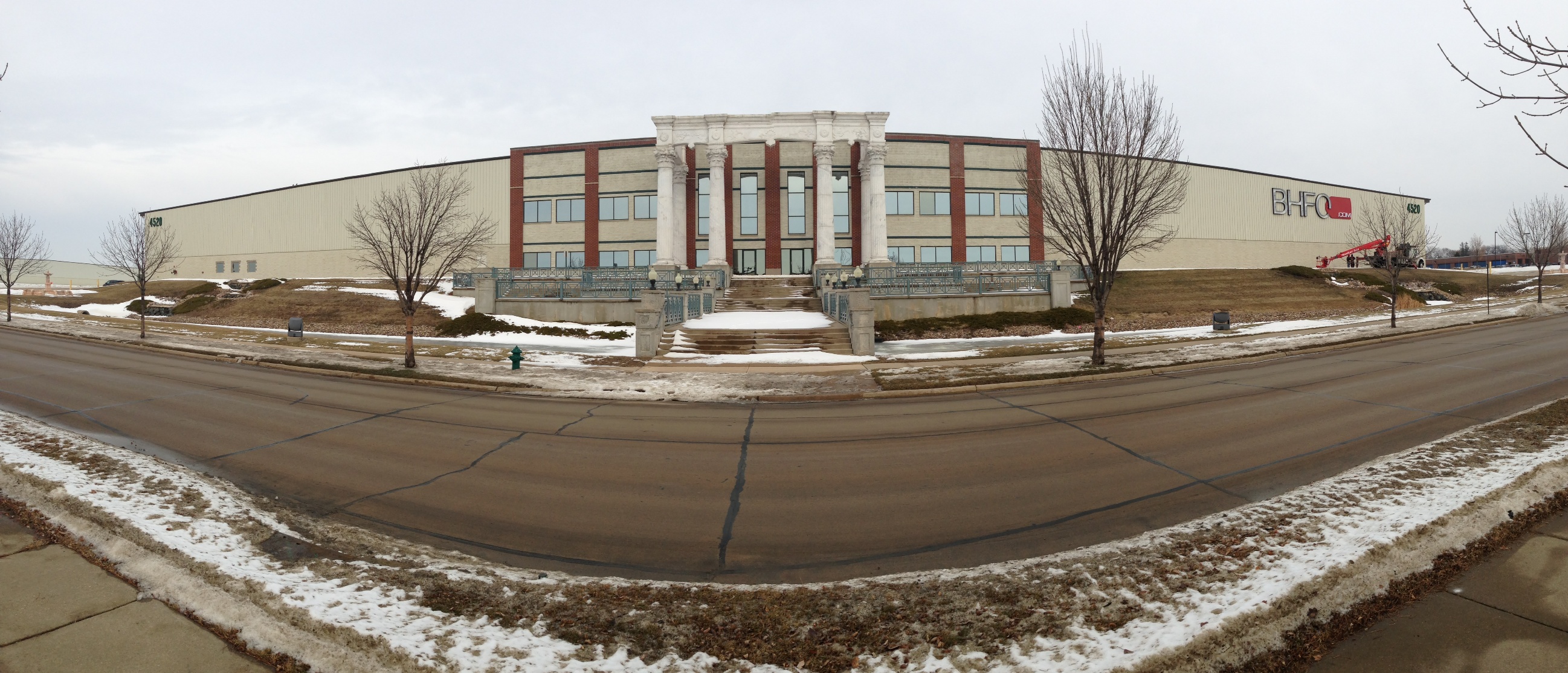 By Dave DeWitte
CEDAR RAPIDS – BHFO is on the go.
The $25-million-per-year company, which is the largest eBay seller of discount fashions, has taken over a 232,000-square-foot distribution and warehouse facility at 4520 20th Ave. SW that will also become its new headquarters.
Owners Jon and Stacie Sefton started the business out in their basement in 2003. It expanded so fast that it was operating out of three warehouses from its former headquarters at 5285 Rockwell Drive NE.
To streamline operations, the company had to get everything under one roof.  The property was acquired for $4.25 million in June 2003, according to Cedar Rapids City Assessor Record.
The move into the former Alpha International  toy distribution center was under way last week and expected to be complete early this month, providing the company with the technology and space layout it needs.
The facility offers state-of-the-art picking and packing systems, as well as conveyors.
"With all of our operations under one roof, we'll eliminate the headaches of transporting products and employees between multiple facilities," said BHFO President Jon Sefton.
The BHFO eBay store has been the core of the business, but the Seftons have plans that include targeting additional clothing brands, product lines and marketplaces, and opening a wholesale division to offer products in bulk to other businesses.
The company plans to expand its retailing operations through its web site, www.bhfo.com.
The building's renovations include new carpet, paint, ceilings and fixtures with vibrant colors highlighting fashions from around the world, Ms. Sefton said.
"Designer fashion is at the heart of our business, so we thought contemporary design and colors would be a fun and creative touch," Ms. Sefton said, adding that "we value our employees and wanted to continue to make this a great place to work."
Amenities for employees include a fitness center, cafeteria, game room, computer/reading room and a lounge with massage chairs.
BHFO expects its 2014 sales to reach $30 million.