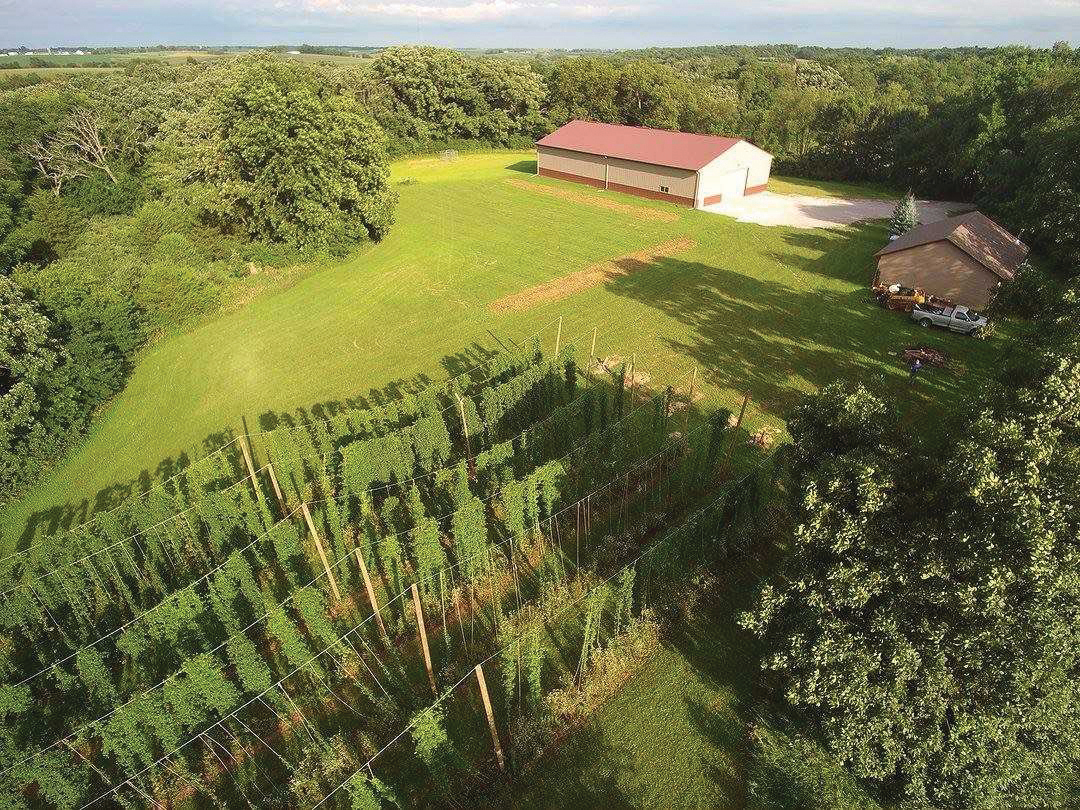 An aerial view shows the hop yard at Buck Creek Hops near Solon in 2017. Co-founder Mark Pattison is launching a distribution arm, Buck Creek Distributing, with help from food and distribution veteran Shawn Meaney. PHOTO BUCK CREEK
By Dave DeWitte
dave@corridorbusiness.com
For businesses seeking to grow in Iowa's fast-evolving brewing, winemaking and distilling industries, one of the biggest challenges is buying and coordinating the delivery of ingredients.
Craft brewers can't just go to their corner grocery and buy the things like hops, lactose and malt they need for their next batch. Many of them are available only from distant suppliers, making it hard to evaluate price and quality. And while there's a strong movement to source ingredients locally, it can add to the complexity of dealing with multiple producers and processors in a fluctuating price and supply environment.
Cutting through that web of supply issues has become the focus of Buck Creek Distributing, a new business launched this month by Mark Pattison and Shawn Meaney.
Mr. Pattison said his ideas for a better way to serve clients took shape through his experiences at Buck Creek Hops, the pioneering Solon-based hops producer he co-founded about five years ago.
"What we found while visiting with breweries selling hops is there's kind of a niche where we can provide more of a consultative approach to the purchase of the raw materials," Mr. Pattison said. "There are not many of those places in the country, and face-to-face consultants are kind of an unmet need."
A distribution arm was already in the business plan for Buck Creek Hops, which Mr. Pattison co-founded with partners Chad Henry, Dan Paca and Lee Pattison. But it wasn't an area in which they had a lot of expertise, until they connected with food distribution industry veteran Shawn Meaney earlier this year.
Mr. Meaney had previously served as CEO and COO of JM Swank, the large food wholesaler with operations in North Liberty, and was enthusiastic about joining the venture as a partner.
He brought with him insights from 15 years of leadership with the agri-business and branded foods giant, ConAgra Brands. While there, Mr. Meaney managed two divisions as vice president and general manager, including JM Swank, and ultimately led the divestiture of that company in early 2016. He served as CEO of the private equity-backed business until 2018, when he chose a different path, combining his passion for food and beverage with an increasing belief in the value of locally sourced and regionally distributed ingredients.
Beyond his food and distribution experience, Mr. Meaney also brought an extensive background in the beverage, wine and spirits industry, having formerly led the raw materials procurement team for E&J Gallo Winery, operator of the world's largest winery and a significant producer and marketer of brandy and distilled alcoholic beverages.
Based at Buck Creek Hops' office in Solon, the company will distribute between 50-75 products used in producing beer, wine and distilled spirits within a radius of about 150 miles. Local warehousing in the North Liberty area will enable the venture to provide shorter turnaround times and improved delivery service on orders.
"The idea is to be a one-stop shop for brewing, distilling and winemaking ingredients," Mr. Pattison said.
While Buck Creek Distributing is committed to helping expand the local supplier base for Iowa brewers, its central focus is on helping producers operate more efficiently by getting the right ingredients when they need them.
"One thing we are committed to doing is creating real value, rather than focusing on price," Mr. Pattison said.
However, Buck Creek Distributing will be able to buy product in larger volumes than individual customers, he said, which should enable it to secure lower prices it can pass on to them.
The 94 craft breweries that operated in Iowa in 2018 produced about 121,000 barrels of beer and had an economic impact estimated at $861 million, according to the Brewers Association.
Mr. Pattison and Christian Peterson, Buck Creek's vice president of agricultural operations, have gotten to know the market well over the past five years. They have an insider's view of the industry through their popular hops business and believe there's plenty of room for growth.
Buck Creek Distributing plans to raise capital through a private placement offering, details of which have not yet been announced. After fine-tuning the business model in Iowa, Mr. Pattison said he expects the company to branch out into surrounding Midwest states in the coming years.