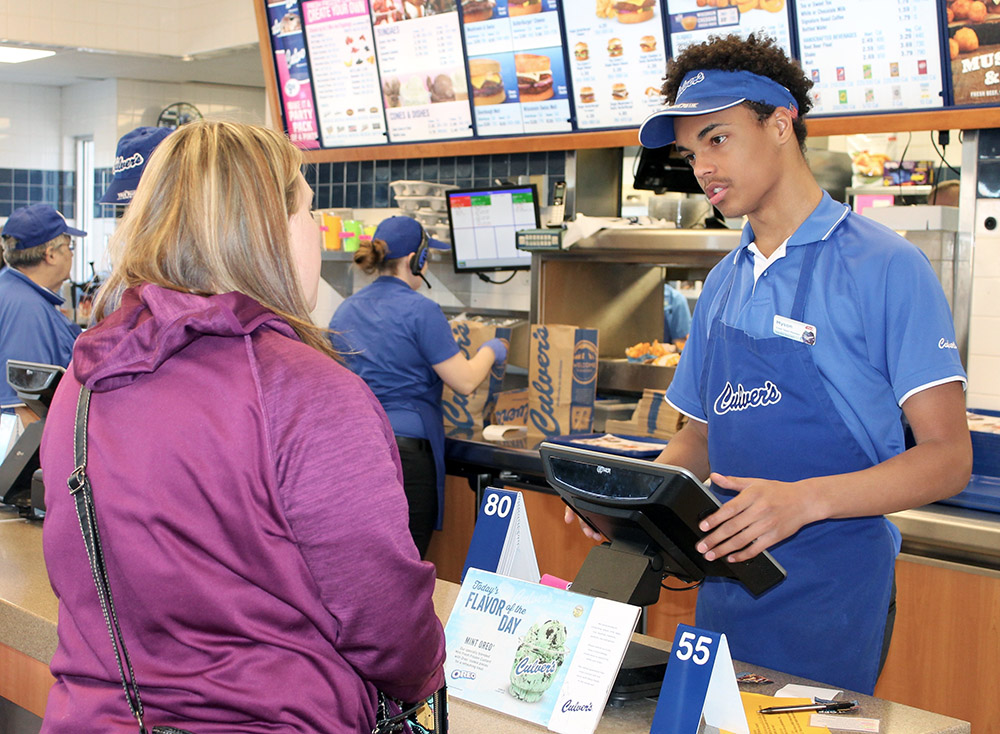 Culver's crew member Myson Rodgers rings up a sale at the chain's Edgewood Road location in Cedar Rapids. In an effort to retain workers in a tight labor market, owner/operator Jake Kendall has increased wages and beefed up benefits. PHOTO KATHARINE CARLON
By Katharine Carlon
katharine@corridorbusiness.com
Ed. note: This is the first in a three-part series ex­amining wages and affordability in the Corridor, available first in the print CBJ.
Debbie Bullion, the general manager of Coralville's Heartland Inn, pays well over minimum wage, brings in cupcakes once a week, organizes regular staff lunches and does "pretty much anything else I can think of" to keep her 40 employees happy and on the job.
"My goal is not to lose any employees because replacing them right now is near impossible," said Ms. Bullion, who aims to differentiate herself in the unrelenting search for good help by creating a team-ori­ented, family atmosphere. When it comes to hiring new people, she says, "You have to grab 'em when you see them because it's crazy out there. Everyone is recruiting – posters on the back of bathroom doors, on pickups, on construction trucks – ev­erywhere you go."
Jake Kendall, who owns and operates five Culver's Restaurant locations in Linn and Black Hawk counties, also pays wag­es well over the state's mandated $7.25 an hour. On top of that, he has begun offer­ing a 401(k) plan, profit sharing, short-term disability and full health benefits – and not just to employees, but to their families, a rarity in the fast food world.
Even so, keeping staffed up is "still very, very difficult," he said. "I could hire 20 full-time people today. I can't find them."
With Iowa's unemployment rate fall­ing to 2.8 percent in December, the state now has the fifth-lowest jobless rate in the country and is well below what many economists consider full employment. The worker scarcity is even worse in the south­ern half of the Corridor, especially in John­son County, where the unemployment rate has hovered at or below 2 percent since Oc­tober, the lowest since May 2001. The Iowa City metro area currently has the fourth lowest unemployment rate in the nation, according to the Bureau of Labor Statistics (BLS); Cedar Rapids is 61st.
Numbers like that have slowed growth, increased churn and forced employers into an all-out scramble for workers at all levels. The pressure is forcing companies to rethink their relationships with their employees, whether it's expanding bene­fits, paying sign-on bonuses, offering paid training or any number of other perks. And it's slowly – perhaps, too slowly by some accounts – inching up wages in an environ­ment where the cost of living has been out­pacing the ability of many to live and thrive in the communities where they work.
"Working full-time, year-round is not enough to guarantee a middle-class stan­dard of living," wrote Peter Fisher, research director for the left-learning Iowa Policy Project, in a 2016 report on the state's cost of living. It found that a single Iowa resi­dent needs to earn at least $13.16 an hour – almost double the state's minimum of $7.25 an hour – to meet basic living ex­penses, while an average family with two working parents and two children needed to earn $14.37 each to make ends meet.
"Nearly one in five working Iowa fami­lies, in fact, does not earn enough to meet basic needs," Mr. Fisher wrote.
Two years later, two different living wage calculators measuring the income a family needs to attain a secure standard of living in 2018 – the labor-affiliated Economic Policy Institute's Family Budget Calculator and the Massachusetts Institute of Tech­nology's Living Wage Calculator – suggest typical working parents with two children must now earn $14.70-$15.06 an hour apiece in the Cedar Rapids metro area. In the Iowa City area, the same parents need to each earn $15.52-$17.63 hourly to cov­er monthly bills, including housing, food, child care, transportation, health care, tax­es and other necessities.
Mr. Fisher, who is now in the process of updating his bi-annual report, said the impact of minimum wage increases in Linn and Johnson counties last year might have improved the cost of living situation for some lower-wage workers, although he is still sifting the data. Moves by Linn, Johnson and three other counties to raise the local minimum wage above $10 an hour were overruled by the Iowa Legis­lature last year, but many businesses in both counties have voluntarily committed to continue paying the higher wage, part­ly due to efforts by grassroots groups like Living Wage Linn County and Iowa City's Center For Worker Justice, which have gathered pledges from businesses to con­tinue paying the higher rates.
"Part of our business philosophy is do­ing the right thing and taking care of peo­ple, our most important asset," Mr. Kendall said, explaining his reasons for voluntarily starting all new employees at $10 an hour. "I honestly don't see how any business out there can be paying minimum wage in this area and still attract people."
Evidence suggests he may not be alone in that thought. The most recent BLS wage data indicates paychecks in the Corridor are finally starting to increase after being stuck in neutral for several years.
Average wages increased more than 3 percent in both Johnson and Linn counties between the second quarters of 2016 and 2017, and a recent study commissioned by the Johnson County Board of Supervisors on the impact of the minimum wage hike in the county revealed earnings for workers in the traditionally low-paid leisure and hospitality sector saw a nearly threefold increase in growth rate between 2015-2017.
That, Mr. Fisher said upon the report's release in December, "is a pretty strong indication that there is a substantial gain in earnings in this sector of the economy."
But even if wages have ticked up somewhat after years of stagnation, Mr. Fisher said other costs are increasing. Rents jumped about 11 percent in Johnson County and 7 percent in Linn County in 2017 while child care costs increased by 3 percent in both counties, compared to just 1 percent on average statewide.
"So I would expect that Linn County will still have a cost of living a little below the state average," he told the CBJ, "while Johnson County will move farther above the state average because of the rapid increase in rent."
Housing crunch
Employers are seeing the effects of Johnson County's affordable housing crunch up close.
Ty Medema, manager of Lucky's Market in Iowa City, said that although many of his 75 employees are college students and share costs with roommates, those who aren't "tend to live outside of town in places like West Branch because it's cheaper living there."
Mr. Medema said one recent transfer to his store from Florida was shocked when he began apartment hunting: "This was quite a stark difference from what he was used to – and not in a good way."
"The cost of living is a pretty big factor all the way around in this area," Ms. Bullion agreed. "It impacts people's decision to live here. At one time I could even hire people from Cedar Rapids, but that's gone completely away with gas prices being so high. Now I have employees living in Tiffin and other places, trying to find these little niches where it isn't so expensive."
According to U.S. Census figures, more than 46 percent of Johnson County's workforce lives outside the county, where the Iowa City Area Association of Realtors reported the average price of a single-family home jumped 5.9 percent last year to $228,053. The median rent hovers around $1,350 a month, according to real estate website Trulia.
For comparison's sake, the Cedar Rapids Association of Realtors reported the average single-family home in that area went for $191,489 in 2017, up 4.8 percent over the previous year. Renters paid, on average, about $1,000 a month.
Taz George, a research analyst for the Federal Reserve Bank of Chicago who compiled a 2016 housing affordability study on the Iowa City market, said his research shows almost 60 percent of Johnson County residents are "housing-cost burdened," meaning they spend more than 30 percent of their income on rent or mortgage expenses. Much of the pressure, he said, comes from the county's large student population of renters who push vacancies down around 2 percent.
That means prices rise – the median rent in Johnson County went up 35 percent between 1980 and 2014 – and renters "have less resources for expenses like food and transportation, and may find it more difficult to save for future investments such as a home down payment or retirement fund," Mr. George said, adding "the problem has worsened over time as rental costs have outpaced renter household income."
The affordable housing situation is less extreme in the northern half of the Corridor, where the percentage of housing-cost burdened residents ranges from a low of 27 percent in Benton and Cedar counties to 38 percent in Linn County, according to statistics compiled by the United Way of East Central Iowa's 2017 Housing Stability Report. But even there, almost one in five families spend more than half their monthly incomes on shelter, placing them in the "extremely" housing-cost burdened category.
"Iowa is a working state and most people here are working and doing the best they can," said Leslie Wright, senior vice president of community building for UWECI. "But if you don't have access to those middle skills, it just becomes a vicious cycle."
Helping those on the edge
One group the UWECI is taking a close look at is direct-care workers: home health assistants and caregivers who are overwhelmingly female, work variable schedules, have difficulty controlling revenue and expenses, earn an average of $14 an hour and are precariously susceptible to the "cliff effect" because they teeter on a knife's edge between qualifying for benefits and earning too much to qualify though not enough to survive on.
The result, said Ashley Zitzner Balius, who manages UWECI 's community building program, is instability in workers' lives and the economy, as workers leave rather than risk losing benefits.
"A lot of workers are right on the edge," Ms. Zitzner Balius said, "things like transportation – not having gas or a car breaks down – issues with child care if you get thrown off benefits. Housing is another really critical one. The lower income parts of our population are really struggling with difficult housing situations where they're facing eviction, facing homelessness."
Stabilizing the region's workforce will take an all-hands approach requiring businesses, governments, community organizations and nonprofits like the United Way to work together, Ms. Wright said. Projects like the planned Center for Working Families, an initiative aimed at retraining lower-income workers and giving them the skills to move up within an organization, is one example of such a collaborative approach.
Economic development partnerships like the Cedar Rapids/Iowa City Corridor Development Corporation will also play a critical role, she said, in "creating a prosperous and dynamic region." The joint venture between the Cedar Rapids Metro Economic Alliance and the Iowa City Area Development Group is aimed at attracting new businesses and building a reliable workforce in the seven-county region.
"We have three big workforce populations," Ms. Wright said. "Workforce number one is your Rockwells, Transamerica, the University of Iowa – the highly educated, typically younger demographic, and the challenge there is how to engage them and get them to them stay. The second stream is the people already here; how can we maximize participation of those who often have no certifications, are not educated, and help support them towards greater skills? The third prong is the 'cradle to career,' and making sure individuals born here are getting on-ramps to economic mobility."
DaLayne Williamson, director of workforce development for the Cedar Rapids/Iowa City Corridor Development Corp., said putting workers on a path toward greater economic security was key to the growth of the region into the future. The potential for upward mobility keeps employees here, she said, attracts new ones and encourages businesses to grow and expand.
Simply raising wages won't do the job.
"Yes, employers need to make sure they're aware of what the prevailing wage is, but there are all kinds of things a wise employer is looking at because pay isn't necessarily the number-one factor for some people," she said. "Is it a good workplace, what is the company culture, are you a good member of the community and world citizen? Is it a place for people to grow?"